UB40's Astro suddenly passed away
|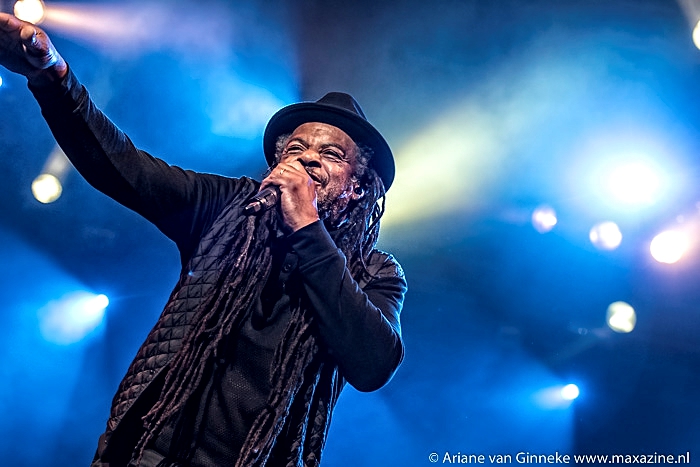 Late Saturday evening it was announced that former UB40 toaster Astro passed away after a short illness. Terence Wilson, Astro's official name, was born in Birmingham on June 24, 1957 and started out at UB40 as a roadie and announcer for the band. When he was allowed to toast regularly, the band liked it so much that in the late 1970s he became the second singer, next to Ali Campbell.
The toasting, with which Astro caused a furore, is a form of rap, in which a beat is spoken in a monotonous tone. The lyrics can be improvised or pre-written. Astro made toasts that were already included in the songs and performed during concerts. In addition to toasting, Astro also regularly picked up the trumpet or percussion.
Over his most famous pieces by the British Reggae band, are the toasts of "Red Red Wine" and the number one hit "Rat In Mi Kitchen". He left UB40 in 2013, to go far together with Ali Campbell and Mickey Virtue, who already left the band. Together they performed as the unofficial UB40, featuring Ali Campbell and Astro.
'We are absolutely devastated and completely heartbroken to have to tell you that our beloved Astro has today passed away after a very short illness. The world will never be the same without him. We ask you to please respect his family's privacy at this incredibly difficult time.'

UB40
On Saturday evening, the band announced that the toaster has died after a short illness. Astro just turned 64.
We are absolutely devastated and completely heartbroken to have to tell you that our beloved Astro has today passed away after a very short illness. The world will never be the same without him.

We ask you to please respect his family's privacy at this incredibly difficult time. pic.twitter.com/GRDjtApyzy

— ALI CAMPBELL & ASTRO (@UB40) November 6, 2021
---
Don't forget to follow our Spotify Playlist: