Shawn Mendes is Canada's Most Dangerous Celebrity in 2017, says McAfee study
|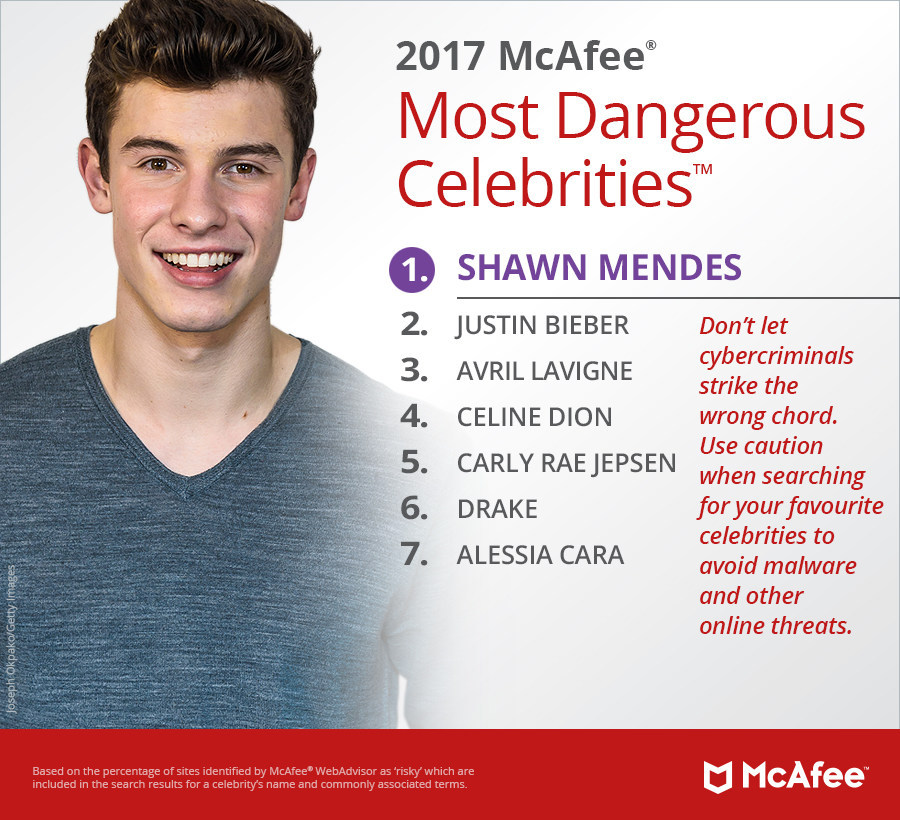 Shawn Mendes has displaced Justin Bieber as the most dangerous celebrity for Canadians to search for online. For the eleventh year in a row, McAfee researched famous individuals to reveal the riskiest celebrity to search for online. While the list has historically included a mix of musicians, actors and TV hosts, this year's research identified musicians exclusively as the "most dangerous" in both Canadian and global results. The research reveals which celebrities generate the riskiest search results that could potentially expose their fans to malicious websites.
Canada's Most Dangerous Celebrities are all musicians, with Shawn Mendes leading the pack at No. 1 in his debut on the list. Singer and songwriter Mendes sparked his career by posting song covers on Vine in 2013. Since then he's released two albums that both debuted on at number one at U.S. Billboard 200. Several musicians returned after earlier appearances, including Justin Bieber (No. 2), Avril Lavigne (No. 3), and Drake (No. 6). Rounding out the list are Celine Dion (No. 4), Carly Rae Jepsen (No. 5), and Alessia Cara (No. 7).
In the U.S., Avril Lavigne topped the list. She's sold more than 40 million albums worldwide, and is the second best-selling female artist in Canada of all time. Today, Lavigne adds "first female musician to take the No. 1 spot on the McAfee Most Dangerous Celebrities study" to her achievements. Lavigne was ranked number two in 2013 finishing behind Lily Collins on the list. Bruno Mars (No. 2) made his debut this year in second place followed closely behind by Carly Rae Jepsen (No. 3). Musicians Zayn Malik (No. 4), Celine Dion (No. 5), Calvin Harris (No. 6), Justin Bieber (No. 7), Diddy (No. 8), Katy Perry (No. 9) and Beyoncé (No. 10) round out the rest of the U.S. top 10 list.
Cybercriminals continue to use the fascination of consumers with celebrity culture to drive unsuspecting users to potentially malicious websites that can be used to install malware, steal personal information and even passwords.
"In today's digital world, we want the latest hit albums, videos, movies and more, immediately available on our devices," said Gary Davis, chief consumer security evangelist at McAfee. "Consumers often prioritize their convenience over security by engaging in risky behaviour like clicking on suspicious links that promise the latest content from celebrities. It's imperative that they slow down and consider the risks associated with searching for downloadable content. Thinking before clicking goes a long way to stay safe online."
Searching for "Avril Lavigne free mp3" Results in a 22% Chance of Landing on a Malicious Website
The global music market grew nearly 6% in 2016, so it's clear that music continues to be a big part of the daily lives of consumers, and as a result, no surprise that the top 10 celebrities are from the music industry. As artists go on tour, and release new albums and songs, the appetite for more content from these singer-songwriters continues to grow.
The top Canadian celebrities from this year's study with the highest risk percentage are:
| | | |
| --- | --- | --- |
| Position | Celebrity | Percentage |
| 1 | Shawn Mendes | 14.08% |
| 2 | Justin Bieber | 14.05% |
| 3 | Avril Lavigne | 13.27% |
| 4 | Celine Dion | 11.86% |
| 5 | Carly Rae Jepsen | 11.53% |
| 6 | Drake | 8.75% |
| 7 | Alessia Cara | 8.06% |
The top 10 celebrities from this year's U.S. study with the highest risk percentage are:
| | | |
| --- | --- | --- |
| Position | Celebrity | Percentage |
| 1 | Avril Lavigne | 14.51% |
| 2 | Bruno Mars | 13.43% |
| 3 | Carly Rae Jepsen | 13.19% |
| 4 | Zayn Malik | 13.06% |
| 5 | Celine Dion | 12.92% |
| 6 | Calvin Harris | 12.48% |
| 7 | Justin Bieber | 12.33% |
| 8 | Diddy | 12.32% |
| 9 | Katy Perry | 12.25% |
| 10 | Beyoncé (search was conducted with "Beyonce") | 12.09% |
---
Don't forget to follow our Spotify Playlist: