The Ultimate Collection Of The Greatest Guitarists Ever Assembled In One Place Is Out Now
|
The ultimate collection of the greatest guitarists ever assembled in one place is out now. Carmine Appice and Deko Entertainment celebrate the 25th anniversary of guitar zeus with a comprehensive box set collection.
The Guitar Zeus 25th Anniversary Box Set is a massive collection of 4 LP's, 3 CD's and Full Color Booklet with never before seen photos and interviews conducted by Martin Popoff. 35 tracks in all featuring Slash, Brian May, Ted Nugent, Yngwie Malmsteem, Neal Schon, Richie Sambora, Zakk Wylde and many, many more. With 2 never released tracks featuring Tommy Thayer of KISS and the first non guitar solo driven track with keyboardist Derek Sherinian (ex Dream Theater). This is the ultimate collection for any guitar enthusiast, there is nowhere else you can find this many guitar greats on one release!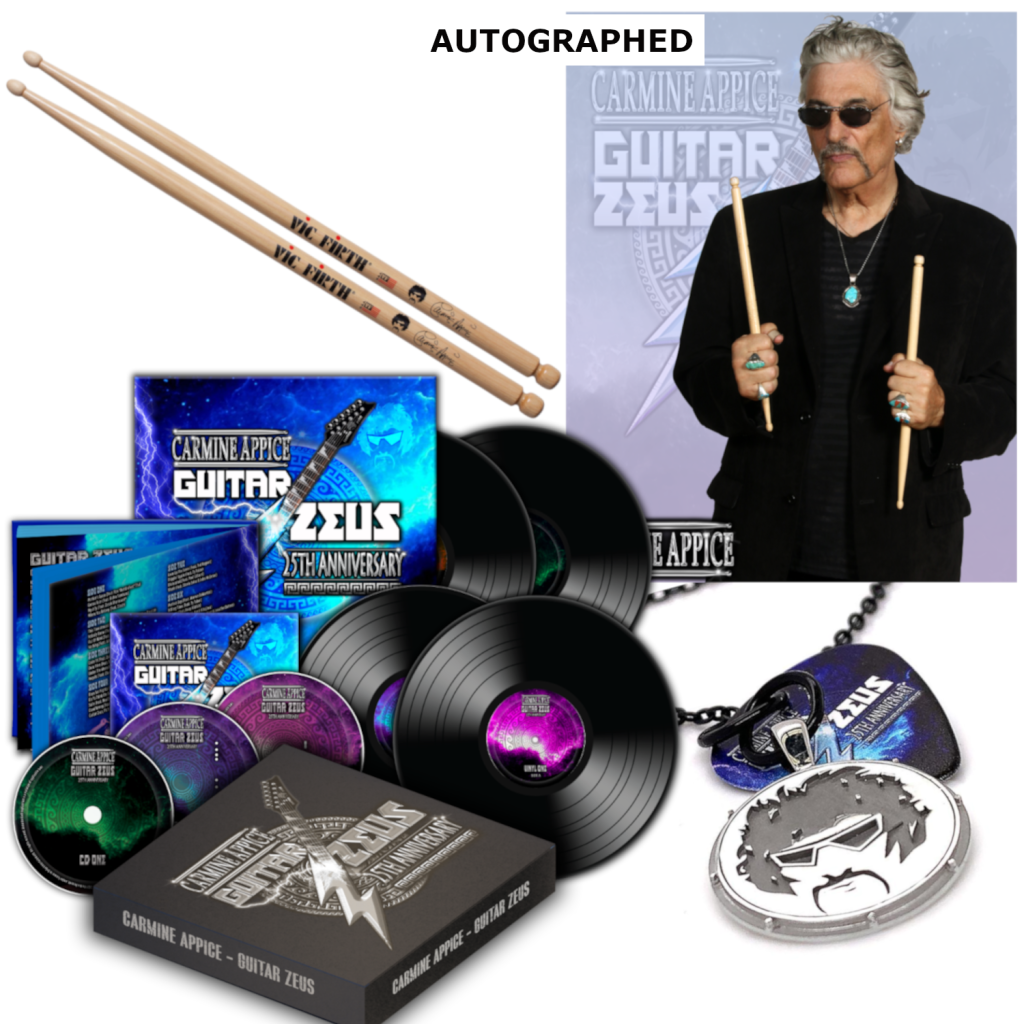 "Not only do I urge everyone to go out and get yourself a copy of the 25th anniversary of Carmine Appice's Guitar Zeus album and when you do, I also urge you to do your homework and do some research on the history of Guitar Zeus….all 35 tracks on this release are really something special, you don't want to skip through a single track because then you'll really be missing out.
KNAC 5.0 out 5.0
"What really makes the record come alive is the massive lineup of guest guitarists that join Appice on it. Each of these players really fit the moniker of "Guitar Zeus" in their own way, making this line up of guests a genius assortment. The tracks hit the listener like a bolt of Zeus's lightning, with distinct grooves that only Appice and each of his guests could deliver."
Carmine states, "I consider Guitar Zeus one of the best projects, if not the BEST project I've done both as far as songs, with some of the best production and playing of my career. I love the new tunes. I hope you enjoy this 25th year celebration of some of the greatest rock guitarist ever put together. KEEP ROCKIN".
Carmine has just released a brand new lyric video for the track "Mystified" featuring Tommy Thayer of KISS.
Box Set Includes:
4LP's (includes new tracks featuring Tommy Thayer (KISS) and Derek Sherinian (ex-Dream Theater)
3CD's (includes bonus guitar play along)
8 Page Color Booklet written by Martin Popoff (with new interviews and never before seen photos)
Tracklist:
"Mothers Space" (feat. Ron "Bumblefoot" Thal)
"Gonna Rain" (feat. Richie Sambora)
*"Mystify" (feat. Derek Sherinian)
"Nobody Knew" (feat. Brian May)
"Where You Belong" (feat. Slash)
"Out of Mind" (feat. Neal Schon)
"This Time Around" (feat. Yngwie Malmsteen & Dug Pinnick)
"Nothing" (feat. John Norum)
"Doin' Fine" (feat Vivian Campbell)
"Under The Moon and Sun" (feat. Mick Mars / Edgar Winter)
"Code 19" (feat. Zakk Wylde)
"Angels" (feat. Char)
"Guitar Zeus, Pt. 1" (feat Jennifer Batten)
"Days Are Nights" (feat. Ted Nugent)
"Do Ya think I'm Sexy" (Sung by Carmine, feat. Pat Travers)
"Safe" (feat. Neal Schon)
"Dead Wrong" (feat. Dweezil Zappa)
"Trippin' Again" (feat. Ty Tabor)
"Even Up The Score" (feat. Ted Nugent)
"Dislocated" (feat. Paul Gilbert)
"Stash" (feat. Stevie Salas / John McEnroe)
"Perfect Day" (feat. Warren DeMartini)
"Killing Time" (feat. Ty Tabor)
"So Long" (feat. Doug Aldrich)
"My Own Advice" (feat Kenji Kitajima)
"Guitar Zeus", Pt. 2″ (feat. Leslie West / Jennifer Batten)
*"Mystify" (feat. Tommy Thayer)
"Time To Set Alarms" (feat Elliot Easton / Bob Daisley)
"Where You Belong" (feat Paul Gilbert)
"Cruzin" (feat. Denny Laine)
"Couldn't Be Better" (Feat. RaiZi)
"Snake" (feat. Bruce Kulick)
"4 Miles High" (feat. Steve Morse)
*"Surrender" (feat. Chris Biggiani)
"GZ Blues" (feat. Seymour Duncan / Steven Seagal)
**"This Time Around" (music rough track – guitar play along)
**"Days Are Nights" (music rough track – guitar play along)
**"Where You Belong" (music rough track l – guitar play along)
**"Guitar Zeus" (music rough track – guitar play along)
*PREVIOUSLY UNRELEASED **CD ONLY
---
Don't forget to follow our Spotify Playlist: