Apocalyptica to release new album in 2015
|
After the worldwide success of 2010's "7th Symphony", the innovative Finnish cello rockers of Apocalyptica engaged in a variety of critically acclaimed projects and are currently finishing their 8th full studio album to be released early 2015.
Since their inception in 1993, Apocalyptica have been mining classical form and structure, ever coming up with unpredictable new musical projects. Twenty-one years into an inimitable global career exceeding well over 1000 live concerts, performed in over 50 countries, they are still reinventing themselves – creating massive attention in media as well as the charts on all continents.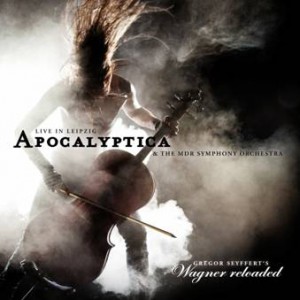 Following the release of "7th Symphony", Apocalyptica took a break from the standard album cycle in 2013 to pursue a range of musical projects. While Eicca Toppinen switched to drums in his sidekick band Cherry and the Vipers, Mikko Sirén played his instrument on the new Emigrate album, Richard Kruspe's (Rammstein) project. Mikko also performed with Cheek, Finland's biggest hip-hop artist, selling out Helsinki's Olympic Stadium twice. Paavo Lötjönen collaborated with Tipe Johnson (Leningrad Cowboys, Apocalyptica) and Perttu Kivilaakso earned the feuilleton's acclaim with celebrated chamber music appearances. Additionally, Apocalyptica composed new material and performed live in the multimedia event "Wagner Reloaded" by award-winning choreographer Gregor Seyffert. Earlier this year, Apocalyptica's latest project "Apocalyptic Symphony" marked their first ever tour with a classical ensemble, the Avanti! Chamber Orchestra. »We're in perfect shape«, Toppinen states, »and still hungry for the future of making music together. If you want to try new things, you'll never know where you end up. But we're motivated and our heads are full of fresh ideas.«
Having collaborated with artists like Gavin Rossdale, Dave Lombardo, and Ville Valo on past studio albums, Apocalyptica have now taken on a new musical challenge: For the upcoming LP, the band is working with Franky Perez as exclusive singer on the vocal tracks – this time not only during production, but for the whole cycle including the tour. Perez released his debut in 2003, later teaming up with System of a Down's Daron Malakian and John Dolmayan as Scars on Broadway. In 2009, Perez was announced on vocals of Slash's solo band, followed by collaborations with Dave Kushner (Velvet Revolver) as well as Scott Shriner (Weezer), Joey Castillo (Queens of The Stone Age) and Dave Warren (The Simpsons) as Pusher Jones. After being honored as vocalist for The Doors at the L.A. Sunset Strip Music Festival, he released his latest solo album "Addict" in 2013. For Apocalyptica, working with Perez on the entire project elevates the musical vision to a new level of coherence between studio production and live performance, as well as renewing the focus on the band's homogeneity after the recent feature projects. The new album will be out early 2015, followed by an extensive live tour.
APOCALYPTICA feat. FRANKY PEREZ – LIVE:
10/16/14 NL – Amsterdam, Cello Biennale
01/22/15 70.000 Tons of Metal (Heavy Metal Cruise)
01/23/15 70.000 Tons of Metal (Heavy Metal Cruise)
01/24/15 70.000 Tons of Metal (Heavy Metal Cruise)
01/25/15 70.000 Tons of Metal (Heavy Metal Cruise)
01/26/15 70.000 Tons of Metal (Heavy Metal Cruise)
04/07/15 DE – Berlin, Columbiahalle
04/08/15 PL – Warsaw, Torwar
04/09/15 PL – Krakow, Teatr Laznia
04/10/15 CZ – Prague, Forum Karlin
04/11/15 HU – Budapest, Petofi
04/12/15 DE – Dresden, Alter Schlachthof
04/13/15 DE – Munich, Zenith
04/14/15 AT – Vienna, Gasometer
04/15/15 CH – Zurich, Komplex N°457
04/16/15 IT – Milan, Alcatraz
04/18/15 ES – Barcelona, Sala Apolo
04/19/15 ES – Pamplona, Zentral
04/20/15 PT – Portugal (TBA)
04/21/15 PT – Portugal (TBA)
04/23/15 ES – Madrid, La Riviera
04/25/15 FR – Paris, Zenith
04/26/15 DE – Bielefeld, Ringlokschuppen
04/27/15 DE – Cologne, E-Werk
04/28/15 DE – Stuttgart, Filharmonie
04/29/15 DE – Frankfurt, Batschkapp
04/30/15 LX – Luxembourg, Den Atelier
05/02/15 BE – Brussels, Ancienne Belgique
05/03/15 DE – Hannover, Capitol
05/04/15 DE – Hamburg, Docks
05/06/15 NL – Groningen, Oosterpoort
05/07/15 NL – Amsterdam, Melkweg
---
Don't forget to follow our Spotify Playlist: