New music by Dead Can Dance's Lisa Gerrard & Jules Maxwell
|
Moving in a unique direction from Dead Can Dance, frontwoman Lisa Gerrard and DCD member Jules Maxwell, have revealed the new video for "Heleali (The Sea Will Rise)", following their recent single "Aldavyeem (A Time To Dance)". Their new studio album Burn', produced by James Chapman (MAPS), is out now via Atlantic Curve, a London-based label that is part of the Schubert Music Europe.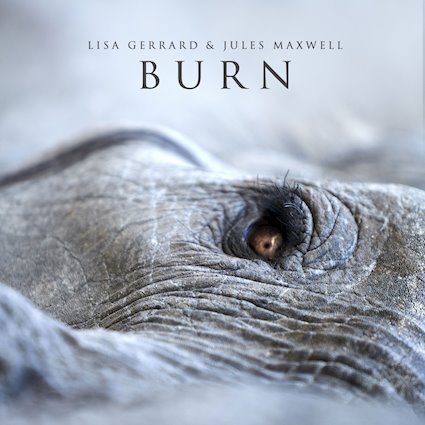 'The album begins with "Heleali", a meditation on the eternal rise and fall of the tides. It is a call to let go of the past and reflect on the elusive shadows of evaporation,' says Lisa Gerrard. 'This always felt like it had to be the opening of the album for me. It cycles around a simple elegant chord progression. Ebbing. Flowing. Swelling. Out into deep water,' added Jules Maxwell, who also recently released his sophomore solo album "Nocturnes" via London label Archangelo Recordings – calming and poignant instrumental bliss that is rooted in Maxwell's collaboration with the acclaimed UK-based Vincent Dance Theatre.
Produced by James Chapman (MAPS), this LP is out now via Atlantic Curve, a London-based label that is part of the Schubert Music Europe. With Chapman joining as producer, ideas generated freely and over time, a distinct sound for their work began to emerge. Their focus was to create something that was both euphoric and compelling; more inventive than what they had worked on separately in the past. From gentle beginnings, each track builds and intensifies, creating a hypnotic experience to listen to from start to finish.
'This track works really beautifully as an album opener. I visualised vast oceans and endless horizons. The song grows and grows, like the waves of the ocean, from the grand opening to the uplifting end section,' says James Chapman.
"Burn" began its journey more than seven years ago, when Lisa met Irish theatre composer Jules Maxwell before working together for the first time. Things really took root when Gerrard and Maxwell began writing songs for their earlier collaboration for "The Mystery Of The Bulgarian Voices" by Le Mystère des Voix Bulgares. After being introduced to Chapman, they asked him to produce this album, which is a stunning departure for all three of them.
---
Don't forget to follow our Spotify Playlist: