The Immediate Family: "We are not hippies!"
|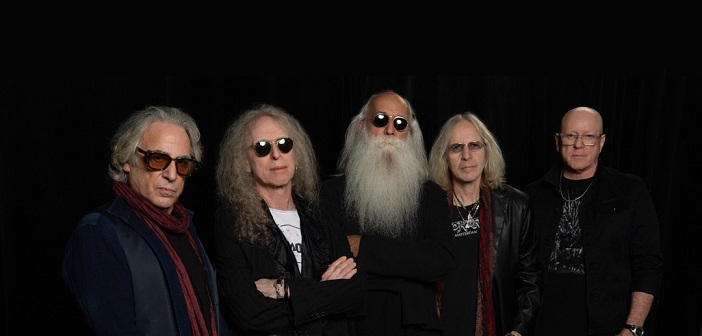 When Danny Kortchmar makes the above statement somewhere halfway through our interview, we look at each other for a moment. That must be the title of the interview! We started laughing when bassist Leland Sklar adds that he might look like a hippie, but he really isn't one. The Immediate Family are rockers. That much must be clear.
The Immediate Family is a rock band made up of longtime rockers Danny Kortchmar (guitar and vocals), Waddy Wachtel (guitar and vocals), Leland Sklar (bass), Russ Kunkel (drums) and Steve Postell (guitar and vocals). The band is the result of a life of music and friendship together: it began in the 1970s as a collective of studio- and live musicians, known as 'The Section', best known for their work in support of some of the best-selling music history artists such as Don Henley, Jackson Browne, Toto, Linda Rondstadt, Phil Collins and many others.
Danny "Kootch" Kortchmar, and Leland Sklar take the time to do a conversation from California via the Internet about their new band Tthe Immediate Family". The world has now become a truly global village, and visiting the other side of the world is effortless. Leland burns off while enjoying a cup of coffee.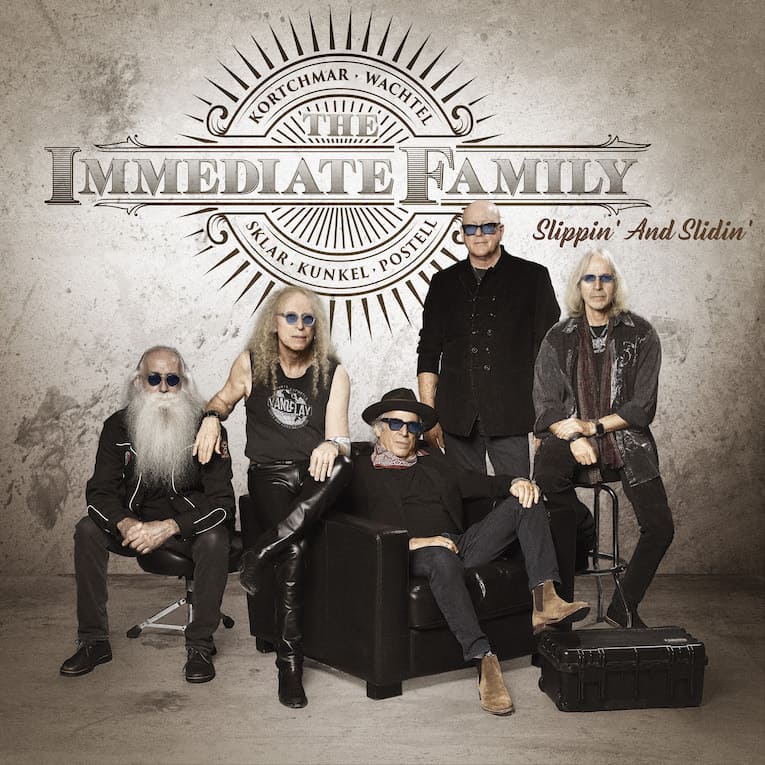 Literally a family feeling
"We are not a band that got back together because of a commercial idea. This is actually some sort of "perfect storm." Danny got a record deal, and we happened to be available to play on it as a band." He continues, "The moment we walked into the studio to record the EP, it felt so good. We immediately felt it was so cool to play together again, and luckily everything else we did was "on hold" because of the pandemic, so we can do this together now. The Immediate Family is now our priority.
Danny continues: "We have now released a first EP and a second one is coming soon. Until now we presented ourselves as a cover band with original material of our own, playing songs written by us but made known by other people, like Don Henley's "New York Minute", written by me.
In the meantime, we have also recorded a full album, with new own material that we have written for ourselves. We want to release that album as soon as possible, but that also depends on how the corona pandemic will develop. There's little point in releasing an album if you can't promote it with live performances."
"The album was ready before the pandemic broke," adds Leland, "But unfortunately our plans, like everyone else's, were also put on hold.
Leland would like to express the importance of precisely this bond for him. "I've spent my whole life in and around bands, and I've seen the issues they go through, the personal dramas and challenges they face, they get into arguments, break up and get back together, but this one bond is for me the best relationship I've had in my whole life. We never argue. When it gets exciting, it only gets exciting because we want the music to get better. We then speak as adults to solve the problem. With us, you won't see any problems like the Everly Brothers who couldn't see each other, or like the Eagles who had to travel in different tour buses. At the Immediate Family we grow precisely because of each other's presence. "
Danny: "I agree completely with what Leland is saying. Our band is a group of friends who care about each other a lot, we really love each other. We respect each other and want the best for each other, there are no ego problems with us, while we all have a strong ego. The band is a real unity. We are so happy when we can play together. We look like a bunch of little kids."
"This band is a total democracy. I am not the bandleader or the boss, Danny said. "In this band, we decide by the majority, which is accepted by everyone. That said, we usually agree completely, so there is usually no need to decide.
"What we are dealing with, says Leland, is that we flourish when we play together. And that is precisely what is being taken away from us by the pandemic. So yes we work together via the internet, but that is not the same as jamming together and making music together in a room. Then the best in us will emerge. "
Leland is barely outspoken when Danny takes over. "We are happy men of a golden generation. For us, music is sitting together in a room and just making music for days on end
It is precisely this collaboration that brings out the most beautiful things. Now we make demos and record an idea, and then we send it to each other. That is really different from having a good time together in "real-time".
Danny: "It's great to now have a great band for the songs I write. If I don't have a band to write for, nobody to work with, then it gets harder, and I become less productive. Now that I am in this band I know that when I write a song this great band is ready to breathe life into it and play.
I never write especially for someone or on behalf of someone. I write what I feel I have to write, if that gets a good dish somewhere that's cool, but now I'm sure everything I write will get to this band, that's fantastic."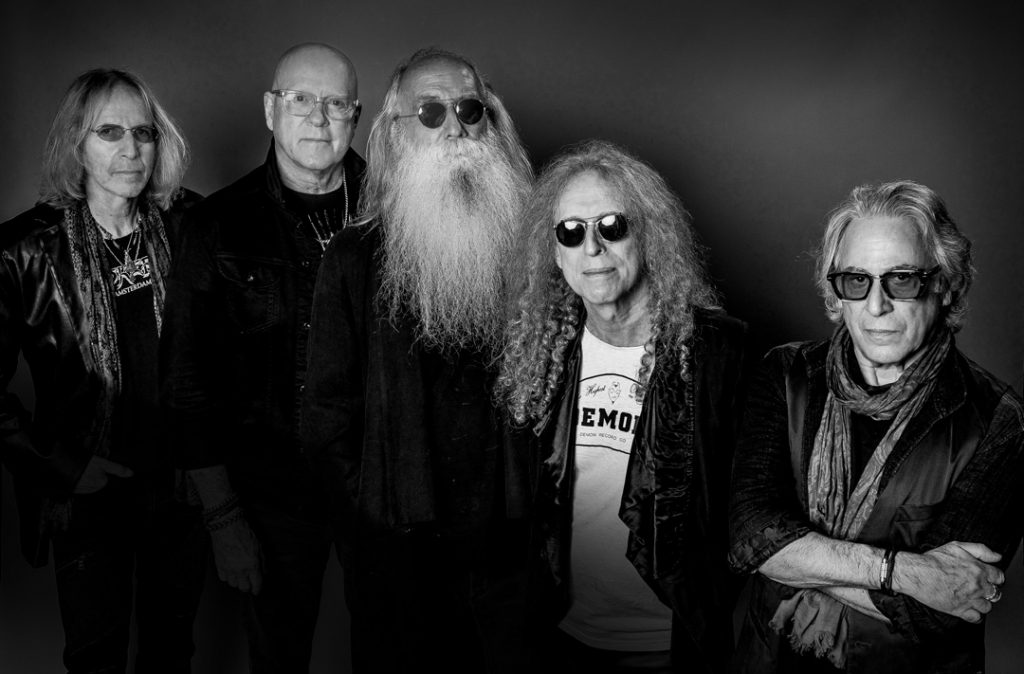 How the pandemic has taken the music scene hostage
"What they do here in the United States is concerts in old drive cinemas. People come to a concert in their cars, eat a steak in the car and watch a band play, but that is not the real concert experience for us, Leland says.
"I know Genesis has just finished rehearsals for their reunion tour," he continues, "They built their stage, they were supposed to start in March or so, and now everything is in storage, and they are waiting to get it on the road. It's such a shame. Above all, I want everything to be safe. I couldn't live with it if there was a breakout somewhere after one of our concerts, if that turned out to be some kind of super spreader event.
Danny: "We'll wait and see, we don't want to play in front of a parked car, rock and roll bands don't. As rockers, you need to interact with your audience. That's what it's about when you play in a band. "
"Of course it makes sense that young musicians will certainly investigate these options for feasibility, but for us, it is true that we use our time now to write and record more songs. Even though we already have an album ready, you can never record enough tracks. We are all constantly writing new songs now, it just doesn't stop.
"Throughout this process, a documentary about us is being filmed by Denny Tedesco, as a follow-up to his documentary about" the Wrecking Crew. " So you should not feel that we are waiting for the pandemic to pass. We write, we record, we work on the documentary. The only thing that is on hold now, are the live shows that we can only start with when it is safe for everyone. "
"In California, the pandemic has accelerated, said Kootch." We really have to be very careful. We really can't do anything until the vaccine arrives, or until people become wise enough to go into self-isolation. "
Clearly moved, Danny continues: "Musicians are hit hard, making a living as a young, beginning musician has always been extremely difficult, but now it has become impossible" We see with sorrow how difficult it is for young musicians, we are lucky that we are successful and already have a career behind us. The club scene here is going down, they never had big budgets, and now their doors are closed but the rent is on, the electricity bill is on. There are a number of fundraisers trying to help. Initiatives such as "Save the stages" are trying to keep indie venues and clubs afloat, but the federal government is doing nothing for them. That's bad because it is precisely in this scene that young musicians have to learn the trade and develop themselves as we once did."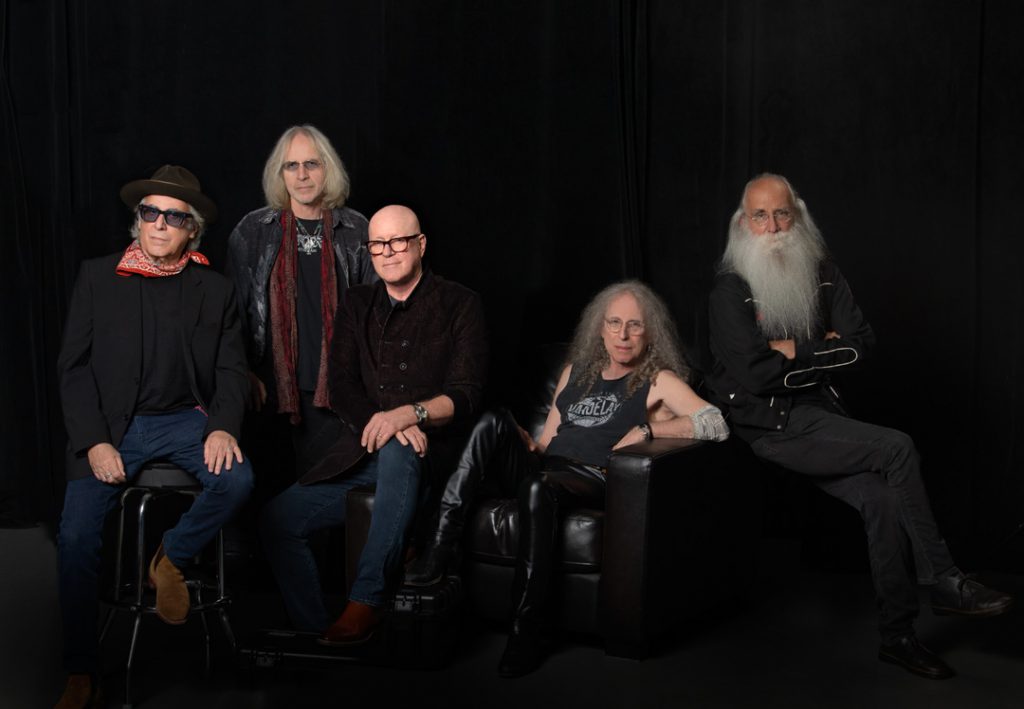 Performing live as a condition of life
After the EP was released, the band was presented live in mid-November with an online, live-streamed show. Is the band considering using online shows as an alternative as long as no real shows are allowed?
Danny answers, "Yes, we would like to do that. We seize every opportunity to play together. Having said that, it is of course also important to see if it is a good business case. You have to rent the venue, pay the crew, technical specs have to be excellent, it all has to work well. Everyone in the business is now exploring options like this because there is no certainty about when we will be able to perform in public again. Maybe it will grow into a kind of pay per view concept in which companies sponsor live stream shows and commercial breaks are put in, there is nothing to say about that, besides that is not something I am working on."
"We were very fortunate to have the help of Don Lombardi of DW Drums for the live stream of our album launch. We took advantage of their stage and crew in Oxnard, California. I've known Don since 1964, so we arranged it that way."
"The last live gig we did was probably the "Rock Legends Cruise" in February, Danny says. "We went up and down the Caribbean on a cruise ship from Fort Lauderdale. During the cruise we played, but also others such as Roger Daltrey, Nancy Wilson, Rodger Hodgson, Robbie Krieger, Don Felder and a few others. We were the last to be added to the program. People recognized us, but no one had ever heard of The Immediate Family. At the end of the cruise, we were found to have been the cruise's most popular band, so we were immediately asked for the 2022 cruise."
"We take every opportunity to play," Leland continued. This is our DNA. We cannot and do not want to do anything else, he says, remarkably fiercely. Just before the pandemic, I was on tour with Phil Collins for two and a half years. For me, it is now a priority to get this band on the road and play. Nothing will ever stop me from that, not at all. Everyone in the band is in good health. Fortunately, we don't have to take anyone on stage against their will, everyone in the band is "on top of their game". When I'm playing, in the back of the stage I'm enjoying, these guys are still playing like they're 19. Age doesn't mean anything. "
---
Don't forget to follow our Spotify Playlist: