Supertramp's Roger Hodgson back to the USA for 40th Anniversary of "Crime of the Century",
|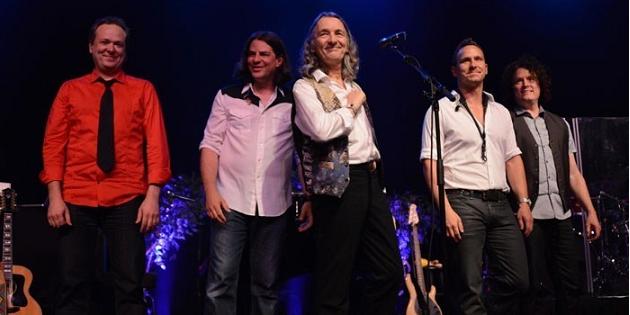 Roger Hodgson, legendary vocalist and singer-songwriter from Supertramp, is heading back to North America for a series of fall dates. Following extensive tours of Europe and Brazil, Hodgson kicks off his North America tour on November 4 in Wabash, Indiana. Hodgson, one of the most gifted composers and lyricists of our time, co-founded the progressive rock band Supertramp in 1969. Roger was the driving force behind what fans call the "golden years" of the band that made Supertramp a worldwide phenomenon with album sales in excess of 60 million. He wrote, sang, and arranged the enduring rock standards such as "Breakfast in America," "Give a Little Bit," "Take the Long Way Home," "The Logical Song," "Dreamer," "It's Raining Again," "School," and "Fool's Overture."
Accompanied by a four-piece band, Roger Hodgson continues to perform all his hits he wrote and later recorded with Supertramp plus other classics of his such as "Child of Vision," "Hide in Your Shell," "Sister Moonshine," and "Even in the Quietest Moments," plus favorites from his solo albums – "Only Because of You," "Lovers in the Wind," and "In Jeopardy" – many of which can be found on his current CD release, Classics Live.
Uniting generations, Hodgson is transporting baby boomers back to their youth while giving younger concertgoers a taste of why his heartfelt songs have endured. In fact, this year marks the 40th Anniversary of "Crime of the Century", released in September 1974. Hodgson's song, "Dreamer," became Supertramp's first international runaway hit, driving the album to the top of the charts. "School," "Hide in Your Shell," and "If Everyone Was Listening" are also fan favorites from the album that Hodgson wrote and composed and often plays in concert.
Roger's shows give North American audiences the opportunity to once again experience the magic and spirit that Hodgson created with Supertramp.
Roger Hodgson North America Tour Dates:
November 4 – Wabash, IN – Honeywell Center
November 6 – Detroit, MI – MotorCity Casino Hotel
November 7 – Niagara Falls, NY – Seneca Niagara Falls Casino and Resort
November 8 – Ridgefield, CT – Ridgefield Playhouse
November 9 – Bethlehem, PA – Sands Bethlehem Event Center
November 11 – Huntington, NY – The Paramount
November 14 & 15 – Rama, ON, Canada – Casino Rama
---
Don't forget to follow our Spotify Playlist: