The Beach Boys Follow Acclaimed '1967 – Sunshine Tomorrow' With Two New Digital Collections
|
The Beach Boys release two new digital audio collections worldwide via Capitol/UMe, revealing much more of the legendary band's pivotal 1967 creative work in the studio and onstage. Following the acclaimed 2CD and digital 1967 – Sunshine Tomorrow collection released in June by Capitol//UMe, 1967 – Sunshine Tomorrow 2: The Studio Sessions presents 29 studio session recordings and Live Sunshine – 1967 features 109 live recordings, most of which are previously unreleased.
1967 – Sunshine Tomorrow, 1967 – Sunshine To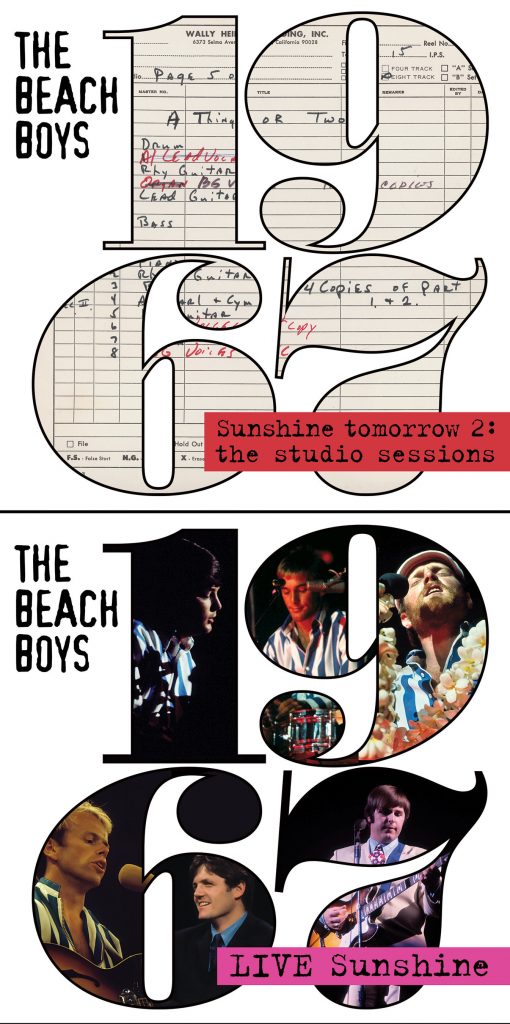 morrow 2: The Studio Sessions, and Live Sunshine – 1967 dive deep into a fascinating and frenetic chapter in The Beach Boys' long, groundbreaking creative arc, exploring the band's dynamic year through their recordings. The Beach Boys have personally overseen the creative process for the three collections, which are produced by Mark Linnet and Alan Boyd. Pitchfork reviewer Jesse Jarnow praised 1967 – Sunshine Tomorrow as "remarkable," saying, "These recordings make it possible to hear The Beach Boys simultaneously as the moody pop geniuses of Pet Sounds and the fresh-faced surf-rockin' teens from Hawthorne, California."
1967 – Sunshine Toorrow features Linett and Boyd's new, first-ever stereo mix of The Beach Boys' 1967 Wild Honey album and all three collections throw open the legendary band's vault to debut sought-after rarities, 50 years after they were put to tape. Previously unreleased highlights across the titles include The Beach Boys' shelved "live" album, Lei'd in Hawaii, studio recordings from the Wild Honey and Smiley Smile album sessions, and standout concert recordings spanning 1967 to 1970. Wild Honey's 2017 stereo mix is also available in a 180-gram vinyl 50th Anniversary Edition.
The Beach Boys' final studio session for the shelved SMiLE album took place on May 18, 1967, with Smiley Smile album sessions booked at Brian Wilson's new home studio from June 3 through the end of July. The band's 12th and 13th studio albums were released exactly three months apart to cap the year's studio efforts: Smiley Smile on September 18 followed by Wild Honey on December 18.
For the Smiley Smile sessions, "I wanted to have a home environment trip where we could record at my house," recalls Brian Wilson in the liner notes for 1967 – Sunshine Tomorrow. "I wanted to try something different, something new. I produced Smiley Smile, but Mike inspired me. He said 'Brian, let's make a really good, easygoing album'. We had an engineer convert my den into a studio. We had my piano detuned to make it ring more."
"Just prior to that, Brian had built up this production peak and then just completely reversed field, and (for Smiley Smile) did something so light and airy, and y' know, easy," explains Mike Love. "That was an underground album, I figure, for us. It was completely out of the mainstream of what was going on at that time, which was all hard rock, psychedelic music, and here we come with a song called 'Wind Chimes.' It just didn't have anything to do with what was going on – and that was the idea."
"Times were changing," adds Al Jardine. "We were happy to put our musical skills to work. We didn't have to look at the clock; there was virtually 24-hour availability to experiment."
"Take away their sorrow / Give them sunshine tomorrow"
On August 25 and 26, 1967, The Beach Boys (absent Bruce Johnston, but with Brian Wilson on organ for his first concert appearances with the band in more than two years) recorded two concerts and rehearsals in Honolulu for a prospective live album to be titled Lei'd In Hawaii, applying a new Smiley Smile-inspired aesthetic to the performances. Just over two weeks later, the band (with both Brian and Bruce participating) began re-recording the live set in-studio at Brian's house and at Wally Heider Recording in Hollywood, after the Honolulu concert tapes were deemed unusable. Although completed and mixed, the final planned audio element of a canned concert audience was not added and the Lei'd In Hawaii project was canceled. Those live, in-studio performances morphed into sessions for the Wild Honey album, primarily comprised of original Brian Wilson/Mike Lovecompositions.
Two days after wrapping the Wild Honey sessions on November 15th, 1967, Mike Love, Carl and Dennis Wilson, Al Jardine, and Bruce Johnston returned to the road for The Beach Boys' Thanksgiving Tour, premiering several songs from the forthcoming album at their concerts.
The Beach Boys continue to hold Billboard / Nielsen SoundScan's record as America's top-selling band for albums and singles, and they are also the American group with the most Billboard Top 40 chart hits (36). "Good Vibrations" was inducted into the GRAMMY Hall of Fame® in 1994. 'Sounds Of Summer: The Very Best Of The Beach Boys' has achieved triple-Platinum sales status and 'The SMiLE Sessions,' released to worldwide critical acclaim in 2011, was heralded as the year's Best Reissue by Rolling Stone and earned a GRAMMY Award® for Best Historical Album.
Inducted into the Rock and Roll Hall of Fame in 1988 and recipients of The Recording Academy's Lifetime Achievement Award, The Beach Boys are a beloved American institution that remains iconic around the world.
The Beach Boys: 1967 – Sunshine Tomorrow 2: The Studio Sessions [digital]
All tracks previously unreleased
Heroes And Villains – A Cappella
Vegetables – Track And Background Vocals
She's Going Bald – Track And Background Vocals
Little Pad – A Cappella
With Me Tonight – Session Highlight
Wind Chimes – Track And Background Vocals
Gettin' Hungry – Track And Background Vocals
Whistle In – Track And Background Vocals
Aren't You Glad – Stereo Single Mix
I Was Made To Love Her – Track And Background Vocals
Country Air – Track And Background Vocals
Darlin' – Track And Background Vocals
I'd Love Just Once To See You – Track And Background Vocals
Here Comes The Night – A Cappella
Let The Wind Blow – A Cappella
How She Boogalooed It – Track And Stereo Last Verse
Lonely Days – Session Highlight And Track
Time To Get Alone – Backing Track
Cool Cool Water – Alternate Mix
Can't Wait Too Long – Alternative Mix With Tag
Tune L – Session – Unreleased
Good News – Outtake
Surfin' – "Lei'd In Hawaii" / Studio Backing Track
Heroes And Villains – "Lei'd In Hawaii" / Studio Version
With A Little Help From 

My Friends

 – Session Highlight And Track With Background Vocals

Barbara Ann

 – "Lei'd In Hawaii" / Studio Backing Track
California Girls – "Lei'd In Hawaii" / Studio Stereo Mix
God Only Knows – "Lei'd In Hawaii" / Studio Stereo Mix
Surfer Girl – "Lei'd In Hawaii" / Studio Stereo Mix – Alternate Take
The Beach Boys: Live Sunshine – 1967 [digital]
* = track previously released on 1967 – Sunshine Tomorrow / all other tracks previously unreleased
Heroes And Villains – Rehearsal / Live In Hawaii / 

8/25/67

God Only Knows – Rehearsal / Live In Hawaii / 

8/25/67

Good Vibrations – Rehearsal / Live In Hawaii / 

8/25/67

The Letter – Rehearsal / Live In Hawaii / 

8/25/67

You're So Good To Me – Rehearsal / Live In Hawaii / 

8/25/67

Hawaii

 – Rehearsal / Live In Hawaii / 

8/25/67

All Day All Night – Rehearsal / Live In Hawaii / 

8/25/67

California Girls – Rehearsal Take 1 / Live In Hawaii / 

8/25/67

Surfin' – Rehearsal / Live In Hawaii / 

8/25/67

Sloop John B – Rehearsal / Live In Hawaii / 

8/25/67

Wouldn't It Be Nice – Rehearsal / Live In Hawaii / 

8/25/67

California Girls – Rehearsal Take 2 / Live In Hawaii / 

8/25/67

The Letter – Rehearsal / Live In Hawaii / 

8/25/67

Hawaii

 – Live In Hawaii / 

8/25/67

You're So Good To Me – Live In Hawaii / 8/25/67
Surfer Girl – Live In Hawaii / 

8/25/67

Surfin' – Live In Hawaii / 

8/25/67

Gettin' Hungry – Live In Hawaii / 

8/25/67

Sloop John B – Live In Hawaii / 

8/25/67

California Girls – Live In Hawaii / 

8/25/67

Wouldn't It Be Nice – Live In Hawaii / 

8/25/67

Heroes And Villains – Live In Hawaii / 

8/25/67

God Only Knows – Live In Hawaii / 

8/25/67

Good Vibrations – Live In Hawaii / 

8/25/67

Barbara Ann

 – Live In Hawaii / 

8/25/67

The Letter – Rehearsal / Live In Hawaii / 

8/26/67

Hawaii

 – Rehearsal / Live In Hawaii / 

8/26/67

 [new edit & mix]
You're So Good To Me – Rehearsal / Live In Hawaii / 

8/26/67

God Only Knows – Rehearsal / Live In Hawaii / 

8/26/67

Help Me Rhonda – Rehearsal / Live In Hawaii / 

8/26/67

California Girls – Rehearsal / Live In Hawaii / 

8/26/67

Good Vibrations – Rehearsal / Live In Hawaii / 

8/26/67

Heroes And Villains – Rehearsal / Live In Hawaii / 

8/26/67

 [new edit & mix]
Their Hearts Were Full Of Spring – Rehearsal / Live In Hawaii / 

8/26/67

The Lord's Prayer – Rehearsal / Live In Hawaii / 

8/26/67

Hawthorne Boulevard – Instrumental / Live in 

Honolulu

 / 1967 *

Hawaii

 – Live In Hawaii / 

8/26/67

You're So Good To Me – Live In Hawaii / 8/26/67
Help Me Rhonda – Live In Hawaii / 

8/26/67

California Girls – Live In Hawaii / 

8/26/67

Wouldn't It Be Nice – Live In Hawaii / 

8/26/67

Gettin' Hungry – Live In Hawaii / 

8/26/67

 [new edit & mix]
Surfer Girl – Live In Hawaii / 

8/26/67

Surfin' – Live In Hawaii / 

8/26/67

 [new edit & mix]
Sloop John B – Live In Hawaii / 

8/26/67

The Letter – Live In Hawaii / 

8/26/67

 [new edit & mix]
God Only Knows – Live In Hawaii / 

8/26/67

Good Vibrations – Live In Hawaii / 

8/26/67

Heroes And Villains – Live In Hawaii / 

8/26/67

Barbara Ann

 – Live In Hawaii / 

8/26/67

Barbara Ann

 – Live In Detroit / 

11/17/67

Darlin' – Live In Detroit / 

11/17/67

Country Air – Live In Detroit / 

11/17/67

 *
I Get Around – Live In Detroit / 

11/17/67

How She Boogalooed It – Live In Detroit / 

11/17/67

 *
Wouldn't It Be Nice – Live In Detroit / 

11/17/67

God Only Knows – Live In Detroit / 

11/17/67

California Girls – Live In Detroit / 

11/17/67

Wild Honey – Live In Detroit / 

11/17/67

 *
Graduation 

Day

 – Live In Detroit / 

11/17/67

Good Vibrations – Live In Detroit / 

11/17/67

Johnny B. Goode

 – Live In Detroit / 

11/17/67

Barbara Ann

 – Live In 

Washington, D.C.

 / 

11/19/67

Darlin' – Live In 

Washington, D.C.

 / 

11/19/67

I Get Around – Live In 

Washington, D.C.

 / 

11/19/67

Surfer Girl – Live In 

Washington, D.C.

 / 

11/19/67

Wouldn't It Be Nice – Live In 

Washington, D.C.

 / 

11/19/67

God Only Knows – Live In 

Washington, D.C.

 / 

11/19/67

California Girls – Live In 

Washington, D.C.

 / 

11/19/67

 *
Wild Honey – Live In 

Washington, D.C.

 / 

11/19/67

Good Vibrations – Live In 

Washington, D.C.

 / 

11/19/67

Graduation 

Day

 – Live In 

Washington, D.C.

 / 

11/19/67

 *

Johnny B. Goode

 – Live In 

Washington, D.C.

 / 

11/19/67

Help Me Rhonda – Live In 

White Plains, NY

 / 

11/21/67

Barbara Ann

 – Live In 

White Plains, NY

 / 

11/21/67

Darlin' – Live In 

White Plains, NY

 / 

11/21/67

Surfer Girl – Live In 

White Plains, NY

 / 

11/21/67

Wouldn't It Be Nice – Live In 

White Plains, NY

 / 11/21/67
God Only Knows – Live In 

White Plains, NY

 / 

11/21/67

California Girls – Live In 

White Plains, NY

 / 

11/21/67

Wild Honey – Live In 

White Plains, NY

 / 

11/21/67

Graduation 

Day

 – Live In 

White Plains, NY

 / 

11/21/67

Good Vibrations – Live In 

White Plains, NY

 / 

11/21/67

Help Me Rhonda – Live In Pittsburgh / 

11/22/67

Barbara Ann

 – Live In Pittsburgh / 

11/22/67

I Get Around – Live In Pittsburgh / 

11/22/67

Darlin' – Live In Pittsburgh / 

11/22/67

 *
Surfer Girl – Live In Pittsburgh / 

11/22/67

Wouldn't It Be Nice – Live In Pittsburgh / 

11/22/67

God Only Knows – Live In Pittsburgh / 

11/22/67

California Girls – Live In Pittsburgh / 

11/22/67

Wild Honey – Live In Pittsburgh / 

11/22/67

Good Vibrations – Live In Pittsburgh / 

11/22/67

Johnny B. Goode

 – Live In Pittsburgh / 

11/22/67

Graduation 

Day

 – Live In Pittsburgh / 

11/22/67

Sloop John B – Live In Pittsburgh / 

11/22/67

Help Me Rhonda – Live In Boston / 

11/23/67

Barbara Ann

 – Live In Boston / 

11/23/67

Darlin' – Live In Boston / 

11/23/67

Surfer Girl – Live In Boston / 

11/23/67

Wouldn't It Be Nice – Live In Boston / 

11/23/67

God Only Knows – Live In Boston / 

11/23/67

California Girls – Live In Boston / 

11/23/67

Wild Honey – Live In Boston / 

11/23/67

Good Vibrations – Live In Boston / 

11/23/67

I Get Around – Live In Boston / 

11/23/67

 *
Sloop John B – Live In Boston / 

11/23/67

Graduation 

Day

 – Live In Boston / 

11/23/67

Johnny B. Goode

 – Live In Boston / 

11/23/67
---
Don't forget to follow our Spotify Playlist: