Graham Nash To Release Exclusive CD/DVD Combo
|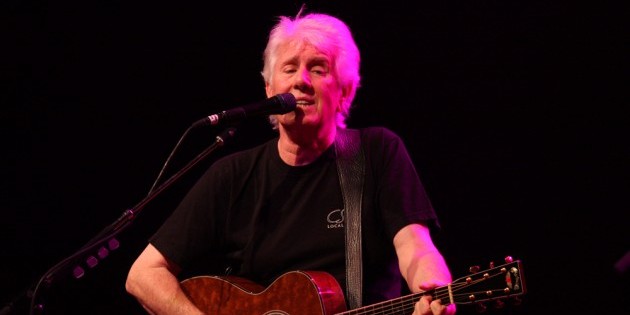 Legendary singer-songwriter Graham Nash is set to release a new CD/DVD collection on September 16, featuring his critically acclaimed solo record This Path Tonight and a digital download card which includes the album plus 3 bonus tracks. Accompanying the CD is a full 1.5 hour Nash concert DVD filmed in 2015 at the Pageant in St. Louis, with bonus content that includes two official music videos, two live performances in the U.K., as well as two different interview segments. An edited version of the DVD special is currently airing across the United States on public television stations via American Public Television (APT).
"I try to live my life the best way I can and making music is such a precious joy and the fact that I get to share it is wonderful in itself," said Nash. "I certainly hope that you enjoy the music that Shane Fontayne and I created."
This Path Tonight, the new studio album and collection of 10 original songs from Graham Nash, produced by long-time collaborator Shane Fontayne, landed on seven different Billboard charts in the United States, and debuted in the Top 50 in over 10 countries internationally. The album is one of reflection and transition of a singer-songwriter whose career (the Hollies, CSN, CSNY) has spanned more than five decades and counting.
CD Track List
1.        This Path Tonight
2.        Myself At Last
3.        Cracks In The City
4.        Beneath The Waves
5.        Fire Down Below
6.        Another Broken Heart
7.        Target
8.        Golden Days
9.        Back Home
10.      Encore
BONUS TRACKS
11.      Watch Out For the Wind*
12.      Mississippi Burning*
13.      The Last Fall*
*Digital download only
DVD Track List
1. Bus Stop
2. King Midas In Reverse
3. I Used To Be A King
4. Marrakesh Express
5. Immigration Man
6. Golden Days
7. Myself At Last
8. Wasted On The Way
9. Wind On The Water
10. Our House
11. Military Madness
12. Simple Man
13. Marguerita
14. Taken At All
15. Watch Out For The Wind
16. Just A Song Before I Go
17. Cathedral
18. Chicago
19. Blackbird
20. Teach Your Children
BONUS CONTENT

Myself At Last – Official Music Video
Mississippi Burning – Official Music Video
Lady of the Island – filmed 2016 in

London, England

Back Home – filmed 2016 in

London, England

Reflections on This Path Tonight interview
Return to

Salford, UK

interview
---
Don't forget to follow our Spotify Playlist: