Reopening of the Mendelssohn House in Germany: History Meets 21st Century
|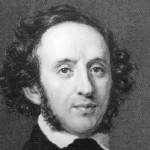 On 3 February 2014, the 205th anniversary of the birth of Felix Mendelssohn, the extended Mendelssohn House Leipzig (Germany) was reopened in Goldschmidtstrasse 12 with a new floor and a total size of 900 square metres. It is the world's only Mendelssohn museum and located in his last private apartment. The museum's new section on the ground floor provides a modern and innovative representation of Mendelssohn's life and achievements to visitors, whereas the historical first floor has preserved the authentic atmosphere of the 19th century.
Among the attractions of the new museum section is a so-called " Effektorium " – a unique, digital conductor's podium to conduct a virtual orchestra. By means of a complex installation of 13 loudspeakers, visitors can regulate speed and sound as well as individual instrument groups, or compare different music interpretations.
A special paternoster cabinet of five by four metres showcases 40 previously undisplayed objects in rotation. A new library offers books, sheet music and audiovisual information on Mendelssohn. Six iPads provide access to the digital music library. A dedicated section for children is part of the new concept. In the new café with customized furniture inspired by the 19th century, visitors can enjoy a cup of coffee.
More than 40,000 guests from all over the world visit the museum every year. The museum was inaugurated in 1997 as a unique centre for the preservation and cultivation of Mendelssohn's heritage. It was included in the "Blue Book" by the German Federal Government as a cultural centre of national importance. The costs of the extension amounted to 1.5 million Euros.
---
Don't forget to follow our Spotify Playlist: