Wynton Marsalis To Headline Tribute To Clark Terry With NJCU Alumni Jazz Big Band
|
Acclaimed trumpeter Wynton Marsalis will perform a "Tribute to Clark Terry" with the New Jersey City University Alumni Jazz Big Band conducted by NJCU Professor Richard Lowenthal. The final performance of Jersey City's "Summer Sounds Series," the concert is sponsored by NJCU in collaboration with the City of Jersey City to provide cultural events throughout the City. The free performance will take place at the J. Owen Grundy Pier, Exchange Place in Jersey City, on Thursday, September 10 at 6:30 p.m.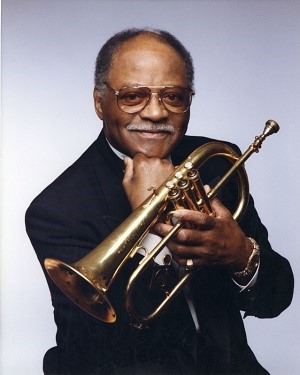 The Alumni Band will feature musicians who studied at the University from the late 1960s to the present. Among the performers will be drummer Rich DeRosa (recipient of the 2014 NJCU Distinguished Alumni Award); sax players Mark Friedman, Daryl Dixon, and Bob Magnuson; trumpeters Vinnie Cutro and Nathan Eklund; and trombonists Rob Edwards, Danny Hall, and Conrad Zulauf. Joining the Alumni Band are bassist Marcus McLaurine and pianist Mike Lungo, professional musicians who performed with Clark Terry through the years.
"NJCU is proud to partner with the City to present this special tribute to the legendary Clark Terry and to share the genius of jazz great Wynton Marsalis and the fine musicianship of our music alumni and faculty," stated President Sue Henderson.
She continued, "Thanks to talented professionals like Professor Lowenthal, NJCU students can benefit from their professors' years of teaching, mentoring, and networking. Dick has performed across the globe for decades, sometimes with students or alumni. We're so proud that Dick is beginning his 49th year as a faculty member in our Caroline L. Guarini Department of Music, Dance and Theatre."
The first annual "Clark Terry Award" will be presented at the concert to an NJCU student who honors the legacy, fine musicianship, and strong humanitarian values of the great man for whom the award is named.
Sponsors for the "Tribute to Clark Terry" include: the Jersey City Office of Cultural Affairs, Hudson County Department of Parks and Community Services, NJCU Foundation, Arch Insurance, Del-Sano Contracting, Genova Burns, Goldman Sachs, 30 M Acquisitions LLC, Connell Foley, Liberty Savings Federal Credit Union, Mack-Cali, Panepinto Properties, SILVERMAN, Wells Fargo Bank, Hopkins Group, Masonry Contractors Association, Hyatt Regency Jersey City, Capital One Bank, Statewide Hispanic Chamber of Commerce, Hudson County Chamber of Commerce, New Jersey Jazz Society and Hot House Jazz Magazine.
---
Don't forget to follow our Spotify Playlist: