YES Legend Jon Anderson To Tour Europe
|
Legendary YES vocalist/songwriter Jon Anderson will be touring Europe with The Paul Green Rock Academy starting July 9th. This Jon Anderson with The Paul Green Rock Academy European tour is a resumption of the tradition started in 2005 when Jon toured with Paul Green's School of Rock all stars.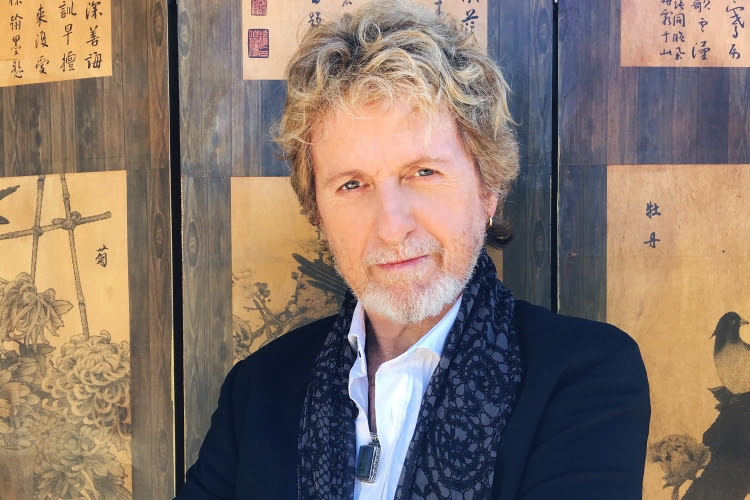 These shows, over 30 in total between 2006-2008, were nothing short of magical. The ensemble resumed this incredible collaboration in 2021 spreading joy throughout the US. Now Jon Anderson and the group are proud to bring the show to Europe to continue that magic with a set of YES Classics, deep cuts, mash ups, and solo works, all with lush arrangements featuring choral singing, horns, and all of the other benefits having a 25-piece backing band provides.
Jon Anderson is undoubtedly one of the most recognizable voices in music as the lead vocalist and creative force behind YES. Anderson was the author and a major creative influence behind the ground-breaking album "Fragile" as well as the series of epic, complex pieces such as "Awaken," "Gates of Delirium" and especially "Close to the Edge" which were central to the band's success. Additionally, Anderson co-authored the group's biggest hits, including "I've Seen All Good People," "Roundabout" and "Owner Of A Lonely Heart." After 50 years of success in the music business, Jon has worked with many variations of YES, as well as collaborations with Vangelis, Kitaro, Roine Stolt and Jean-Luc Ponty. He has released several critically acclaimed solo albums including "Olias of Sunhillow," "Song of Seven," "Animation," "Three Ships," "Toltec" and "Survival and Other Stories" to name just a few.
In 2017 Jon reformed YES with former band members Trevor Rabin and Rick Wakeman. YES Featuring ARW toured the world to rave reviews and released "Live At The Apollo" CD/DVD in September 2018. Never to stand still musically, in 2019 Jon released an album he started 28 years ago, now called "1000 Hands," a reference to the fact that numerous guest musicians perform on the album, including Ian Anderson, Billy Cobham, Jean-Luc Ponty, Chick Corea, Zap Momma, Chris Squire, Alan White, Steve Howe and many more.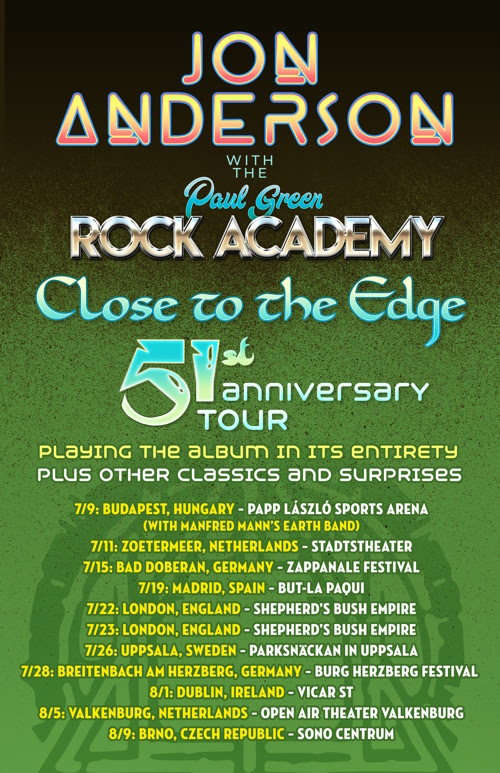 Jon Anderson with The Paul Green Rock Academy tour dates:
July 9: Budapest Hungary, Papp László Sports Arena (With Manfred Mann's Earth Band)
July 11: Zoetermeer Netherlands, Stadtstheater
July 15: Bad Doberan Germany, Zappanale Festival
July 19: Madrid Spain, But-La Paqui
July 22: London England, Shepherd's Bush Empire
July 23: London England, Shepherd's Bush Empire
July 26: Uppsala Sweden, Parksnäckan in Uppsala
July 28: Breitenbach am Herzberg Germany, Burg Herzberg Festival
August 1: Dublin Ireland, Vicar St
August 5: Valkenburg Netherlands, Open Air Theater Valkenburg
August 9: Brno Czech Republic, Sono Centrum
---
Don't forget to follow our Spotify Playlist: