Lee Fields – Sentimental Fool
|
Lee Fields, or 'Little JB' as he is sometimes called because of his small stature and apparent physical resemblance to the godfather of soul James Brown is releasing a new album titled "Sentimental Fool". Apparently, people always need to compare one artist with another, bigger artist. There is the uncontrollable need to pigeonhole someone. When James Brown passed away in Atlanta in 2006, the title of Godfather of Soul passed to Charles Bradley, 'the Screaming Eagle of Soul' as he was enthusiastically announced by Binky Griptite, guitarist for the Daptones. Bradley passed away in New York in 2017. This effectively makes Lee Fields the last of the Mohicans. He recorded his first single in 1969, and sang the legendary duet "Stranded in your Love" in 2005 with the sadly deceased empress of soul, Sharon Jones. So Lee Fields can send you a message when it comes to soul music.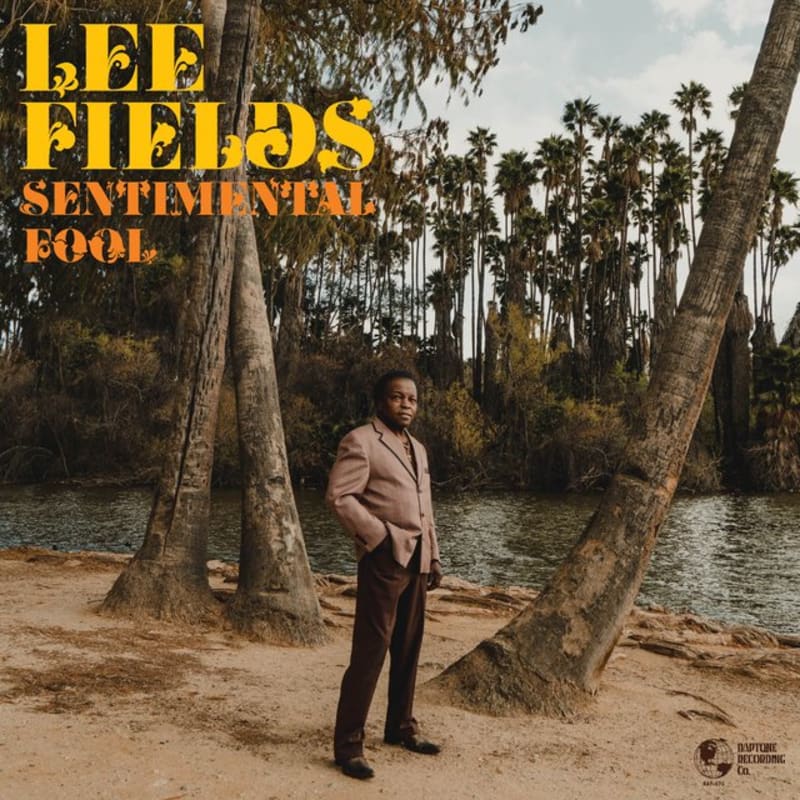 So now "Sentimental Fool" is his new album, which he will release on the legendary Daptone label. With Gabriel 'Bosco Mann' Roth, one of the founders of Daptone as a producer, you are in the right place if you want that original soul sound. A promising combination. Bosco Mann played bass with Sharon Jones & the Dap Kings and of course on Amy Winehouse's legendary "Back to Black". So a force to be reckoned with.
"Sentimental Fool" has 12 tracks, a number of which were previously released on the single release of "Two Jobs". Instantly recognizable is the Daptone sound. Honest and old-fashioned velvety sounding, the soul drips from your speakers. Recognizable out of thousands, a guarantee for quality and authenticity.
The album kicks off with "Forever", Fields can sing sugary declarations of love like no other. "Forever" is one of them. Top-notch music. Beautiful that thin organ in the back of the mix. The Daptone horn section lends extra credibility to Lee Fields' beautiful dark voice as he sings that he will love her forever. This is not nostalgia. This isn't kitsch, this is the real deal. Real emotions and real music.
"I should have let you be" then the same sheet is an ill-fitting tailor-made suit. You feel the human warmth. Lee Fields embodies what we expect from good soul music. Credibility, authenticity, and sweat almost dripping from your speakers. In January 2020 I saw Lee live for the last time in the small hall of the Muziekodroom in Belgium. As an audience, you were practically inhaling the gold thread from Lee's old, worn-out jacket, and the man's sweat poured down the front row of the room, where the moisture trickled down the ceiling. I want to experience this song live again in such a setting.
"Two Jobs" then. As a subject to the hardness of existence in general and that of the existence of Lee Fields in particular. 'I'm working two jobs, gettin' paid for one.' He notices it but just continues. What a life. Wonderful music with a pulsating, rhythmic organ, pumping tenor sax. 'I gotta work all day, gotta work all night.' Then comes the punch line; 'I'm working two jobs, one of them is you'. Of course, everything in life revolves around love, and it is certainly not easy. Lee should know.
So the album goes on. No song is suitable for sitting still. This is dance music in its purest, unadulterated form. Bluesy, intense and like a warm blanket. "Sentimental Fool" is such an album that you don't zap through, this is just wonderful to listen to from the first to the last note late at night. If you have a party at home, you can also set it up completely. Guaranteed to be danced.
With "Sentimental Fool" you get the original Daptone Sound, performed by the only artist who can still do it this way. So gold. What's even more beautiful? At the beginning of 2023, Fields will also come to Europe to present his album live. Make sure you are there because that is unique. Until then I pray that he has the Daptones with him as a band.
"Sentimental Fool" is a more than great album, a real must for anyone who loves good music. It will not be a 9, which is reserved for possible masterpieces that further develop the music through innovation. Lee Fields doesn't do that. The man really excels in the square meter of the original soul, like no one else can. Daptone gives him the opportunity to shine as we like to hear. A wonderful album! (8/10) (Daptone)
---
Don't forget to follow our Spotify Playlist: