Cross Country Rider – The New Truth
|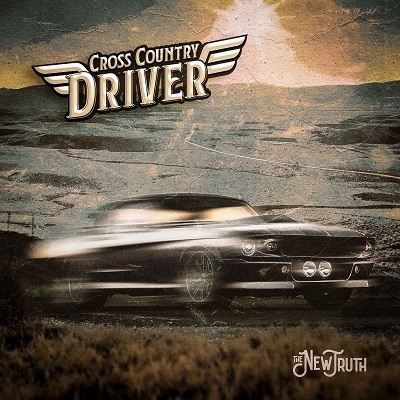 Last month marked the release of Cross Country Rider's debut album, entitled "The New Truth", a collaboration between three incredibly talented musicians, Rob Lamothe, his son Zander Lamothe and James Harper. Rob in particular is best known in Holland as the lead singer of the band Riverdogs, with whom he won another Edison for their, now 'cult' debut album. This new album delivers a musical experience that is both classic and fresh with the help of such notable guest artists as Mike Mangini, dUg Pinnick, Rhonda Smith and Greg Chaisson.
"The New Truth" is an album worked on for two and a half years, and the result is a collection of ten songs that capture the essence of old-school rock and roll without sounding corny or dated. From the opening track "Wild Child" to the closing track "My Goodness." listeners are taken on a journey that is both nostalgic and modern. The album is mixed by Grammy Award-winning producer Nick Brophy, also one of the original Riverdogs, who brings his expertise to create a sound that is rich, dynamic and vibrant.
Featuring the legendary Vivian Campbell on guitar and vocals, "Risen" is undoubtedly the album's best track The song begins with a hauntingly beautiful guitar melody, which is then complemented by the vocals of Rob Lamothe. It is on "Risen" that Lamothe's truly phenomenal singing voice is best showcased. Besides being a fabulously good singer, on this song, you can also hear the songwriter Lamothe at the peak of his powers. In terms of feel, it could nicely have been on one of his earlier solo albums. The song builds up to a chorus that is both powerful and emotional. Campbell's guitar solo toward the end of the song is simply stunning and classic in the genre.
Other songs on the album, such as "Shine", "Rio Tulerosa" and "So Fly" demonstrate the band's ability to write songs that are catchy, anthemic, and have the potential to become radio hits. These songs are all driven by strong and catchy guitar riffs, solid drumming and Rob Lamothe's distinctive voice. His vocal range remains impressive. He switches effortlessly between soft vocals and roaring out choruses with raw, emotional energy.
One of the most exciting aspects of "The New Truth" are the guest appearances by such renowned musicians as dUg Pinnick and Rhonda Smith. Pinnick's bass playing on "Rio Tulerosa" is growling, steady as a rock and adds the real classic rock layer to the song. These guest appearances add a new dimension to the album. It is clear that the band enjoyed working with them.
All in all, "The New Truth" is an album that is sure to please fans of classic rock and roll. It is an album that is both timeless and modern. It is clear that the band put their heart and soul into it. Rob Lamothe, James Harper and Zander Lamothe are all incredibly talented musicians who have come together to create something special. With "The New Truth" they have delivered an album that is both musically impressive in terms of craftsmanship and a pleasure to listen to.
The album is well-produced, well-written and well-executed. It captures the essence of old-school rock and roll. Yet it manages to sound fresh and modern. The guest appearances are a welcome addition. Standouts like "Risen" and "Rio Tulerosa" prove that this band has what it takes to grab the attention of fans. Tasty band for festivals too. Fans of classic rock and roll should definitely give this album a listen. (8/10) (Frontiers Music)
---
Don't forget to follow our Spotify Playlist: