Kool & The Gang will release "The Albums Vol. 1 1970-1978"
|
With a cannon of more than 20 albums, Kool & The Gang are one of the most sampled bands in music history. From their roots in the mid-late '60s, the band has explored many musical styles from jazz and soul, funk and rock, R&B/pop, with Gene Redd at the helm for their first handful of albums.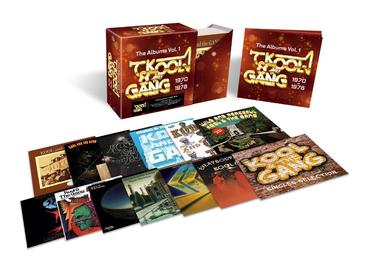 Formed by brothers Robert "Kool" Bell (Muhammad Bayyan) and Ronald Bell (Khalis Bayyan) and five close friends, Kool & The Gang signed to De-Lite Records in 1969, releasing their eponymous debut album, Kool And The Gang worldwide the following year, having reached the Billboard Hot 100 Singles chart with the title track. In 1973, Kool & The Gang reached the Billboard Top 30 for the first time with "Funky Stuff", which was swiftly followed by hit singles "Jungle Boogie" and "Hollywood Swinging", which both reached the US Top 10. These are two of their most instantly recognisable earlier recordings, due to them being sampled and featured in present-day TV commercials.
More hits followed, including 1975's "Summer Madness", again instantly recognisable from DJ Jazzy Jeff & The Fresh Prince's (aka Will Smith) global hit "Summertime" in 1991. However, it was the inclusion of their 1976 track "Open Sesame" on the 50 million-selling units "Saturday Night Fever" soundtrack, that they really gained worldwide commercial popularity and recognition.
"The Albums Vol. 1 1970-1978" is the first of two box sets that cover the band's first 20 years. The set contains 119 tracks across 13 CDs, from the Band's twelve studio and live albums, released worldwide from 1970's debut Kool & The Gang and 1978's "Everybody's Dancin'," as well as a bonus "Singles Selection" disc, containing singles edits and non-LP tracks. Kool & The Gang's musical legacy remains in full force with their brand of melodic jazz, funk soul and pop.
---
Don't forget to follow our Spotify Playlist: