Lotus & Charming Horses take you back 'In Da Club'
|
U.S. hit-maker Lotus and German breakthrough DJ/Producer Charming Horses have revamped one of hip hop's most recognized classic tunes into a warm dance cover. 'In Da Club' was originally released in the early zeroes by 50 Cent, and never really lost its impact throughout the years. In this brand new version, it's bound to raise party vibes all over again, empowering the vocal lines with sultry house beats and strong piano chords. Out now on Spinnin' Records.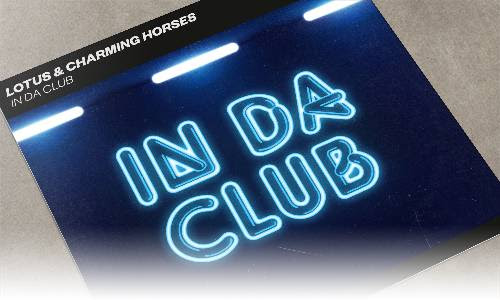 It's a bittersweet blast from the past presented here, especially as it's been a while since we've actually been in da club. But leave it to Lotus and Charming Horses to get the blood pumping again, and re-create a fresh 2021 sound around 50 Cent's eponymous hit.
It's what both artists are known for. Lotus is a monumental DJ/producer/songwriter who's been all over the place musically, from Marta Sanchez 90's hit 'Desesperada' to pop and dance hits featuring Pitbull, Snoop Dogg, Jason Derulo and Flo Rida. This resulted in several dancefloor hits, including the Pitbull featured records 'She's My Summer' and 'Soul Mate', the dancehall infused 'Champagne On Me' featuring Flo Rida and the upwinding house tune 'Wouldn't It Be Good' featuring 80's icon Nik Kershaw. Next to this, Lotus has collaborated with the likes of Kendrick Lamar for 'Mirrors' and 'Giants', Iselin Solheim for hit song 'Fading' by Alan Walker, as well as, a new version of super hit of Salt N Pepa 'Push It'.
Meanwhile, German DJ/producer Charming Horses gained worldwide attention with several successful major releases on Spinnin Records, Sony, Armada, Revealed and made huge remixes for Hardwell, Clean Bandit, Zara Larsson, Schiller, Nena, Dario G, Dannic and many more.
He became famed for reshaping classic tunes into widely appealing dance gems, reaching worldwide acclaim with hit records 'Higher Love' and 'You Get What You Give', his remix of German pop song 'Sonnenmädchen' as well as last year's new house mix of the classic R&B hit 'Ain´t that just the way', together with Lutricia Mc Neal. This record made it into more than 150k playlists, several Airplay Charts and nearly to 10 million Spotify streams. By now, his Spotify profile has already more than 100 million streams and 1 million monthly listeners, combined with more than 50.000 Spotify followers.
In Da Club
So, here's two artists with a versatile background, with the talent to bring a timeless song back to life. 'In Da Club' is the perfect example; 50 Cent's vocals are delivered here by a female singer, while the beats have transformed into a tasty deep house groove. The melody is enhanced by warm piano chords, given extra energy with upwinding drum fills and sweet backing vocals in the chorus.
It's the excitement of the 2003 original, taken to a nowadays club (figuratively speaking, sadly) with high energy dance vibes. Let it be an omen for later this year when we'll hopefully all be dancing together again, right back 'In Da Club'.
---
Don't forget to follow our Spotify Playlist: