John Mellencamp – Strictly a One-Eyed Jack
|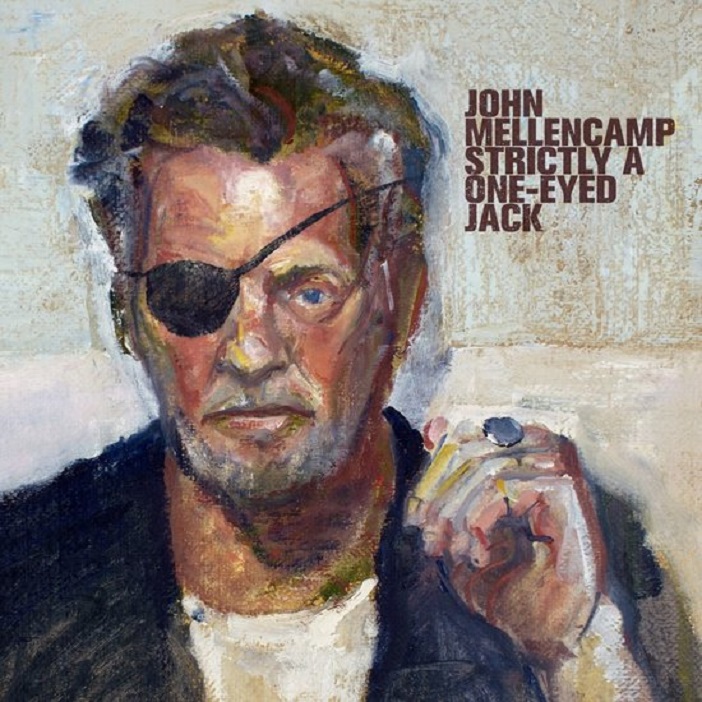 With "Strictly a One-Eyed Jack", John Mellencamp is releasing his 25th album. The album has 12 new titles, and clocks in at just over 45 minutes. What is special is that it contains three tracks that Mellencamp recorded with none other than Bruce Springsteen.
It is not to be expected that Mellencamp, seventy years now, still represents heartlands rock as much as he did in the eighties, with great albums like "John Mellencamp", "The Lonesome Jubilee" and "The Scarecrow". With the hit-single "Jack & Diane", Mellencamp has a real classic to his name, but also hits like "R.O.C.K. in the USA" and "Paper in Fire" are still very nice to listen to.
The album sounds great, to begin with. David Leonard, who has already collaborated with John Mellencamp on "Human Wheels" and has an extremely successful career as a mixer and producer, has done his utmost to give the album a beautiful 'sepia'-brown sound that fits immensely well with the impressive voice of Mellencamp. Production-wise, the album reminds me of Soul Asylum's "Grave Dancer's Union" which, although arranged more broadly, has the same directness in the sound, made such an impression even then.
Mellencamp does not rock on this album as he did forty years ago, but a very nice album has come out. Beautifully sung Americana with country influences and very beautiful lyrics. A real late-night listening album, also highly recommended for on the go.
The opener "I always lie to strangers" immediately grabs your attention. Vocally, you immediately notice that Mellencamp's voice has matured further, and has been recorded incredibly well by Leonard. Here and there I got deja-vus of Willy Deville's later work, as he sang on an album like "Pistola". Wonderfully open arranged with a violin solo in it. Exactly as it should be.
One of the highlights of the album is the duet with Bruce Springsteen "Say such a thing". What a wonderful groove, and what colour those voices together beautifully like a very strong bourbon, straight from an oak barrel. And then there's that howling guitar solo. Ultimate pleasure. Why are these two greats only now coming together?
The ballad "Gone so Soon" gives me goosebumps in places I haven't had it for a long time. How a few simple piano chords, in a fairly obligatory progression, can lead to something phenomenally beautiful. That dark voice of Mellencamp, the second voice of a woman over it. And then. A trumpet from heaven. Isn't Chet Baker dead after all? My breath stops at so much beauty, I close my eyes and enjoy. There isn't a bad song on this album. All tracks play at the same highest level. Mellencamp has set up a team with only scoring strikers.
But when you close with a song like "A life full of Rain", again a duet with Springsteen, then you have saved the best for last. "Heartwrenching" is the guitar solo, as it should be. It wouldn't surprise me at all if this album, especially in the USA, gets nominated for a Grammy Award. With this album, Mellencamp delivers his best work in decades, possibly even the best album of his entire career. So, does the album deserve a 9 out of 10? Actually, the album certainly deserves that, but I have the hard condition that an album must be insanely well produced and played, with top-notch song material, it must also be innovative. The album isn't innovative, so no 9, but I haven't heard anything better this year, let's leave it at that. (8/10) (Republic Records)
---
Don't forget to follow our Spotify Playlist: