Madness online live in Their House…
|
If there is one band that fits the genre 'an overkill of cheerfulness and fun' it is Madness. The British band got its name in 1979, which was derived from Prince Buster's song of the same name. With their debut "The Prince" the men honoured their namesake, and with a cover of his "One Step Beyond" they left the entire ska world behind. Now, more than 40 years later, the band still exists, and the men have proven that they can do more than just ska. On Friday 14 May, Madness will play a worldwide live-stream concert at The Palladium in London, in front of an audience made up of the ghosts who live in the famous London Theater. That requires an explanation, so time to join Suggs himself.
Suggs is relaxing in his garden when we sit down to have a barbecue. The flames sometimes shoot high above the grate, but Suggs stays calm while the grandchildren run around in the yard. 'That's life, ain't it!', The now 60-year-old singer shows himself cool. Not even thinking about quitting, the band was looking for a way to perform in the lockdown. 'We started to come up with a plan to play a little over a year ago. I don't know what it's like over there, but there was really nothing to do here in London. Very disappointing, so we thought about it and came up with it. "The Get Up!", In The Palladium.'

"The Get Up!" will be a mix of music and theatre. 'A lot of rock bands now do live streams with a lot of smoke and light shows, but in the end, you notice: there is no audience. So we decided to do something where it is clear that there is no audience. We saw images of Jack Nicholson in a room full of ghosts who went to dinner and we thought, 'We should do that!' And when you consider that the men themselves will play the ghosts in the hall, culminating in Mike Barson as Queen Elisabeth, then it must be something very special.
'We did talk about whether we should do that,' Suggs admits. 'We are not all in the Queen's mind, but we had some doubts. It is ultimately up to the public to decide whether it is possible or not. Ultimately, it is The Palladium, one of the oldest theatres in London. The Royal family used to come here every Sunday. watching a performance. That's what it refers to. I hope it's not disrespectful, though, how fascinating, isn't it… ' Still, Suggs isn't really afraid of it. 'We got to meet the Queen a few times and even play on the roof of Buckingham Palace. She has played a part in the lives of all of us.' Barson eventually plays the English Queen, but anyone who knows the 6 feet 4 keyboard player and compares him to the English Queen, knows that something has to be done to make him look like her. 'We have to have an entire outfit made for him,' Suggs is already looking forward to it.
The script of 'The Get Up!' was co-written by the English comedian Charly Higson. 'It just so happens that Charly is my neighbour,' says Suggs, 'and when I spoke to him about the idea, he immediately offered to help. And we immediately accepted that offer with both hands, because this will be more than just the video clips we've ever done.' In the show, Charly more or less plays the presenter, who takes the viewer through Madness' successes. 'It would be weird if we announced ourselves. That would be arrogant, and we aren't. We are one of the top 3 best bands in the world in the end,' Suggs jokes in between, 'although I've forgotten who the other two are. bands are.' The way Suggs makes the joke shows how seriously the band takes themselves.
Over the years, Madness has played a variety of styles. Yet the band is still called a ska band by many, although the label pop band also sticks to Madness. 'For me, pop is an abbreviation of popular. Pop music was something at the time where others said what you had to play, wear and do to be popular. We were part of a small independent label at the time, where no one told us what to do. And then being popular is not a bad thing.'
At the time, Ska was often linked to skinheads and racism. 'Skinheads in London, however, had nothing to do with Ska, they were more in the reggae scene. You can still see that in old videos from that time,' the singer clearly indicates. 'So we wanted to distinguish ourselves with our clothing, we took over our style from Jamaica because we didn't want anything to do with racism.' For the first time, Suggs doesn't smile during his explanation, and it's serious business for him. 'There were secondhand clothing stores at the time, with clothes from the 50s and 60s. Not expensive, 8 pounds or so, but we liked that,' Suggs gives a glimpse into history. 'Others were punks at the time, looking like Punks. And we wanted to dress well and dance with the same energy as Punks.'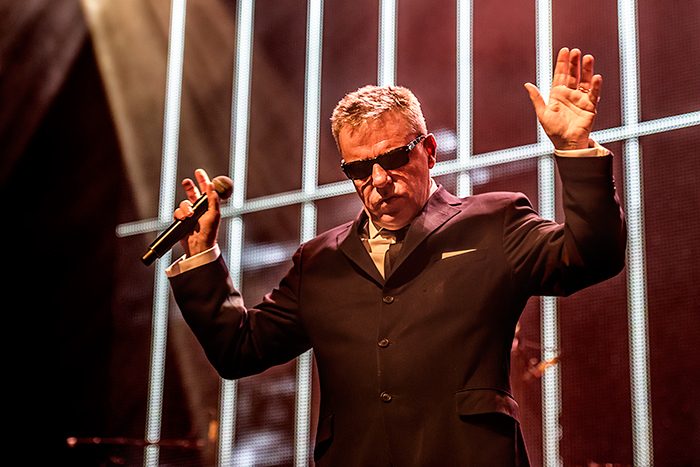 During the live-stream concert, the band will play three new songs, but Suggs doesn't want to let go of much. 'You can expect what you want, but we do what we want. Three great new songs, a little bit of this, a little bit of that.' The frontman laughs off the demand for a tip of the veil. 'If you can make music with your best friends in one room, look each other in the eye and have fun, that's the most important thing. I don't care what others will think of it, it's about friendship and making music together.' And that's the driving force behind Madness. 'Friendship indeed… and love!' Suggs confirms.
One of Madness's biggest hits, "Our House," has now been re-released as a music video. Complete in 4k digital video clip. 'I don't understand why the record company hasn't picked up another song, because "Our House" is getting boring.', Suggs says seriously, and then almost rolls off his chair with laughter. 'Why not "Baggy Trousers" or some other song I wrote?' Then apologize for his umpteenth joke, 'I don't know if you have them over there, mate, jokes …,' Suggs laughs, to continue on the big hits. 'We were very innocent with the band. We weren't talking about sex or anything, but just the little things in life. We learned that from Ray David of The Kinks. Just things from normal life.'
'Something tells you that you got to get away from here…'

Our House, Madness
For Suggs, "Our House", despite not writing it himself, seems a bit biographical. Suggs moved a lot in his youth, moving from Hastings to Liverpool, Manchester, Wales in his childhood, ending up in London at the age of 12. 'Some had the police at the front door, they had to flee over the fence, it was not always perfect. But still, it was not as bad as it seems.' Suggs seems a lot more serious when he talks about the past than when he talks about his music. When we look back at Madness's long career, it is only logical that a track was chosen that depicts the lives of various band members in a nutshell.
Now the band has three new songs rehearsed, ready for the performance and logically there will be an album as well. 'Absolutely, we already have three new songs. After such a long time to be able to record with the band again is great. And I don't even care what the quality of the songs is; it's Madness. I'm watching it. I'm really looking forward to recording more new songs. They don't have to be hit singles, I don't care anymore.' In terms of hits, we will have to make do with the now huge collection of hits from Madness, which is certainly not a punishment. "The Get Up!" will take place on May 14 and, if we are to believe Suggs, will be: Great.
---
Don't forget to follow our Spotify Playlist: