Chrissie Hynde; a new start
|
In a world where models want to be rock stars, rock stars want to be film stars and most celebrities would kill their mothers just to be anything, Chrissie Hynde has never made any attempt or pretence to be anything other than what she is. And what she is, as displayed on an unparalleled collection of truly brilliant records, is one of contemporary music's greatest songwriters – with a voice that can easily melt your heart and then put it back together again, often within the same song, sometimes within the same line. Strange, isn't it, how people take things for granted? Perhaps because Chrissie does 'being a rock star' – a female rock star – so effortlessly, so uncompromisingly, it sometimes got forgotten that her actual singing voice puts her near the top of the premier league of rock vocalists. From her very first album where she almost threw away the killer line "I'll never be like a man in a man's world" at the fade-out to 'Lovers of Today', Chrissie Hynde has a voice that can convey sadness, joy and regret better than almost anyone you can think of. And now she has made her first solo album.
Released on June 2, "Stockholm" feels like a debut, which in one way it is. Because, 6 years after the last Pretenders album, during a career spanning 30 years and sales of 25 million records, Chrissie Hynde is now breaking it down and keeping new and very different company. "Stockholm" was recorded at Ingrid Studios, Stockholm, with co-writer, guitarist and producer Bjorn Yttling (Peter, Bjorn and John) and features cameos from Neil Young and John McEnroe. The songs – 11 in total, including the lead-off track "Dark Sunglasses" and first proper single "You Or No One", mix strong pop hooks with emotional and incisive lyrics. As Chrissie herself describes it – "I wanted to make a power pop album you could dance to – Abba meets John Lennon".
"Stockholm" is certainly light on its feet with a strong, energised sound. "So much of rock n roll has become what I would call Glory Rock, with family values. It's the irreverence in rock that was always the turn-on. I disagree with people who say you shouldn't take yourself too seriously. I think life is serious, and you should take it seriously, but in rock n roll either have a fucking laugh or fuck off. 'Stockholm' is very danceable. You can do the grebo dance to the whole album!" adds Chrissie.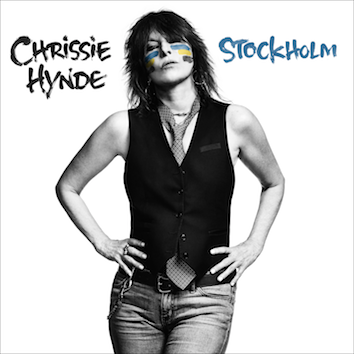 No Pretenders
So why choose now to release a record under the name Chrissie Hynde? "Ever since the original Pretenders – and I had replaced Pete and Jimmy after the second album – I've been fending off questions from album to album saying, really, it's just you, isn't it? And every time I have to say no, it's a band. I like playing in a band – normally I'll take most of the songs, written, to the band and the personalities make my songs sound better than they would if it was just me and a guitar".
"I've always said I would never be a solo artist. I never wanted to see my name in lights. I've done a variety of Pretenders albums with completely different line-ups and different producers. I've even done some co-writing now, and obviously the common denominator is yours truly. Then I started doing a re-assessment of everything five years ago. I'd played myself down to the point where it was dangerous, you know. I had to find a way to kind of re-boot my brand".
After the last Pretenders album, 2008's "Break Up The Concrete" Chrissie collaborated with Welsh singer J.P. Jones on the 2010 album "Fidelity". "I met songwriter JP Jones in a bar at an art party. He said that he thought we could write a great album together. I was on tour with the Pretenders, but it sort of planted the seed – to collaborate and try something different from what I was used to. And so we wrote the songs and recorded it like an experiment and toured the States under the name The Fairground Boys. I was practically anonymous, playing to clubs with a 200 capacity. It showed me that I could work outside of my usual framework, something that I'd already started to explore with the last Pretenders album. That was made in 11 days with people I didn't really know. Because quite early in the Pretenders' career, I had to put a new band together under tragic circumstances. From then on I just kept things going, even with a different line-up. So the idea of change and fluidity was always there. I just wanted to make the process a bit more experimental, so 'Stockholm' was an easy transition to make."
"This album 'Stockholm', though, is actually more of a collaboration than any of the Pretenders albums has ever been. I met Björn and I liked the stuff he'd done. We weren't going to do an album together, we were only going to write a couple of songs. He could only work for two or three days at a time, so I ended up going back and forth to Stockholm, which I really don't mind as I like travelling. Stockholm was new to me and it was discovering a new world", she continues, "I was trying to let the well empty out altogether, sit back and try something different. Bjorn would play me something, I'd say, come back in half an hour, he'd go off and work on one of his other things, I'd just sit down and listen and write the song to it. It was a fun way to write, and something completely different for me'.
"Bjorn also got me together with another person on the scene there, Joakim Åhlund – he's in a band called the Caesars. Then I dragged in some kid I saw in the studio while I was waiting for Björn to show up. He looked like a ballet dancer and the people from the Ingrid complex told me his name was Zacharias Blad. One of the guys was making a pop record with him. He was so striking looking I just said, hey you, come here! I got him to sing on the song 'Dark Sunglasses'. Basically everyone on the album is Swedish. As I said, it's more of a collaboration than any of the Pretenders albums – so there's some irony that it's my solo album now".
Emotional matters
The lyrics on 'Stockholm' are mostly about emotional matters, well thought through observations on the dreams and realities of love. As Chrissie says, "I've had enough experience in my life that I can call from a vast well of disappointments. It's not like a break-up album, though there's a lot of longing,a lot of angst, probably a lot of disappointment – but if this album is about relationships then I'm just having fun with it actually. The songs are certainly adult and I'm way past writing my break-up album. I've got thirty years of break-ups to call from. The thing is, I'm at a stage where I'm happy. I really enjoy life. I think being happy is a discipline, it's something that every day you have to work on. I've never been very ambitious. I love playing music, and I wanted to make a power pop album that you could dance to. That's all I cared about".
The taster track from the album, "Dark Sunglasses", shows Chrissie at her incisive best. This time her lyrical target is the English class system "a kind of glamour, you can lend yourself, like dark sunglasses – you'll remember how good it tasted inside the ruling classes, wasted behind your dark sunglasses". Standing at the window watching our aristos at play, like Truman Capote's 'Answered Prayers' transposed into a four minute pop song, "Dark Sunglasses" is at once acutely observed and a brilliant pop song. "Björn said, okay, we're going to write a song, and it's called 'Dark Sunglasses' – and I said, how can you write a song called 'Dark Sunglasses', that is such a cliché. But that would spur me on, I can have a lot of fun with things like that. The whole thing of reverting back to type is such a syndrome. Maybe it's a British thing, trying to be something other… the slumming it period that upper class kids go through'.
The first single "You Or No One" opens the album, a gloriously joyful love song which sounds so effortless that you'd think it was autobiographical – but it isn't; "This song was written quickly. It's about the internal longing for your soul connection – everyone wants a lasting love affair. There's a line in it which taken from one of my favourite songs, 'Love Is A Hurtin Thing' by Lou Rawls, that idea that love is a transcendental thing and everything else is temporary. Have I found it? Well, I'm looking". Another track "Down The Wrong Way" features Neil Young on guitar – a fact that is immediately obvious from the opening bar of the song. Chrissie says; "This one comes from my love of Vedic philosophy. I kept referring to it as 'the Neil Young song' because the chords sounded like a Neil Young song. And I said to Björn, oh we should get Neil Young on this one – just fucking with him, really. But then I thought, I really should get Neil Young on this. I know Neil Young, I've toured with him and he's always been so sweet and friendly to me. But when you're talking about one of the Gods, it doesn't seem like something you'd do to just pick up the 'phone and call someone like that. But then I thought, I should do, because he's a friend of mine. And also of course I was trying to impress Björn and freak him out. Neil got back and said, I don't want to hear this song, but I'll be in London doing some shows so if you can organize a studio I'll come and have a go. So I sent a message to Björn and he was on the next flight. Neil came down, plugged in and played the song and everyone's mind was blown. And his manager was there with him and he said to me, you know Neil's never done an overdub before! I don't know, I'm still amazed that Neil Young is on my album".
John McEnroe
There is another cameo on the album. The song "A Plan Too Far" features a guest appearance by tennis legend John McEnroe. Chrissie picks up the story: "When I first met Björn, I walked into his studio and noticed a tennis racket in there, he loves tennis, and I told him I knew John McEnroe. I was trying to impress him, and Swedes are very stoic, you can't get a rise out of them very easily. But I hit the spot when I told him I knew McEnroe. One time I got John into the studio, and we played him a song. It was a real basic track, just the guitar and my voice. Actually half the songs on the album are still just the demo vocals. Anyway, John listened to the track and he looked at me and at Björn and said, are you going to put any guitars on that? At that moment, I thought, I've got to get John to play on something. So we organised another session when he was back in town, and he plays on the song A Plan Too Far – and if you've ever seen a John McEnroe tennis match, you can tell exactly who's playing that guitar!"
The final track on the album, "Adding The Blue" is Chrissie Hynde at her most poignant. "That was the one on which Joakim and I had been working for a couple of days, I wasn't sure if it was going to work or not. He said he had these chords, maybe too pretty, and I said, come back in twenty minutes, and chased him out of there. That was one of the songs where I sang the vocals in immediately and we never changed it. That's exactly how it was, in the first twenty minutes. Later on, I thought, I really like this song, but it's too short, there's not enough going on, so I popped in the middle part. (The lyric refers to famed underground comix artist S. Clay Wilson. His principal character was the completely anarchic Checkered Demon). Chrissie adds "S. Clay Wilson did a little poster for my box set. He influenced me when I was a young lady in Ohio, possibly in a negative way. The Checkered Demon had a great influence on me, which I'm quite surprised I'm still here to live to tell".
---
Don't forget to follow our Spotify Playlist: