Afrojack can only hope…
|
A few weeks ago the news was announced one of the acts during the final of the Eurovision Song Contest in Rotterdam would be the Dutch Top DJ Afrojack. The first reaction among the majority of the people was simple: "Daring". Yet the music of the popular DJ Afrojack, stage name of Nick van de Wall, is closer than you might think at first sight. Sitting relaxed in his spacious living room, Afrojack spoke to Maxazine about the upcoming performance, his new single 'HERO' and his music in general.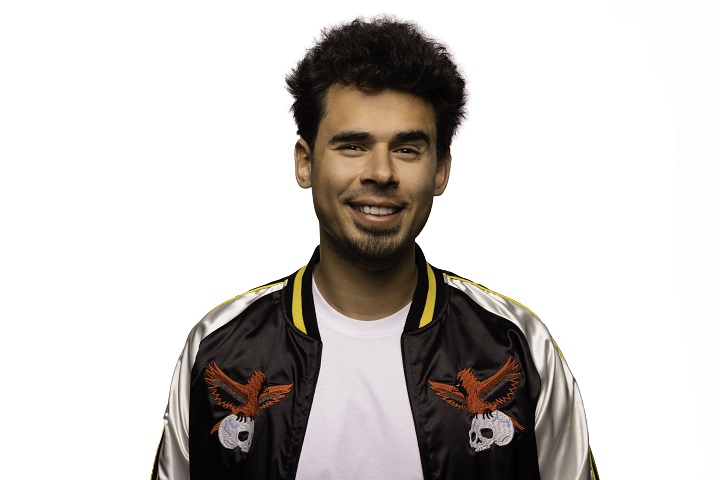 What is striking about Afrojack is his obvious foreign accent. "I've been playing all over the world for 15 years now, so I speak a lot of English", Afrojack says immediately. Therefore, it might be an option to de the interview in English, for convenience, but no … "I am happy if it can be done in Dutch. I am and will remain Dutch."
The new hit 'HERO', released today, was made in collaboration with David Guetta and will be officially presented during the Eurovision Song Contest. "Coincidentally, it all works out perfectly that the record is now out this week and that we will be able to present it there in three weeks." That's nice, because this song also fits the famous song festival, especially compared to much of his other music. "Depends on what you compare it to", admits Afrojack, "I make a lot of different types of music. I also make hip hop and produce for pop artists, but I also do hard club and festival stuff. But so I do. also a lot of songs like this, like 'Ten Feet Tall', 'Titanium', 'The Spark' ", he clarifies," Real songs-songs. And this is the best song I have made since 'Titanium', and then you are talking about a period over ten years! "
Like pop music, 'HERO' has some choruses; Something that is not always present in dance. "I think the definition of dance is ultimately different for everyone," says the DJ, "my definition of dance is about instrumental club music that goes on for 8 hours a night, but my mother's definition of dance music is this record. And David Guetta's definition is everything where you can dance to, up to hip-hop, hip-hop including even. That's the same as Lady Gaga for example. Lady Gaga was also defined by American radio as dance, while for us as dance artists that is absolutely not dance, but just pop. "Afrojack laughs, using his hands to clarify his point. "This ('HERO', ed.) Is definitely a dance crossover record, with pop elements incorporated into a dance record."
Many years ago Afrojack once explained in an interview that dance has a certain structure. A minute of building up until it really starts, the song is built up in layers, until the end comes with the drop, with the bass in it, to an explosive end. "In this song that is absolutely there. Only the voice carries the song so hard that you hardly realize that those elements are still there", Afrojack gives a short masterclass dance for beginners. "The record starts very carefully, minimal instrumentation, the chords open, that's what we call it. There's a filter in synthesizers, that's a sound that makes a kind of 'Woaaaaahhhhh'," that's how the sympathetic artist conveys his sound, " and it builds up and then we go to the chorus, the chorus and there the drop comes in with the bass and the drum loop and the rumbling. For me, the most amazing thing about dance music is the extreme energy that is released on it. such a moment. "
Where pop music actually stands for the popular music that is in at the time, the definition of pop changes regularly. "Now everyone is very much focused on the lower energy version of dance, which is more similar to disco and funk. For example, if you listen to Dua Lipa's new record, it is very much disco and funk-inspired. But in the House, which is more the underground version of the general dance scene, house and tech-house, which is slower. Between 120 and 124 BPM, a bit lighter load. A lot of pop music is now taking over those elements; A little more calm, a little more room for melody, a little more room for the chord progression. That is now very much the standard on European radio. ", Nick continues his masterclass dance.
'HERO' was made in collaboration with the aforementioned David Guetta, but written by names such as Stargate, Ryan Tedder, Jamie Scott and Ellie Goulding. "That was very special, to have a song from them, that are very big writers' names from America and the fact that we were allowed to produce a song that they wrote and compose the music underneath. To be allowed to write such a song. working is still something very special. David is now used to it a bit more, but for me, it is always exciting.", says Afrojack. The voice on the song has been recorded by Luxtides, whose voice is quite similar to Ellie Goulding's. "Ellie of course wrote and sang the original demo and Luxtides then started recording while she only heard the Ellie Goulding demo. So then she will automatically adapt to it to create the same effect." For a moment it was thought of Ellie Goulding herself, but Ellie also has her own release schedule. "Whether she has time for an Afrojack and David Guetta song … Not in this case, we tried, but in this case she didn't have time." Maybe ever.
The song will be performed for the first time during the Eurovision Song Contest. Something completely different from Nick's scene, or maybe not? "You can decide that after you've seen the show.", The DJ hints at a spectacle that 250 million people will be watching worldwide. "Initially I have to admit, I am a DJ, my main item is playing at a festival for tens of thousands of people, with mostly instrumental music," he finally admits. Yet something has been put together with the entire team and director Tim Oliehoek to make an almost cinematic event. Eric van Tijn also helped to bring the music together. "It is actually my music from a completely different perspective. It is proclaimed in a completely different way than I normally proclaim it on my own stages. The intention with this show is actually to give people who do not necessarily have anything to do with dance. to give the idea that they are looking at something very strange, but that they are watching and listening to something very 'familiar', which seems familiar to them.
The whole act is together with names such as Glennis Grace and Wulf, among others. "I nominated Glennis Grace myself. In my opinion that is the best voice in the Netherlands. I still fully support that and you will also hear that during the show. There is a very crazy blow to it", Nick grins. And Wulf, I was familiar with the artist, but not with his songs. When my management introduced me to his music, I recognized the music and it turned out that he was singing and writing it. The Netherlands at the moment, with an international appearance. I did not hear that his songs were written by a Dutch person, let alone sung by a Dutch person. Very often you hear that in Dutch music. "
In all the years that Afrojack has been involved in the scene, he has been quite steadfast in the top 10 of the best DJs in the world, but never even on one. "That is not really my goal. That may be very special, but I have never been trying to become number one. I am very good friends with Hardwell, his goal was always to be number one." And he succeeded, in 2013 and 2014. "For me, it was a bonus to be in the top ten, but my focus is improving the connection with fans, focusing even more on the music to learn as many things as possible. and produce as widely as possible. For the past 7 years my main focus was even to bring new artists, like R3hab and Quintino. ", says Afrojack. "We're more into it, not just me, but my entire team behind Afrojack, more about recycling the stage we've created for new talent, than making me bigger and bigger and bigger and bigger."
If you look at what the DJ has achieved in recent years, his career has already been successful. "Yes, I can play all over the world for thousands, tens of thousands of people. I can now participate in the Eurovision Song Contest as a closing act. So many great things happen. If a number changes in that top 10 (of the best DJs in the world, ed.), then I don't think anything extra will change for me. " And precisely a talent discovered by Afrojack, going from 0 streams to 50 million streams, will see his world change. "For Chico Rose, who played at Tomorrowland two years ago, that was life-changing. While for me it is just two bells.", With which Nick indicates that he is already aware that he is decisive. "I prefer to focus on that because doing things for other people and building a company around that, instead of using all the energy to make Afrojack 'officially' the best in the world. I don't think Bill Gates ever worked for Microsoft." the best product in the world "as an official title. You try to do something for fans and people. And what kind of name you get is a bonus."
'HERO' will be presented during the Eurovision Song Contest, but it was not written especially for it. "I think 'HERO' is successful as a musical project when everyone who hears it at the Eurovision Song Contest and thinks 'Oh, wow, what is this, I have to add this to my playlist and I want to listen to it.' For me is it already a success personally, because I just think it's a great piece of music and I'm glad that we were able to make it together.", Afrojack admits,"But of course 250 million people are watching, if we 250 million streams, then I think you can say that it is successful. But I'm happy when 'HERO' gets picked up well and gets a chance on the radio and I hope people like it. That's all I can do, hope."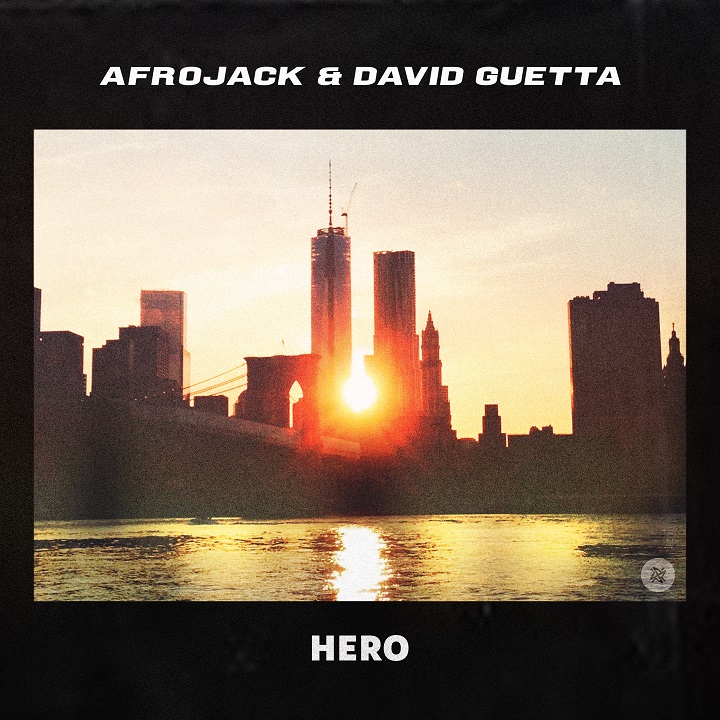 ---
Don't forget to follow our Spotify Playlist: