James Brown's Original Soundtrack Albums 'Black Caesar' And 'Slaughter's Big Rip-Off' Reissued
|
James Brown's original soundtrack albums for the 1973 blaxploitation film classics Black Caesar and Slaughter's Big Rip-Off are reissued today on 150-gram vinyl LPs by Polydor/UMe. Both albums are presented in tip-on jackets with faithfully replicated artwork, including Slaughter's Big Rip-Off's gatefold.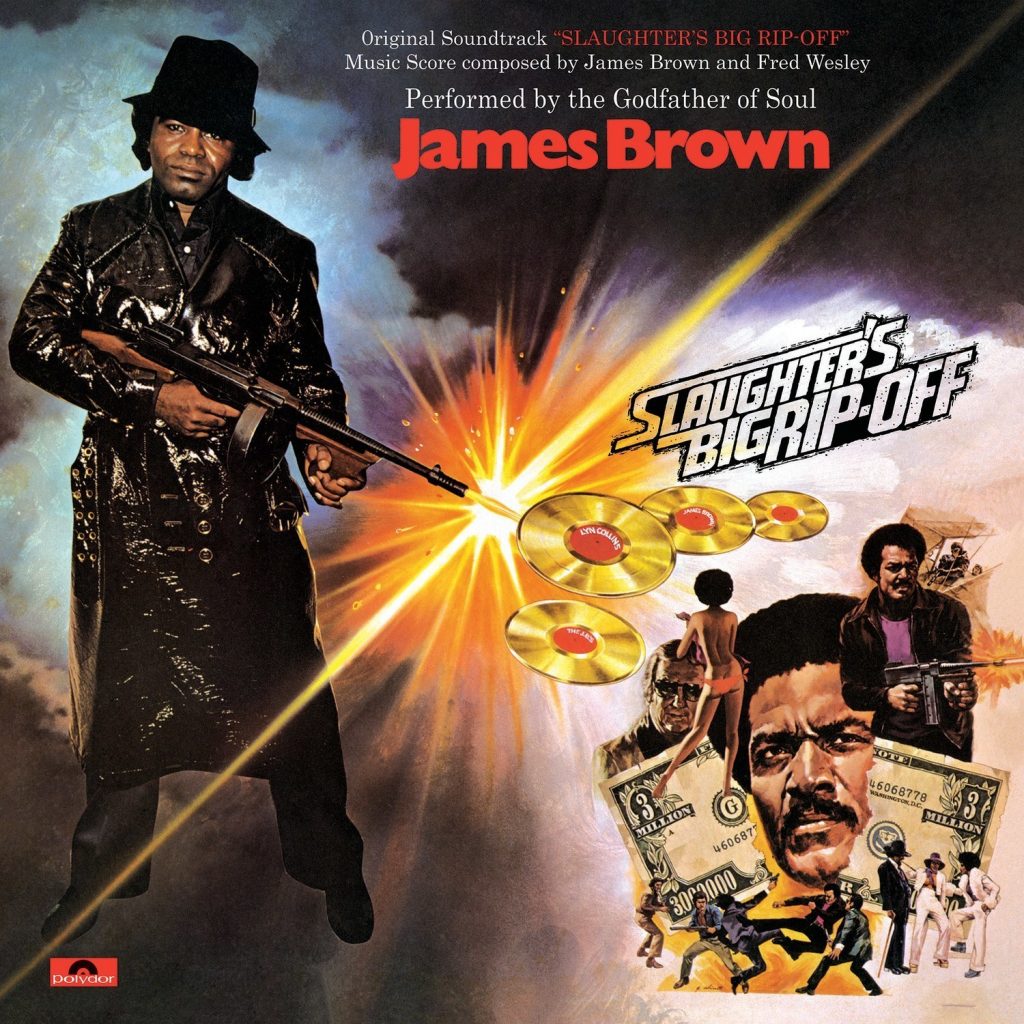 Released in February 1973, Black Caesar is a gangster drama set in Harlem, written and directed by Larry Cohen and starring Fred Williamson, Gloria Hendry, D'Urville Martin, and Julius Harris. The film's script was originally commissioned by Sammy Davis Jr., who was ultimately unavailable to participate in the production, and its original score was James Brown's first foray into writing music for the screen. Pieces of Brown's soundtrack, which also features the J.B.'s and Lyn Collins, have since been notably sampled in tracks by top rap artists, including "The Boss," sampled by Ice-T in "You Played Yourself," by Trick Daddy in "Take It To Da House," and by Nas in "Get Down," among others. Black Caesar's soundtrack also features the Bodie Chandler and Barry De Vorzon-written single arranged by J.B.'s band director Fred Wesley, "Down And Out In New York City," which peaked at No. 13 on Billboard's R&B chart and at No. 50 on the Pop chart. For the release of this album, Brown began calling himself "The Godfather of Soul," a moniker that's fittingly how the world has known him since.
Released in August 1973, Slaughter's Big Rip-Off is the sequel to 1972's Slaughter. Set in Los Angeles, the Gordon Douglas-directed mob drama stars Jim Brown, Ed McMahon, Don Stroud, Brock Peters, Gloria Hendry, and Dick Anthony. James Brown's original soundtrack includes score pieces, plus "Brother Rapp," Brown's previously released single which peaked at No. 2 on Billboard's R&B chart and at No. 32 on the Pop chart, as well as "Sexy, Sexy, Sexy," Brown's sped-up rework of his 1966 hit, "Money Won't Change You," with different lyrics. That track was released as a single from the Slaughter's Big Rip-Off soundtrack, peaking at No. 6 on Billboard's R&B chart and at No. 50 on the Pop chart. The soundtrack's "Happy For The Poor" is a Latin-styled version of the 1971 J.B.'s single, "Gimme Some More."
In addition to today's two vinyl soundtrack reissues, seven sought-after, James Brown-produced albums from members of his revue are now available for the first time for streaming and download purchase.
From Bobby Byrd, Brown's longtime right-hand man, is his debut album, I Need Help, featuring a slate of hit singles and sampled favorites, including the title song and "You Got To Have A Job (If You Don't Work You Can't Eat)," among others.
From Brown's backing band led by Fred Wesley, credited to 'Fred & The New J.B.'s,' is the 1974 album Breakin' Bread, highlighted by the title song and "Rockin' Funky Watergate;" and Maceo Parker's solo debut album, Us, led by the hit "Soul Power '74."
Stepping out from the revue are two female singers, Marva Whitney, whose album It's My Thing, released late 1969, features her hit title song and "Things Got To Get Better;" and Lyn Collins, with two albums – 1972's Think (About It), including the smash title song, repurposed by many artists for its "it takes two" hook, and 1975's Check Me Out If You Don't Know Me By Now, which features her hit "Rock Me Again & Again & Again & Again…"
Rounding out the slate of JB Productions digital releases is the rare 1974 album from "Sweet" Charles Sherrell, For Sweet People From Sweet Charles.
Black Caesar (Original Soundtrack)
SIDE A
Down And Out In New York City
Blind Man Can See It
Sportin' Life
Dirty Harri
The Boss
Make It Good To Yourself
SIDE B
Mama Feelgood (performed by 

Lyn Collins

)
Mama's Dead
White Lightning (I Mean Moonshine)
Chase
Like It Is, Like It Was
Slaughter's Big Rip-Off (Original Motion Picture Soundtrack)
SIDE A
Slaughter's Theme Song
Tryin' To Get Over
Transmograpfication
Happy For The Poor
Brother Rapp
Big Strong
Really, Really, Really
SIDE B
Sexy, Sexy, Sexy
To My Brother
How 

Long Can

 I Keep It Up
People Get Up And Drive Your Funky Soul

King Slaughter

Straight Ahead
---
Don't forget to follow our Spotify Playlist: