New Candys Tour Europe With New album 'Vyvyd'
|
Known for their relentless touring schedule and DIY work ethic, New Candys are one of the most solid independent bands of recent years. "Vyvyd" follows up on the widely acclaimed third album "Bleeding Magenta", which saw them tour non-stop across Europe, UK, North America and Australia.
Recorded at Fox Studio in Venice, Italy by Andrea Volpato and mixed and mastered by Grammy Award producers Tommaso Colliva (The Jesus And Mary Chain) and Giovanni Versari respectively, "Vyvyd" is the first record made by the new line-up of Fernando Nuti, Andrea Volpato, Alessandro Boschiero and Dario Lucchesi. It will be available through Little Cloud Records and Dischi Sotterranei, plus an exclusive vinyl edition via Fuzz Club.
'I've started to sketch some songs for the record during a very tumultuous period for the band, with many line-up changes between the end of 2017 until mid-2018, but as soon as the new line-up formed, the excitement to create new music together was overwhelming and helped the creative process immensely,' says frontman Fernando Nuti.
The record was written and recorded in different sessions, fragmented over two years from 2018 to 2020, in between tours. 'There was an urgency for us to evolve, to find a new chemistry and to convert it into something creatively fulfilling, something that could surprise us. The aim was to expand our sound into new territories. Everyone in the band brought new ideas and influences to the table. We dived deeply into digital recording techniques, embracing them, using loops, real and virtual synths and drum machines, balancing them with the dirty analog sound the band always had.'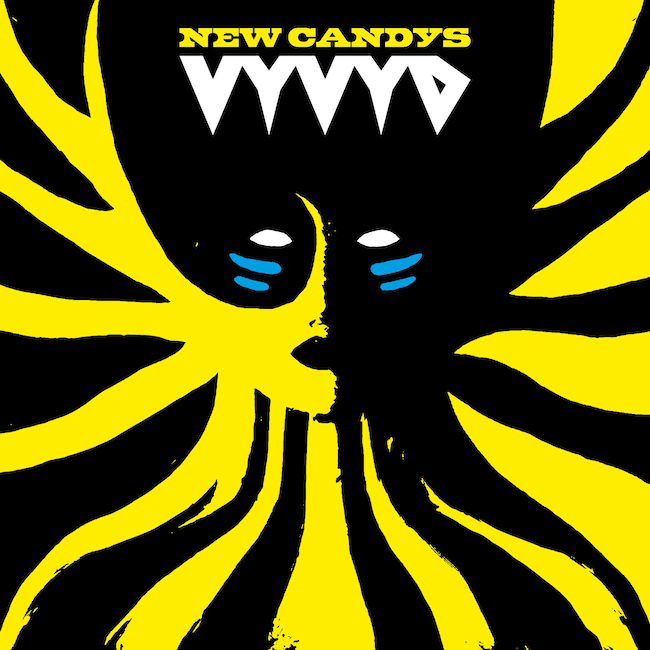 "Vyvyd" concentrates on vocal melodies, has more choruses and includes electronic elements that have significantly expanded their sonic palette making it more vast, rich and fuller than ever before. 'We also looked for a danceable element this time, that's something we've always loved and wanted to explore further.' In a way it shares similarities with their debut album, featuring contrasting moments from one extreme to another, with some eerie and penetrating but also intimate and melancholic songs.
The album's visual and lyrical themes are carefully crafted with both hidden and subliminal messages. 'Of course we're influenced by our own personal lives and the world around us, but we have always considered our music to be devoted and connected to visions and images, inspired by dreams and nightmares rather than reality, so "Vyvyd" is a reference to this aspect. Vivid memories, vivid colours, sonically speaking our ideas and goals are clearer than ever.'
The artwork goes hand in hand with the music and the lyrics. 'This record has its own mythology. We played with religious, pagan and archetypal symbols, which have been distorted through our lens. If we had to sum up the album in one concept it would be the contradiction of light: God/good is often represented with a bright glow, whilst Lucifer, the personification of evil, means light-bearer. We've been inspired by the visionary cinema of Kenneth Anger and Alejandro Jodorowsky among others.'
New Candys have announced a 2021 European tour now.
NEW CANDYS – VYVYD LIVE 2021
16 July – Sub Cult Fest Padova, ITALY
6 August – Electric Orpheus Festival – Plovdiv, BULGARIA
7 August – Electric Orpheus Festival – Plovdiv, BULGARIA
30 October – Croc' The Rock Festival – Lausanne, SWITZERLAND
19 November – Synästhesie Festival – Berlin, GERMANY
20 November – Synästhesie Festival – Berlin, GERMANY
1 December – Rockhouse – Salzburg, AUSTRIA
3 December – Bike Jesus – Prague, CZECH REP
4 December – TBA – Leipzig, GERMANY
6 December – The Piper – St Leonards On Sea, UK
7 December – Phase One – Liverpool, UK
8 December – Nice N Sleazy – Glasgow, UK
9 December – YES – Manchester, UK
10 December – The Shacklewell Arms – London, UK
11 December The Hope & The Ruin – Brighton, UK
12 December McDaid's – Le Havre, FRANCE
13 December – Supersonic – Paris, FRANCE
16 December – Blue Shell – Cologne, GERMANY
17 December – Kaffeerösterei – Plauen, GERMANY
18 December – Milla – Munich, GERMANY
19 December – Arena – Wien, AUSTRIA
---
Don't forget to follow our Spotify Playlist: