Dream Wife share new single 'Hey Heartbreaker'
|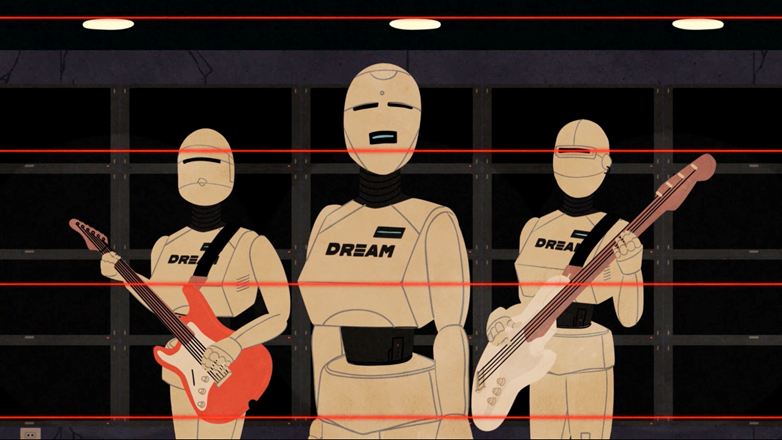 Dream Wife are gearing up to the release of their long-awaited self-titled debut album, which will be released later this month on January 26th through Lucky Number. Today, they share new single 'Hey Heartbreaker' alongside an incredible video animated and directed by Joe Prytherch, more widely known by his moniker Mason London and his role as the former art director of Boiler Room.
Envisioning a dystopian near-future depicting the band as robot performers held in a sleazy bar against their will, Prytherch's imaginative direction and distinct art style is stunning. Taking loose inspiration from Anime, and the acclaimed Akira, the Robo-Dream Wife's performance and breakneck escape offers a substantive and incredibly cinematic music video.
Dream Wife comment on the video: "We were super excited to work with Mason London to bring the world of Hey! Heartbreaker to life. Collaboration is integral in our approach to Dream Wife, and we encourage different creative ideas and paths to mix with our own vision.
It's uncanny to watch these mechanical, parallel versions of ourselves rock out and then break out. We like to think that in another reality our robot versions are continuing their adventures; perhaps in the forest, perhaps plotting for a robot revolution, perhaps playing wild, secret rock shows to other robos".
Renowned for their ferocious live shows, the band are also excited to announce an intimate launch show on album release day at the Sebright Arms in London, exclusive to fans signed up to their mailing list, as well as a free in-store at Rough Trade East. Following which the band will head off to Australia and then a full UK and European tour, which will include their biggest headline show to-date at London's Heaven. All forthcoming live dates below.
Tour Dates
22/01/2018 US, Brooklyn @ Elsewhere
23/01/2018 US, Brooklyn @ Rough Trade (w/ Sleigh Bells)
26/01/2018 UK, London @ Sebright Arms
29/01/2018 UK, London @ Rough Trade East
02/02/2018 Australia, Adelaide @ Laneway Festival
03/02/2018 Australia, Melbourne @ Laneway Festival
04/02/2018 Australia, Sydney @ Laneway Festival
06/02/2018 Australia, Sydney @ The Landsdowne
07/02/2018 Australia, Melbourne @ The Tote
10/02/2018 Australia, Brisbane @ Laneway Festival
11/02/2018 Australia, Perth @ Laneway Festival
07/03/2018 Netherlands, Amsterdam @ Sugar Factory
08/03/2018 Belgium, Hasselt @ Café Café
09/03/2018 Germany, Berlin @ Badehaus Szimpla
10/03/2018 Denmark, Copenhagen @ Ideal Bar
11/03/2018 Sweden, Malmo @ Plan B
12/03/2018 Sweden, Stockholm @ Obaren
14/03/2018 Germany, Hamburg @ Molotow Sky Bar
15/03/2018 Germany, Koln @ Blue Shell
17/03/2018 Netherlands, Rotterdam @ Roodkapje
20/03/2018 UK, Bristol @ The Exchange
21/03/2018 UK, London @ Heaven
23/03/2018 UK, Glasgow @ Stereo
24/03/2018 UK, Manchester @ The Deaf Institute
25/03/2018 Ireland, Dublin @ Workmans Club
---
Don't forget to follow our Spotify Playlist: