Madness Announce New Album 'Can't Touch Us Now'
|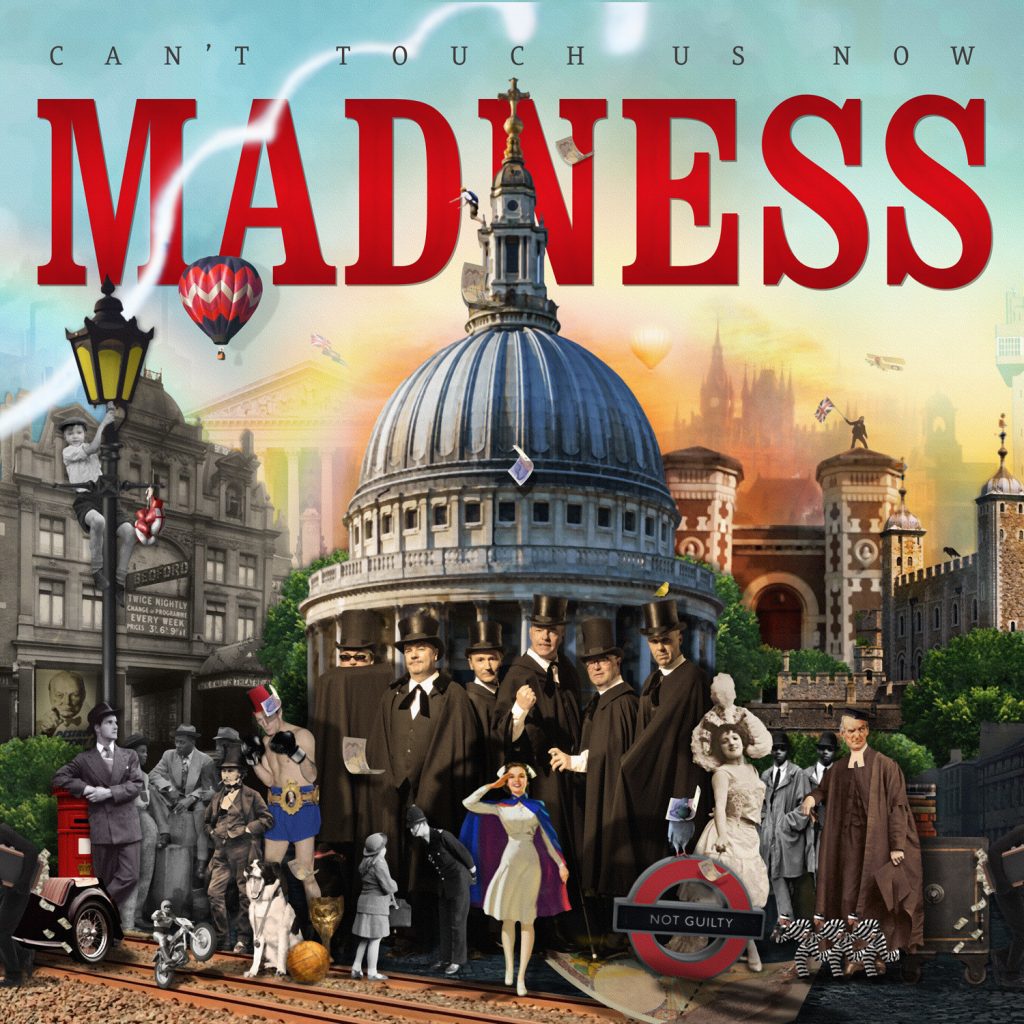 The legendary British Band Madness announce details of their eagerly anticipated new album Can't Touch Us Now, which will be released both digitally and on CD on October 28, 2016, on UMe. The vinyl version of Can't Touch Us Now will be released in December.
In a typical display of the band's irreverent sense-of-humor, they chose the Royal Hospital, Chelsea as the venue for the album unveil, fielding questions from some of their maddest fans – the Chelsea Pensioners. More than thirty of the iconic war veterans huddled into a room to fire questions at the band about music and the state of the nation, going deliciously off topic to include questions about Amy Winehouse, how to blag free tickets to Madness shows and the official training they received to survive the music industry. … Watch the video here.
Recorded at the renowned Toe Rag Studios, East London, Can't Touch Us Now was produced by Clive Langer and Liam Watson. Langer is the band's long-term producer and the man who has helped mold some of their biggest moments. Watson is owner of Toe Rag and a Grammy Winner for his work on The White Stripes'Elephant. The album was mixed by Brit Award winner Charlie Andrew (Alt-J). Recording the whole album in under three weeks, tracks such as "Mr Apples,"  "Mumbo Jumbo," the Amy Winehouse referencing "Blackbird" and the title track "Can't Touch Us Now" capture the band's inimitable combination of pop, reggae and soul influences. As on many of Madness greatest moments, the lyrics are gloriously observational and humorous, beautifully framing life in London. Can't Touch Us Now is the follow up to 2012's UK Top 10 album Oui Oui Si Si Ja Ja Da Da which was certified gold in the UK. Madness are one of the top 20 selling UK groups of all-time, with seven top ten albums, 22 top 20 hits and over six million album sales to their name.
Can't Touch Us Now is the latest step in an incredible few years for the revitalized nutty boys. They have spent the summer months road testing the new material at some of the UK's most iconic music festivals including the main stage at Glastonbury.
TRACK LISTING

1.    Can't Touch Us Now

10.  Herbert

2.    Good Times

11.  Don't Leave The Past Behind You

3.    Mr. Apples

12.  (Don't Let Them) Catch You Crying

4.    I Believe

13.  Pam The Hawk

5.    Grandslam

14.  Given The Opportunity

6.    Blackbird

15.  Soul Denying

7.    You Are My Everything

16.  Whistle In The Dark

8.    Another Version of Me

9.    Mumbo Jumbo
---
Don't forget to follow our Spotify Playlist: