First "Dylan On Film" series to be held in Tulsa, Oklahoma
|
The Bob Dylan Archive will present its first series of Dylan On Film screenings beginning with the world premiere of the 10th anniversary edition of Martin Scorsese's No Direction Home on Wednesday, Sept. 21 at The University of Tulsa's Lorton Performance Center. That evening will also feature the inaugural public exhibition of physical elements from The Bob Dylan Archive, including the artist's handwritten lyrics to classic songs from his mid-1960s period and the leather jacket Dylan wore onstage at the Newport Folk Festival in 1965 when he "went electric." The series will continue nightly in Tulsa through Saturday, Sept. 24, with tickets available beginning Wednesday, Aug. 17.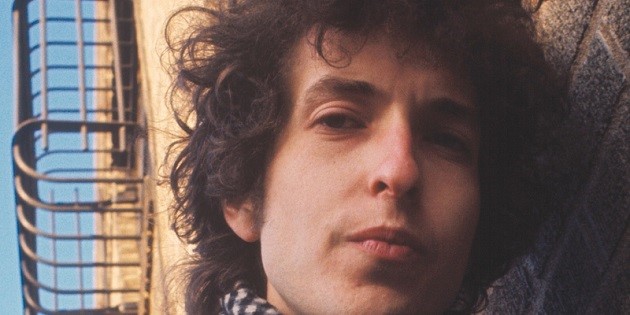 According to The Bob Dylan Archive's Curator Michael Chaiken, "This first series of screenings will not only showcase the best of Bob Dylan on film, but will serve as the very first public exhibition of film and physical elements that Tulsa acquired earlier this year and is unique to this archive. We want Tulsans to be aware of this rare and valuable resource in their city and get a first taste of what the archive has in store for them in the years to come. With this series, we also hope to see the first visitors from outside Tulsa making their way to the city because of what the archive has to offer and the welcoming spirit in which we'll be exhibiting these culturally important elements."
No Direction Home chronicles Dylan's roots in Hibbing, Minnesota to his emergence in the Greenwich Village folk music scene in New York City through his meteoric rise to the pinnacle of cultural fame and influence in the mid-1960s. The film also captures a series of concerts Dylan gave in Europe and the UK in 1966 that divided audiences while heralding a cultural shift that would influence popular music for decades to come. A decade in the making, the film features unforgettable concert performances alongside exclusive reflections from the artist's fellow travelers friends, lovers and Dylan himself. An encore presentation of No Direction Home will be shown on Saturday, Sept. 24 at Circle Cinema and attendees will also be able to view more than 90 minutes of extended scenes and full-length interviews with Scorsese, Dave van Ronk and Liam Clancy that have recently been unearthed and will be shown in installation in the gallery of Circle Cinema during the run of the series.
The first public exhibition of physical elements from The Bob Dylan Archive – titled The Ghost Of Electricity – will showcase some of the manuscripts and artifacts from this incredibly prolific period in Dylan's working life, including the original hand-written lyrics to landmark songs such as "Maggie's Farm," "Subterranean Homesick Blues" and "Visions of Johanna." Other elements slated for this exhibition include the heavily corrected typescript of Dylan's first novel Tarantula (that he can be seen typing throughout Pennebaker's Dont Look Back) to the now iconic black leather jacket Dylan wore at Newport in July 1965 where, with his newly formed electric band, he challenged the orthodoxies of the folk movement and ushered in an entirely new era in popular music.
After opening night at Lorton Performance Center, The Ghost Of Electricity will move to The Henry Zarrow Center for Art and Education, where it will be on display from Friday, September 23 through October 10. The exhibition will run concurrent with the first ever museum exhibition of photo stills taken from Don't Look Back, all made from the original restored film negatives.
A free outdoor screening of Festival!, Murray Lerner's 1967 landmark documentary, will be held Thursday evening, Sept. 22 at Guthrie Green. The film focuses on some of the Newport Folk Festival's most memorable performances from the years 1963 to 1966, including Joan Baez, Johnny Cash, Odetta, Bob Dylan, Donovan, Pete Seeger and Son House, among others.
On Friday, Sept. 23 at Circle Cinema, audiences will see Bob Dylan captured on screen as he never would be again in D.A. Pennebaker's groundbreaking documentary of the artist's 1965 tour of England, Dont Look Back. The film finds Dylan on his final tour as an acoustic artist, where he is surrounded by teen fans, gets into heated philosophical jousts with journalists and shares his journey with fellow musicians Joan Baez, Donovan and Bob Neuwirth. The film features some of Dylan's most famous songs, including "Subterranean Homesick Blues," "The Times They Are A-Changin'" and "It's All Over Now, Baby Blue." Attending that evening to introduce the film and answer questions afterwards will be Academy Award winning director D.A. Pennebaker.
The Circle Cinema will also host three Dylan films on Saturday evening, September 24. First up is 65 Revisited, which was originally released in 2007 to mark the 40th anniversary of the release of Dont Look Back. For this film, D.A. Pennebaker and Chris Hegedus offer audiences another take on a documentary classic by selecting some of the best never-released footage shot during Dylan's 1965 tour, including previously abridged and omitted performances of "It's Alright, Ma (I'm Only Bleeding)" and "It Ain't Me Babe" alongside off-stage rehearsals of an early version of "It Takes A Lot To Laugh, It Takes A Train To Cry."
Eat The Document is Dylan's first directorial effort, an avant-garde travelogue via a hallucinatory assemblage of the 1966 tour footage shot by Pennebaker. In this 1972 release, Dylan intercuts concert performances and rehearsals with loosely scripted scenes that make the film neither fiction nor documentary, but a view of from inside the eye of the storm.
The series closes that evening with Bob Dylan: From The Archive, a program of rare and never-before-seen performances by the artist spanning 1963 to 2003 and held exclusively in The Bob Dylan Archive. Specially prepared for the Dylan On Film event, this program features some of Dylan's most memorable televised and filmed performances including those shot along the legendary Rolling Thunder Revue and the artist's world tours. This program provides audiences with a unique opportunity to see firsthand what The Bob Dylan Archive has to offer.
---
Don't forget to follow our Spotify Playlist: