40th Anniversary Of Diana Ross' "Love Hangover" Celebrate with Vinyl Reissue
|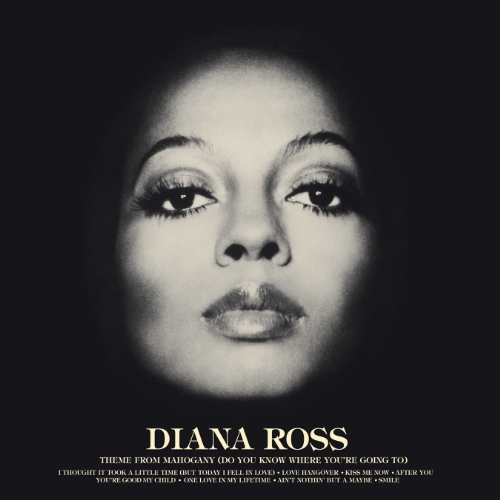 Diana Ross was six years into her wildly successful solo career from the Supremes when she outdid herself, releasing a self-titled project, her seventh studio album, that included two No. 1 pop smashes, "Theme from Mahogany (Do You Know Where You're Going To)" and the dance-floor classic, "Love Hangover." Ms. Ross also took two more tracks from the album up the charts, "I Thought It Took A Little Time (But Today I Fell In Love)," which hit the top five of Billboard magazine's Easy Listening (now known as Adult Contemporary) chart, and "One Love In My Lifetime," no. 5 on the Soul charts. Diana Ross, the album, peaked at no. 5 on the Billboard 200, no. 4 on the Soul album chart and no. 5 in the U.K.
Marking 40 years from its original Motown release in February 1976, UMe is reissuing Diana Ross in vinyl for the first time since then on July 15, following a 2012 two-CD expanded set on the Hip-o-Select/Motown label.
"Theme from Mahogany (Do You Know Where You're Going To)" was taken from the soundtrack to the Mahogany film, a Ross vehicle that followed her Oscar-nominated role in Lady Sings The Blues. A cover of a Thelma Houston recording from 1973, the song anchored a romantic drama, produced by Motown and directed by Berry Gordy, in which Ross, as Tracy Chambers, a poor woman from the Chicago projects who works her way up from salesgirl to supermodel, becomes a famous fashion designer. Written by Michael Masser and Gerald Goffin, "Theme from Mahogany" hit No. 1 on the Billboard Hot 100 and the Easy Listening (AC) charts, and received an Oscar nomination for Best Song. It had already been weeks past its No. 1 status when included on the Diana Ross album and, on March 29, 1976, when Ms. Ross performed it live via satellite from the Netherlands on that year's 48th Academy Awards telecast.
Ross was on top of the world, as "Love Hangover" from Diana Ross was the U.S. No. 1 pop song the same week as the Oscars. "Love Hangover" was an accidental hit, rush-released while the album's first single, "I Thought It Took A Little Time (But Today I Fell in Love)," was on its way up the charts, to circumvent a competing version by The 5th Dimension. Written by Pamela Sawyer and Marilyn McLeod as either a ballad or up-tempo track, the song was famously recorded as both and cut together, creating an unforgettable backing track for Ms. Ross' unforgettably sexy vocals. Producer Hal Davis created a comfortable atmosphere for Ms. Ross, installing a strobe light in the studio, which elicited from her a playful, sensual performance. When "Love Hangover" reached No. 1 on the Billboard Hot 100 for two weeks – it also hit No. 1 on the Soul and Dance/Disco charts – it was Ross' fourth chart-topping solo single, breaking the then-record for most number one hits by a female vocalist, a record eventually broken by Whitney Houston in 1988 and Madonna in 1990. The song was eventually nominated for a GRAMMY® for Best R&B Female Vocal Performance. And it reappeared at the top of the charts as the sampled foundation of "The First Night," a No. 1 hit for Monica in 1998.
The fourth hit from Diana Ross, "One Love in My Lifetime," written by Lawrence Brown, Terri McFadden and Leonard Perry, hit the Top 10 on the U.S. Soul chart and peaked at 25 on the Pop chart. The song was covered by Joss Stone for her 2012 album, The Soul Sessions Vol. 2. Among the other album highlights are Ross' swooning, romantic take on the Charlie Chaplin classic, "Smile," which closes the record.
Ross performed many of the songs from the album on her subsequent tour, which resulted in the 1977 live album, An Evening with Diana Ross, a Broadway run that won a special Tony® Award, and an Emmy®-nominated TV special.
Diana Ross in its 40th anniversary remains a music staple, made all the more iconic by its extraordinary close-up cover shot by famed fashion photographer Victor Skrebneski – an image that differentiates the album from Ms. Ross' other self-titled album, her solo debut in 1970, which featured a full-body shot by another renowned photographer, Harry Langdon.
Diana Ross track listing:
Side One
1."Theme from Mahogany (Do You Know Where You're Going To)"
2. "I Thought It Took A Little Time (But Today I Fell in Love)"
3. "Love Hangover"
4. "Kiss Me Now"
Side Two
1. "You're Good My Child"
2. "One Love In My Lifetime"
3. "Ain't Nothin' But A Maybe"
4. "After You"
5. "Smile"
---
Don't forget to follow our Spotify Playlist: