Don't Let Daddy Know heads to Mumbai, India
|
Don't Let Daddy Know is the world's newest and hottest party. After debuting at Privilege in Ibiza 4 years ago, DLDK's one-day dance extravaganza has swept away audiences across Europe – and now it's making its debut in India. Don't Let Daddy Know India is the Indian installment of one of the world's biggest dance musicparties in association with E&A Events and Ferriswheel Entertainment. Having sprung up in Ibiza, DLDK tours the world whipping up dance frenzies wherever it goes creating an experientialmusic reminiscence. The very first Indian adventure is certain not to disappoint, featuring the same spectacular special effects and upscale production levels that have already catapulted DLDK to the top table of world dance parties!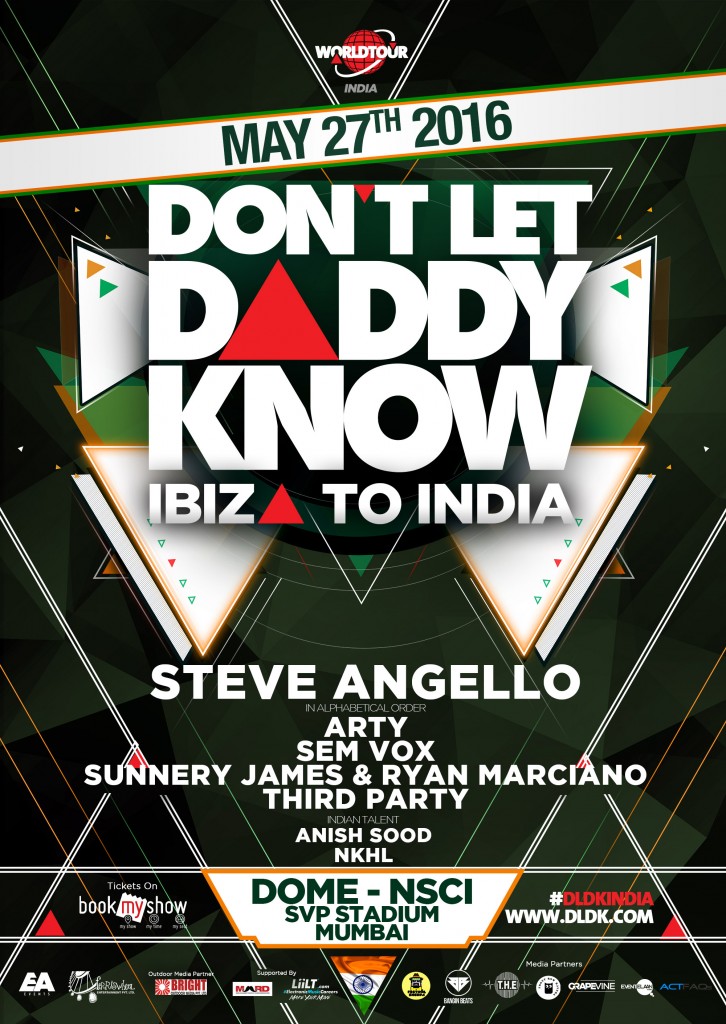 The first Indian edition of DLDK features the much awaited headliner, none other than the formerSwedish House Mafia booming 1/3rd- Steve Angello who makes his magnificent return after the #OneLastTour. With that there is the Anjuna star ARTY, promising duos Third Party & SunneryJames & Ryan Marciano and DLDK's resident DJSemVox just confirmed as part of the DLDK India family. Come May 27th and fans can expect to be entertained by heavyweight global dance musicstalwarts who make their India debut with support from talented homegrown names like Anish Sood, Nikhil Kandhari. Hand-picking the very best venues around the globe, DLDK India will debut at NSCI Dome in the heart of Mumbai. Expect an off-the-scale party like you've never seen before!
A big announcement for India considering this is the first time Size Records founder and stadium-conquering Steve Angello will be touring here after the SHM One Last Tour in his solo capacity. Steve Angello was inducted into the BBC Radio Hall Of Fame, a select group of producers who have had a significant mark on the history of electronic music. Angello is undoubtedly one of the biggest artists in the world. As part of Swedish House Mafia, he travelled the globe and played to millions but since the group disbanded and Axwell&Ingrosso went their separate ways, he's stepped things up a notch. India will get a chance to listen to the big room sound from his recently released Wild Youth album!
Alex Hes and Essam Jansen, Founders, DLDK says, "In some parts of the world dance music is really big. India is one of the countries we've always watched and now is the right time to establish our presence in India via DLDK. Moreover we found an ideal collaborator in Ferriswheel Entertainment who will work alongwith us to increase our fanbase in India."
Shubhra Bhardwaj, Founder and Creative Director, Ferriswheel Entertainment & Partner, DLDK India says, "India is going to witness a massive global event with the world's top 6 talents on one platform along with Indian support for the first time. This biggest one night dance party concept is one of its kind and we expect a houseful show"
Join us on this rollercoaster ride that brings you the most epic way of clubbing that has no parallel. Creating an extraordinary memory of the night and all that it captures fulfils every desire and expectation. The likes of Martin Garrix, Nicky Romero, Dimitri Vegas & Like Mike, Steve Aoki and Major Lazer, R3hab, Sander van Doorn, Blasterjaxxand Skrillex are regulars at DLDK's renowned shows, with consistently A-list lineups supported by the finest in sound and visual production. DLDK offers you a sanctuary, a place with no limits, a place where you can lose control. Besides the music, the audience gets treated with a mind-blowing night-out involving the best DJ's, the most edgy vibe and 'Don't Let Daddy Know' gadgets.
---
Don't forget to follow our Spotify Playlist: