Forastero to release 'El Submarinista en el Tejado'
|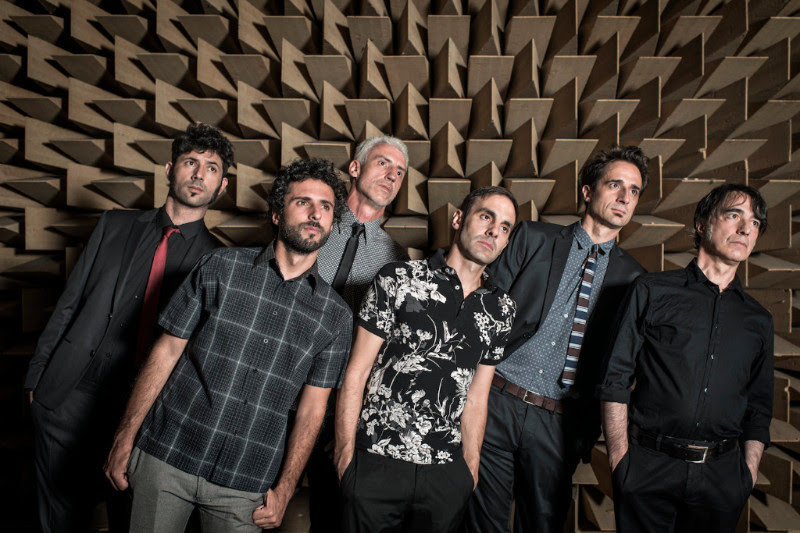 The debut album from Spanish outfit Forastero delivers a riotous but groove driven jazz-punk setlist featuring a theremin and a wonky Hammond organ re-work of the Orbital classic, 'The Box'. 'El Submarinista en el Tejado' (which means 'Diver on the Roof'), is Sonic Youth intense in its climactic peaks and drips in filmic Morricone quirk when taking breath. Bolstered with baritones and a fistful of brass, it is the band's debut and fittingly comes out on the long-respected Madrid label, Lovemonk Records.
Made up by a group of players from Madrid's jazz, Afrobeat and black music scene, Forastero are little known out of Spain yet they have been experimenting with fuzzed up and leftfield, beats and pieces in many of the capital's renowned live music 'salas' over the years. A six-piece, the group plays baritone sax, keys, synths, double bass, guitar, theremin and drums and have no interest in playing fiddle to Madrid's conservative jazz audiences. Infact, it's the environment of a somewhat static, new jazz scene in Madrid that has given the impetus for Forastero's creation and 'outsider' attitude. Literally their name, 'Forastero', means 'stranger' or 'foreigner'.
Recorded between September 2015 and July 2016 in Madrid, there is obvious anxiety and angst in this production but delivered with a poetry akin to a Tortoise or Brandt Brauer Frick production. 'The Box' is a cover of the Orbital classic, a syncopated and supple track jumping between loose expressions of ska and dub. 'Baile Watusi', charms with its collision of frantic jazz and chopped up sinuous funk and 'Morfina' the lead single, evokes sixties soul and is a posthumous nod to renowned bass player, Mark Sandman.
Throughout 'El Submarinista en el Tejado' the band don't hide their fondness for the big screen with the spaghetti western-like quality of 'Por la Calle de la Amargura' an obvious example without being overwhelmingly pastiche. No surprise the group have already been booked to play the Sevilla Film Festival in November. With the additional influences name checked by the group such as like Cinematic Orchestra, Jaga Jazzist, Red Snapper, Esbjörn Svenson Trio and Acoustic Ladyland and you get an idea of why their self-proclaimed tag as 'outsiders' has stuck.
The loose attitude to formula or structure in Forastero's work stands out a mile. Certainly their jazz and improvisational backgrounds has heavily influenced the writing process. There's a tight and intuitive rhythm section, which is frequently held together by a narrative quality in Dani Niño's saxophone lead.
"We play jazz as rockers, twisting things and always experimenting" says Javier Gallego, the drummer. And on-wards the band marches, irritating and entertaining all who hears them.
'El Submarinista en el Tejado' will be released december 2nd.
---
Don't forget to follow our Spotify Playlist: