Morrissey signs worldwide recording agreement with Harvest Records
|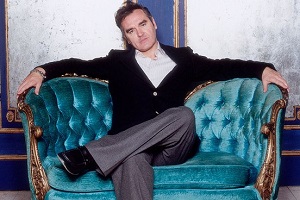 Harvest Records has signed globally-renowned artist Morrissey to a worldwide recording agreement, it was announced today by the label's General Managers Piero Giramonti and Jacqueline Saturn. Morrissey's first album under the deal will be released in the second half of this year.
Morrissey stated that he is "thrilled" with the agreement, and will commence recording of his new album – the artist's first since 2009's Years Of Refusal – later this month in France with producer Joe Chiccarelli. Joining Morrissey in France will be his longtime recording and touring band, including Boz Boorer (guitar), Jesse Tobias (guitar), Solomon Walker (bass), Matthew Walker (drums) and Gustavo Manzur (keyboards). Tour dates for 2014 will be announced soon.
According to Capitol Music Group Chairman and CEO Steve Barnett, "Morrissey is clearly one of music's most important and influential artists. He is the rare soul who has stayed consistently true to his artistic vision and ethical principles since he first exploded onto the scene in the 1980s. We are so happy that he has chosen Capitol Music Group as his home and that his forthcoming album on Harvest will bring new Morrissey music to the world."
CMG Executive Vice President Michelle Jubelirer added, "Morrissey is a truly singular artist whose music and live performances first captured a worldwide audience thirty years ago and never let go. He is uncompromising in his integrity, extremely devoted to his fans and an artist with a unique and needed voice in our culture. It's so great that Morrissey is with CMG, and, more important, that he is about to record his first new album in five years."
Morrissey's solo career began in 1988, after the dissolution of The Smiths, with the release of Viva Hate. His influence on music and culture has continued to grow over the past 25 years through the release of nine globally acclaimed studio albums and an array of singles, rarities collections and live recordings. He is renowned as one of the world's most beloved and iconic performing artists, recently exemplified in last year's concert film, Morrissey 25: Live, recorded in March 2013 at a rare intimate show at Hollywood High School in Los Angeles.
Music magazine NME considers Morrissey to be "one of the most influential artists ever," while The Independent famously wrote that "most pop stars have to be dead before they reach the iconic status he has reached in his lifetime." He is held in equal esteem in the U.S., with Pitchfork, for example, regarding him as "one of the most singular figures in Western popular culture."
Morrissey's recent Autobiography became one of the fastest-selling memoirs in the UK upon its release in October and set first-week sales records when it entered the UK charts at #1 (a slot it held for five weeks). Its release also marked the first time a living author had been published by Penguin Classics in the imprint's nearly-70-year history. Autobiography has been widely acclaimed, with The Telegraph calling it "the best written musical autobiography since Bob Dylan's Chronicles" in its 5-star review.
---
Don't forget to follow our Spotify Playlist: