Chris Connelly presents 'My Father Took Me Everywhere' ft Monica Queen
|
Scottish Chicago-based legend Chris Connelly presents "My Father Took Me Everywhere", the second single from "The Birthday Poems" LP with celebrated Scottish vocalist Monica Queen (Thrum, Belle & Sebastian). This LP, a fictionalized account of the romance between Scottish personalities Stella Cartwright and Orkney-born poet George Mackay Brown, is timely with 2021 being the latter's 100th birthday, represents an important part of Scottish culture.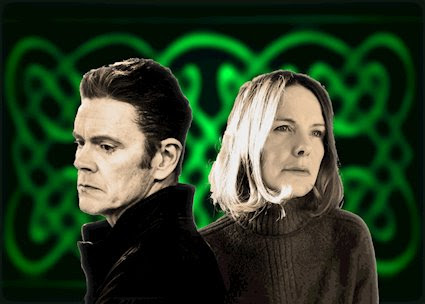 The album is a fictionalized account of the romance between celebrated Scottish poet and author George Mackay Brown and his muse Stella Cartwright, as well as Stelle's friendship with Edinburgh born poet Stanley Roger Green, spanning three decades (from the mid 1950s until Stella's tragic and untimely death in 1985).
Named for the poems that George would write for Stella every birthday until she died, 'The Birthday Poems' is a song cycle based on the relationship between these highly signifiant cultural figures of 20th-century Scotland. Stella's voice is sung by Monica Queen throughout this colossal and historically significant 18-track album.
The video for 'My Father Took Me Everywhere' stars Monica Queen as Stella. Inspired by the 1964 short film 'Palindrome' by Margaret Tait, which features some of the only known footage of Stella Cartwright, this video was created by Iain W. Mutch / Walkerandwilliam.
Kknown as the Muse of Rose Stree, Stella had an unique upbringing, which contributed to her love of literature. As a young girl attending Mary Erskine School for Girls in Edinburgh, Stella would ravenously devour literature, art and music. Her father would often take her to bars, parties, the theatre and other social and cultural events, where she would meet and charm Scotland's cultural elite.
The duo also recently shared the lead track 'Tae The Poets', featuring swaggering vocals by Connelly, the clever video for which was filmed on location at Chicago's GMan Tavern and created by photographer Derick Smith and Matt Walker.
With 2021 being the 100th birthday of Orkney-born poet George Mackay Brown, this album represents a sometimes overlooked but very important part of Scottish culture. Stella had a deep relationship with Mackay Brown, which turned into a friendship enduring from the 50's until her death in the '80's. It was not always a joyous one – neither of the pair were particularly happy, and their love of whisky did not help.
"While she had relationships with many of the poets who would haunt the bars of Edinburgh's Rose Street during the '50s and 'early '60s, her love of literature, art and culture was insatiable. She was never given credit or encouraged in her own art and expression. I hope that this album illuminates the beautiful treasure that she was, and how hugely significant she is to Scottish literature of a certain era," says Chris Connelly.
"As a child and younger man in Edinburgh, I walked the same streets, drank in the same bars and walked the same hills. I was also lucky enough to be close friends with Stanley Roger Green's children, who, highly creative in their own ways, greatly informed and inspired my life".
This album was produced by 30-year Connelly collaborator Chris Bruce, a long-time musical partner and band member of Meshell Ndegeocello, who has also worked with Seal, Aaron Neville, Bob Dylan, The Waterboys, My Brightest Diamond, Cheryl Crow and Sam Phillips, amongst others. This album also features strings by Dave Eggar and sax by Levon Henry and contributions by Blake Collins and Phil Faconti.
While Monica Queen fronted 90s band Thrum and released 2 introspective albums with partner John Smillie, she has gained a reputation as Glasgow's guest vocalist of choice. Her formidable voice is widely familiar thanks to her vocal turn on Belle & Sebastian's much-loved 'Lazy Line Painter Jane'.
For almost forty years, Chris Connelly has completed creative pieces ranging from the triumphant to the tragic, from the humble to the hilarious – each time promptly moving on to seek his next inspiration. Since early days with FiniTribe in his native Edinburgh, Connelly has over twenty solo releases. He frequently collaborates with other musicians, building on notable projects with Ministry, The Revolting Cocks and Pigface and contributing to newer ones such as Cocksure and The Joy Thieves. As an explorer of art as a broader endeavour has also issued four books, encompassing the realms of poetry, autobiography, and fictional narrative.
As of May 31, 'My Father Took Me Everywhere' is available everywhere digitally, including Apple Music and Spotify. The full album 'The Birthday Poems' will be released on June 15, and can pre-ordered via Bandcamp.
Soon Connelly will perform a series of limited-seating shows in Chicago, performing songs from 'The Birthday Poems', as well as stories associated with Connelly's discovery and investigation of the relationship which inspired the album.
---
Don't forget to follow our Spotify Playlist: