Coal Chamber signs with Napalm Records
|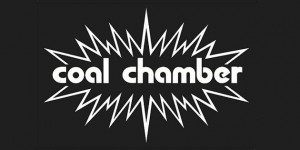 Napalm Records is pleased to announce the signing of Los Angeles, California's Coal Chamber, a band that stood as leaders at the forefront of new genres, constantly reinventing their sound and not fitting any mold except their own. With sold out tours, and millions of records sold, Coal Chamber owned the Scene from the mid nineties until their tumultuous breakup in May of 2002. Now they have returned to take their place at the top where they once were and intend to be there for years to come. Call it what you want, "The Return", "The Second Coming of", but no matter what you call it, be prepared Coal Chamber to rule again.
Following a 12-plus year breakup the band reunited in 2011 and 2013 for Festival shows as well as an extensive North American tour. Now all four members (Dez Fafara, Nadja Peulen, Mikey Cox, Meegs) have decided the time was right to begin work on a new Coal Chamber album.
Coal Chamber spoke about their new record and signing with Napalm Records: "How many times do you get a second chance at anything in life? We toured the world, it was insane and crowds came out in force and we had a blast! For this I'm so appreciative! Now….. It's time to release a new Coal Chamber record! The Vibe between us all is positive AND we've assembled a killer team around us! Now with Napalm Records on board get ready for a heavy, explosion from Coal Chamber! We've evolved and so has the music, from the demo music I've heard you're gonna sink your TEETH into this! Stay tuned!" ~ Dez Fafara
The band is currently working on the new material that they hope to release next year. More info regarding the new album will be revealed soon.
---
Don't forget to follow our Spotify Playlist: