Pink Re-signs With Rca Records For Multi-year Global Deal
|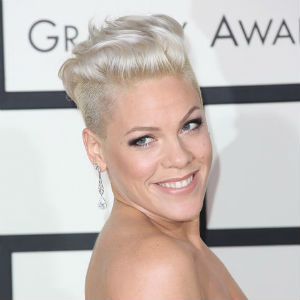 Grammy award-winning international recording artist P!nk has penned a brand new worldwide, multiple album recording deal with her current label RCA Records.
2013 was a big year for P!nk. Her 2012 album, The Truth About Love debuted at #1 on the Billboard Top 200 as well as in 6 other countries. The album marked P!nk's first #1 debut in the US and a personal first week sales best.  The album is certified double platinum in the US, 2X Platinum in the UK, Germany, Ireland, and the Netherlands, 8X Platinum in Australia, and Platinum-plus in over ten countries.  Additionally the album was nominated for multiple Grammys both in 2013/14. The Truth About Love produced the smash singles "Blow Me (One Last Kiss)", "Try" and "Just Give Me A Reason" ft. Nate Ruess which mark P!nk's 12th, 13th and 14th Top 10 hit on the Billboard Hot 100. "Just Give Me A Reason" has sold over 4.5 million singles, was the fourth best selling global single of 2013 and makes P!nk's fourth #1 on the Billboard Hot 100. In December 2013, P!nk received the honor of being named Billboard's Woman of the Year.
P!nk recently wrapped her sold-out The Truth About Love World tour after playing 142 shows in 13 countries.  During the tour, in Melbourne, P!nk broke the record for most dates in one venue on the same tour, performing an astounding 18 shows in a row to almost 250,000 fans – breaking her own record from her previous acclaimed Funhouse Tour in 2009.  Starting 2014 off right, P!nk released The Truth About Love Tour: Live From Melbourne on DVD, Blu-Ray and digital long form which also debuted at #1 on Billboard's Music Video Chart and marked another personal sales best.
P!nk, born Alecia Moore in Doylestown, PA, is a singer, songwriter, performer, spokesperson, actor and devoted wife and mother.  Since her debut in 2000, she has released 7 albums (Can't Take Me Home, M!ssundaztood, Try This, I'm Not Dead, Funhouse, Greatest Hits So Far!!!, The Truth About Love), sold over 40 million albums, 65 million singles (nearly 20 million digital tracks), over 1 million DVDs worldwide and has had 14 singles in the top 10 on the Billboard Hot 100 Chart (4 at #1).  In addition, 15 of P!nk's singles have reached #1 in at least 1 or more countries. She is the recipient of 3 Grammy Awards, 3 Billboard Music Awards, 6 MTV Video Music Awards, 2 MTV Europe Awards, 2 People's Choice Awards, and many more.
She is currently a spokesperson for COVERGIRL, made her acting debut in Lionsgate's Thanks For Sharing alongside Gwyneth Paltrow and Mark Ruffalo and is a huge supporter of various charities including Ronald McDonald's House, Make A Wish Foundation, PETA, Autism Speaks, Human Rights Campaign, and Save the Children.
Peter Edge comments: "We couldn't be more proud to have P!nk continue her relationship with RCA. She is a one-of-a kind artist who continues to raise the stakes of her own artistry with her inspiring songs and sky's the limit live performances. We look forward to an incredible future ahead."
Tom Corson comments:  "P!nk is in a league all her own and we are thrilled she will continue to be a member of the RCA family. There is no question she has upped the ante on what it takes to remain on top of the global stage."
P!nk comments: "I am super duper excited to continue onwards and upwards with RCA and my team there. We work really well together and they care in a way that artists don't get to see very often anymore. I look forward to whatever the future holds for us and am so beyond thrilled with how much they believe in me. Woohoo rock n roll!"
Roger Davies comments: "I'm very happy that we are continuing our excellent relationship with Pete, Tom, Joe and the entire RCA Team.  Our long standing relationship has made them part of our family.  They really understand how we work and we are looking forward to working with them in the future."
---
Don't forget to follow our Spotify Playlist: