WEVAL Release Self-Titled Debut Album June 10th
|
When Kompakt came across Amsterdam based Harm Coolen and Merijn Schotte Albers aka WEVAL in Amsterdam back in 2014, we were blown away when we heard their slow-burning, darkly emotive tracks. Their debut EP "Half Age" on Atomisation exhumed painfully intimate and surprisingly kinetic electronic chamber pop that convinced us they were a perfect fit in Kompakt's family. Following two widely acclaimed EPs for Kompakt and playing numerous festivals including DGTL, Reeperbahn, Iceland Airwaves and Piknic Electronik we now see the two tackle their self-titled debut full-length WEVAL. What you have before you is not a mere collection of tracks, but a complete listening experience with organic flow, emotional heft and a narrative thread.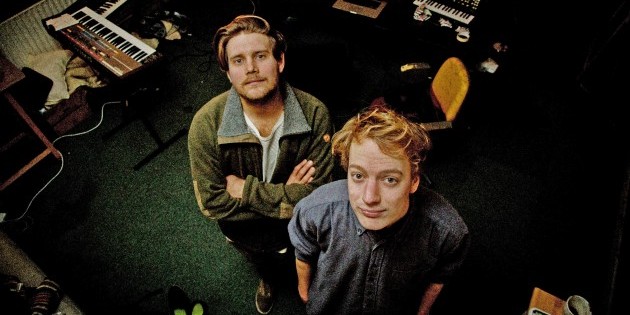 Smitten with WEVAL's uniquely personal and catchy approach to producing dark electronic music, it didn't take much to win us over… and so came WEVAL's acclaimed 2014 label debut EASIER EP, followed by the bold and beautiful 2015 offering IT'LL BE FINE / GROW UP which saw the two soundsmiths digging deeper into the granularities of electronic funk than ever before. However, Harm and Merijn's music – while astonishingly fully-formed even in its earliest stages – always seemed destined for more, a bigger format, more space to explore the nooks and crannies of their rapidly evolving sound cosmos. Simply put, they needed to think about an album and their beloved living room studio wasn't cutting it anymore.
An old school building became WEVAL's new home, repurposed to house small creative businesses – but in the summer of 2015, it was abandoned most of the time, with everybody out in the sun while our heroes turned the building's attic into a sweet spot to make some noise, have 24-hour access and lose track of time. And apart from a sketchy tenant being evicted, the occasional soccer game with friends and live gigs across Europe, there really was no interruption to the focussed vibe. It's not like they were looking for distraction anyway: "working on the album all by ourselves in this bloody hot attic was all we had on our mind", the artists admit. And they decided that their album shouldn't sound too clean: "We try to find the beauty in imperfection. It makes things sound more human".
Tracklisting:
01/A1. Intro
02/A2. The Battle
03/A3. I Don't Need It
04/B1. Square People
05/B2. Madness
06/B3. Ways To Go
07/C1. You're Mine
08/C2. Days
09/C3. Just In Case
10/D1. You Made It (Part I)
11/D2. You Made It (Part II)
12/D3. Years To Build
Weval draw their inspirations from no single genre of music but a cumulation of music that inspires them. The results present an astonishingly coherent vision – cuts like the dramatic THE BATTLE, bass growler I DON'T NEED IT or the trippy epic MADNESS share the same DNA of zestful nostalgia, a knack for immersive sound-sculpting and that certain kink in the groove. They also feed on deeply personal experiences and moods, as exemplified by the haunting electronic ballad YOU'RE MINE, the carefully layered, polaroid-tinted JUST IN CASE or the beautifully voiced closer YEARS TO BUILD. And sometimes, it's just an old, out-of-tune piano that stands in the hallway: "Whenever I'd pass by it, I couldn't resist playing it", says Merijn, "so Harm decided to start recording and it became an integral part of YOU MADE IT (PART I)". No doubt about it: this is WEVAL's most powerful and organic material yet – which means a lot, considering the amount of skill already on display in their small, but weighty portfolio.
Upcoming Live Dates:
March 26 – DGTL Festival, Amsterdam, NL
March 26 – Electron Festival, Geneva, CH
April 15 – Oval Space, London, UK
May 06 – Nuits Sonores, Lyon, FR
May 28 – Ancienne Belgique, Brussels, BE
June 10 – Neon Fields Festival, Haren, DE
June 11 – EDIT Festival (DJ-Set), Haarlem, NL
July 07 – Feel Festival, Bergheider See, DE
---
Don't forget to follow our Spotify Playlist: