'AngelHeaded Hipster: The Songs Of Marc Bolan and T.Rex' will be released
|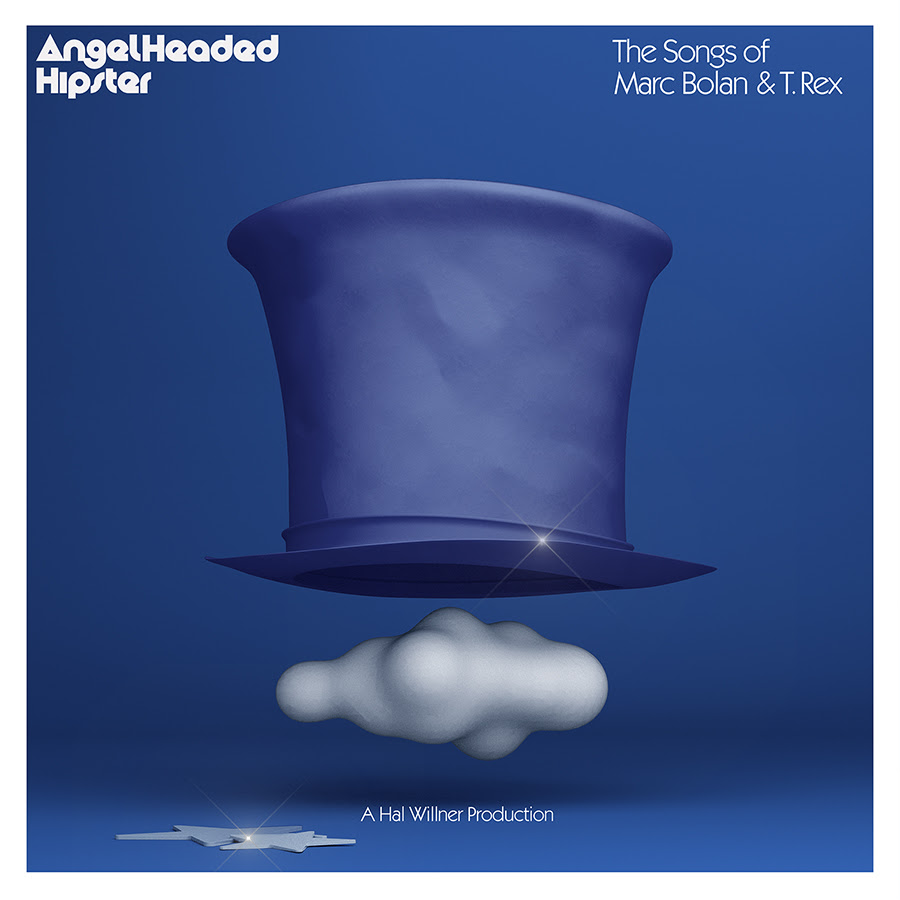 BMG today announces the release of an extraordinary tribute album to one of the great British artists of all time, Marc Bolan. Marc has been famously cited as a major influence by some of the biggest names in music from David Bowie to Johnny Marr. Bolan's golden era was in the late sixties and seventies when he was the biggest selling singles artist since the Beatles, movie star and the electric spark behind Glam Rock. He died in 1977 aged just 29, after a car crash in Barnes, London but his reputation has only grown.
In the year that Marc will be inducted into the Rock n Roll Hall Of Fame and 50 years since the first T.Rex single and album, illustrious fans have gathered to pay tribute and argue for his place amongst the music greats.
For 'AngelHeaded Hipster', a collection of major stars including Elton John, U2, Joan Jett, Nick Cave, Peaches and Marc Almond have reinterpreted and reimagined some of his greatest tracks including Jeepster, Bang A Gong (Get It On) and Ride A White Swan.
Marc Bolan was many things – a folk pop troubadour, Glam Rock's metal guru, a pop star who burned as bright as any, a brilliant guitarist, the 20th Century Boy, style icon, poet. For some, his glittering persona overshadowed his musical legacy, but with 'AngelHeaded Hipster', he is now being rightly celebrated as a songwriter and composer for the ages.
The album was made under the direction of Hal Willner, a veteran with a reputation for creating alchemy with diverse artists who sadly died on April 7th from COVID-19, leaving behind an endless series of affectionate tributes from all those who have worked with and knew him.
He was the sketch music producer on Saturday Night Live for several decades and produced albums for artists Marianne Faithfull, Lou Reed, Bill Frisell, Lucinda Williams, Allen Ginsberg, William S Burroughs and more.
He also produced celebrated tribute albums to great composers, bringing together diverse talent and teasing out incredible interpretations of the music of Nino Rota, Thelonious Monk, Kurt Weill, Charles Mingus. Before his death, he explained why he placed Bolan in that company:
"I became immersed in this artist by listening to everything, talking to Bolan experts & fans, researching his reviews and interviews. And I found that Bolan was hardly ever talked about as a "composer". It was all about what a great rocker he was, how innovative he was, how David Bowie took his essence and Bolan was in his shadow… But I put him in the same pantheon as other composers that I've explored before. So, the concept for the album became to show Bolan as a composer with our typical cast of artists from different worlds that one rarely sees in the same place."
And the results are stunning. Released today as a preview is Nick Cave's Cosmic Dancer, Cave exploring the heart of a song that narrated Bolan's creative birth while wondering about its mortality, one artist speaking to another across the generations. Cave says of Hal:
"It is impossible to exaggerate the devastating effect Hal's passing will have on the collective of people that circled around him, esoteric artists he would corral together to participate in his rambling, hair-brained schemes, that were always a combination of genius, wonder and near-chaos."
Says Rachel Fox, Supervising Producer of AngelHeaded Hipster and longtime Willner collaborator, "Hal had a unique vision of Marc Bolan's music, and working on AngelHeaded Hipster brought him great joy. Speaking for those closest to him, we will forever be heartbroken at the untimely loss of our beloved friend and irreplaceable creative engine. Hal, who referred to AngelHeaded Hipster as his 'White Album', was eager for everyone to hear these beautiful songs and to start thinking about Bolan and T. Rex again. This album is a testament to Hal's spirit."
Album highlights come thick and fast with each performer exploring their favourite Marc – whether mining his incendiary, imperial pop star albums 'Electric Warrior' and 'The Slider', or harking back to his days with Steve Peregrin Took in Tyrannosaurus Rex (the band that bridged his acoustic folk period and the electric awakening of T.Rex), or reflecting on his later records and even comeback hit I Love To Boogie from 1976's final album 'Dandy In The Underworld'.
There is Peaches' electronica rework of Solid Gold, Easy Action, (recorded in Berlin) which somehow still retains the rockabilly cool of the original. In New Orleans, U2 celebrate their teenage idol with a faithful Bang A Gong (Get It On), accompanied on piano by Elton John, almost 50 years after he joined Marc on Top Of The Pops back in 1971. It also feature Trombone Shorty for good measure.
Father John Misty's soaring Main Man is a lush, tender take on the spacey, self-referencing track from 'The Slider' album. And Kesha exorcises demons on a passionate, heavy Children Of The Revolution.
Willner worked on AngelHeaded Hipster for several years, with sessions spanning continents, from New York, Los Angeles and New Orleans, to London, Paris and Berlin. The album features special guests Donald Fagen, Mike Garson, Bill Frisell, Wayne Kramer, Van Dyke Parks and Marc Ribot, with arrangements by Thomas Bartlett, Steven Bernstein, Eli Brueggemann, J.G. Thirlwell and Steve Weisberg.
Every track reveals a different Marc and offers a unique appreciation of a multifaceted musician, writer, poet and composer.
The project was conceived and executive produced by Bill Curbishley and Ethan Silverman. Kate Hyman had the creative vision to ask Hal to produce it.
'AngelHeaded Hipster' is a line from Allen Ginsberg's poem Howl – "angelheaded hipsters burning for the ancient heavenly connection to the starry dynamo in the machinery of night…." It described the coming rock n roll revolution in the wake of Elvis Presley, an essence that Marc embraced and ran with.
Ultimately of course, Marc Bolan died too young, but his music lives on, his place in the Rock n Roll Hall Of Fame is secure and 'AngelHeaded Hipster' proves that his extraordinary legacy flows through the musicians that followed him.
"AngelHeaded Hipster: The Songs Of Marc Bolan and T.Rex" Tracklist:
Children Of The Revolution – Kesha
Cosmic Dancer – Nick Cave
Jeepster – Joan Jett
Scenescof – Devendra Banhart
Life's A Gas – Lucinda Williams
Solid Gold, Easy Action – Peaches
Dawn Storm – Børns
Hippy Gumbo – Beth Orton
I Love To Boogie – King Khan
Beltane Walk – Gaby Moreno
Bang A Gong (Get It On) – U2 feat. Elton John
Diamond Meadows – John Cameron Mitchell
Ballrooms Of Mars – Emily Haines
Main Man – Father John Misty
Rock On – Perry Farrell
The Street and Babe Shadow – Elysian Fields
The Leopards – Gavin Friday
Metal Guru – Nena
Teenage Dream – Marc Almond
Organ Blues – Helga Davis
Planet Queen – Todd Rundgren
Great Horse – Jessie Harris
Mambo Sun – Sean Lennon and Charlotte Kemp Muhl
Pilgrim's Tale – Victoria Williams with Julian Lennon
Bang A Gong (Get It On) Reprise – David Johansen
She Was Born To Be My Unicorn / Ride A White Swan – Maria McKee
---
Don't forget to follow our Spotify Playlist: