Violent Pop band Blind Channel from Finland with new single and video
|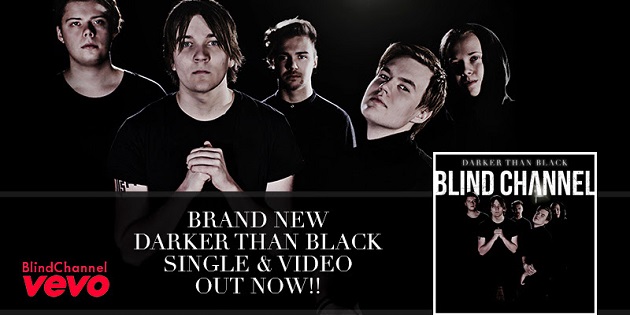 Blind Channel is a young and hungry 'violent pop' band from Oulu, Finland. The band has gained a lot of attention with their energetic live performances and their modern angle to international mainstream rock music. Last year Blind Channel shocked audiences and medias around the world when they released a 'violent pop cover' of Ed Sheeran's blockbuster 'Don't'.
Now, in february 2016 they rewarded their fans' wait with the first new single from their debut album. The single 'Darker Than Black' was released byt the finnish label Ranka Kustannus. The song was produced by finnish hitmaker Jonas Olsson and mixed by swedish expert Jens Bogren.
Blind Channel comments on the new single: "What follows when you combine a young and energetic boy band with a skillful pop producer and renowned mixing wizard? The answer is: a damn good violent pop tune. Both the song and the video give you a heads-up of what's coming. We're gonna hit you with an international and catchy – yet approachable violent pop album."
They've played Finnish big festivals in Provinssirock, Ilosaarirock, Qstock & Nummirock where they won the Wacken Metal Battle in Finland so they also played their first gig ever abroad in the world's biggest metal festival in Wacken Open Air in Germany to about 10.000 people. Soon after that Blind Channel performed at the massive Sziget Festival in Budapest [HU]. The band have also played hundred of sweaty club gigs including the support gigs with huge bands like Enter Shikari [UK] and Machinae Supremacy [SWE].
Last year Blind Channel has been busy touring around Europe, and next fall they're heading to Norway to perform at The Edge Nordic -festival with bands like Sylosis, Adept, We Butter The Bread With Butter and Eskimo Callboy.
Blind Channel live dates:
30.04.2016 – Bar 15, Seinäjoki, FIN
07.05.2016 – Kerubi, Joensuu, FIN
12.05.2016 – Henry's Pub, Kuopio, FIN
13.05.2016 – Lutakko, Jyväskylä, FIN
14.05.2016 – On The Rocks, Helsinki, FIN
20.05.2016 – Rummer's Club, Oulu, FIN
9.-10.09.2016 – The Edge nordic, Bergen, NOR
---
Don't forget to follow our Spotify Playlist: