Justin Bieber's First Four Albums Make Their Vinyl Debuts Slated For February 12th Release
|
Fresh off the chart-topping debut of his fourth studio album,Purpose, RBMG/Def Jam Recordings artist Justin Bieber will see his first four releases – the My World EP (2009), My World 2.0 (2010), Believe (2012) and the previously digital-only compilation Journals (2013) — on standard weight as a 2 LP vinyl for the first time through Universal Music Enterprises (UMe) on February 12, 2016.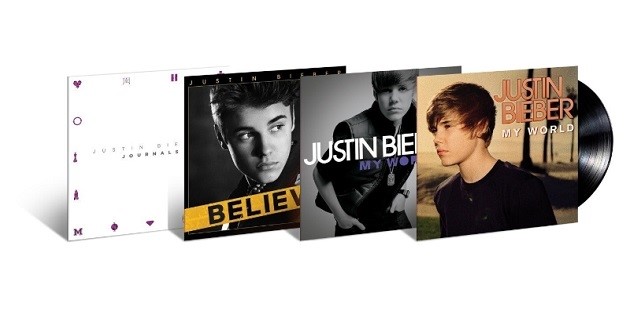 Canadian native Bieber burst onto the music scene as a teenager after being discovered on YouTube by manager Scooter Braun, who signed him to his joint venture RBMG label with Usher, releasing the seven-song My World EP on November 17, 2009. The disc debuted at #6 on the Billboard 200 with first-week sales of 137,000, eventually going to #5, and was certified platinum less than two months after its release, topping the Canadian album chart in the process. Two singles were released from the EP, "One Time," which went Top 20 in five different countries (peaking at #17 in the U.S.), while "One Less Lonely Girl" went Top 10 in the U.S. and Top 15 in Canada.
The EP was meant as an introduction to Bieber's full-length studio album bow My World 2.0, which came outMarch 19, 2010, debuting #1 on the Billboard 200 with sales of 283,000 copies, eventually selling 3.1 million, earning a GRAMMY ® nomination for Best Pop Vocal Album. My World 2.0 eventually went #1 in Canada,Ireland, Australia and New Zealand, charting in the Top 10 of 15 countries overall, thanks to his first headlining tour. The lead single, "Baby," featuring Ludacris, which went Top 5 on the Billboard Hot 100, eventually selling 12 million to go 12-times-platinum, while  "Eenie Meenie," with Sean Kingston and "Somebody To Love" both went platinum.
Believe, Justin Bieber's third studio album (after Under the Mistletoe) came out on June 15, 2012, and featured a more mature dance-pop, contemporary R&B feel, with collaborators such as Diplo, Max Martin and Darkchild. The release debuted at #1 on the Billboard 200, his fourth to do so, with 374,000 in sales, eventually selling, to date, of 1.3 million, topping the charts in Canada, Australia, Denmark, New Zealand Sweden and the U.K., with worldwide sales exceeding three million. The album produced hit singles in the three-times-platinum "Boyfriend" (#2 U.S.), the double-platinum "As Long As You Love Me" (with Big Sean) (#6 U.S.), the double-platinum "Beauty And A Beat" (with Nicki Minaj) (#5 U.S.) and the platinum "All Around the World" (with Ludacris) (#22 U.S.).
Journals was a digital-only compilation of tracks which came out on December 23, 2013, and is only now available in physical form as a vinyl LP.  Bieber preceded its release with a 10-week digital download campaign, "Music Mondays," in which he released a new song every Monday night. Aside from these tracks, Journalsincludes five previously unreleased songs recorded while the singer was on his Believe tour between 2012 and 2013. Journals found Bieber working with a variety of R&B producers, including The Audibles, Jason "Poo Bear" Boyd, Andre Harris, Cali The Producer, D.K. the Punisher, Soundz, Chief Tone, T-Minus, Maejor Ali, Rodney "Darkchild" Jerkins and Sir Nolan, while collaborating with hip-hop icons, Future, R. Kelly, Chance the Rapper, Big Sean and Lil Wayne. The album was not submitted for sales tracking, so it never did chart in Billboard, but has reportedly sold 1,500,000 copies to date.  Released singles included "Heartbreaker" (#13 U.S.), "All That Matters" (#24) and the gold "Confident," featuring Chance the Rapper (#41). Journals would be the last album release from Bieber until his current comeback Purpose, which itself followed the breakthrough Skrillex/Diplo collaboration, "What Do You Mean?"
Here are the vinyl track listings with each side indicated:
My World
One Time (Side A)
Favorite Girl (Side A)
Down To Earth (Side A)
Bigger (Side A)
One Less Lonely Girl (Side B)
First Dance (Side B)
Love Me (Side B)
My World 2.0
Baby (Side A)
Somebody To Love (Side A)
Stuck In The Moment (Side A)
U Smile (Side A)
Runaway Love (Side A)
Never Let You Go (Side B)
Overboard (Side B)
Eenie Meenie (Side B)
Up (Side B)
That Should Be Me (Side B)
Believe
All Around The World (Side A)
Boyfriend (Side A)
As Long As You Love Me (Side A)
Catching Feelings (Side A)
Take You (Side A)
Right Here (Side A)
Fall (Side A)
Die In Your Arms (Side B)
Thought Of You (Side B)
Beauty And A Beat (Side B)

One Love

(Side B)
Be Alright (Side B)
Believe (Side B)
Journals
LP 1
Heartbreaker (Side A)
All That Matters (Side A)
Hold Tight (Side A)
Recovery (Side A)
Bad Day (Side B)
All Bad (Side B)
PYD (Side B)
LP 2
Roller Coaster (Side A)
Change Me (Side A)
Confident (Side A)

One Life

(Side A)
Backpack (Side B)
What's Hatnin' (Side B)
Swap It Out (Side B)

Memphis

(Side B)
---
Don't forget to follow our Spotify Playlist: