Glamrock icon Michael Des Barres releases new live album 'Hot 'n Sticky'
|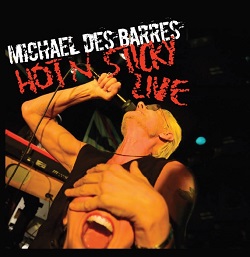 Riding the wave of critical acclaim from critics and peers such as Stevie Van Zandt for his album Carnaby Street, Michael Des Barres is releasing a live album recently recorded at the legendary Viper Room in Hollywood. Hot 'n Sticky is just as the title describes, delivering the songs from Carnaby Street and other personal favorites the way this music is meant to be enjoyed. It's down-n-dirty, straight-up rock 'n roll played by a great band, and Michael Des Barres is here to bring it back with Hot 'n Sticky.
"I had no plans to record a live album that night. I record everything so I have something to dance to, but this happened to be one of those hot and sticky nights when the music plays itself, and we became like a primal, blusey, electric machine. Of course it helps that we've played every club, dive bar and juke joint that would have us. That's where rock 'n roll lives — no video screens, no lasers, dancers or lip synching, just raw incantations from the Olympian heights of rock 'n roll heaven."
– Michael Des Barres
Hot 'n Sticky will be officially released by MDBimmedia on November 5, 2013 and will be available in both digital and physical formats.
"Rock ain't near dead, and if you need any convincing on this point listen no further than Michael Des Barres' fiery new live set, Hot 'n Sticky. This disc will cure what ails you with ample doses of rhythm, blues, and a pure love of rock 'n' roll. The set moves, grooves, and shakes you down with a top-flight band of LA aces and a frontman who melts all those before him.
Rock's royalty has made it through the darkness that eclipsed the breed and their art throughout the '80s and '90s. The real rockers such as Ian Hunter, Glenn Hughes, and Michael Des Barres have all saved up and not spent it all. They're alive, well and proving on a regular basis that rock may not be on the radio, but it's doing just fine as an art form." – Tony Conley, Rock Guitar Daily
Michael Des Barres has been on the rock n' roll scene for more than four decades. A European Marquis, Michael was raised in England and now lives in Los Angeles. His enduring love of Delta blues and the rock and soul of the mid-60s beat boom, carries forth from his days as the front man for such seminal 1970s bands as Silverhead and Detective, a band personally signed by Jimmy Page to Led Zeppelin's Swan Song records in 1975.
Michael Des Barres was also the touring singer for the Duran Duran spin-off group, The Power Station, performing at Live Aid with one of the most iconic live acts of the mid-1980s. From 1982 to 1984, Michael was a member of Chequered Past, which included Steve Jones from the Sex Pistols, and Clem Burke and Nigel Harrison of Blondie. In 1983, Michael penned the song "Obsession", which later became a number one hit in 27 countries for LA new wave group Animotion; the track has been featured in numerous movies throughout the years. His album Carnaby Street garnered a first-round Grammy nomination and two SiriusXM "Songs of the Week" last year.
Today, Michael Des Barres sets the bar for a new breed of healthy rock stars, pushing boundaries as multi-media force of nature. In addition to two weekly syndicated radio shows, Roots & Branches and The Michael Des Barres Show, he has appeared in feature films and countless hit television shows such as NCIS, Nip/Tuck, The Finder, and as the infamous assassin Murdoc on MacGyver. Michael has also been featured in music videos for Maroon 5 and Rihanna and co-stars with Robert Carlyle in the just-released film California Solo. Recently, Michael narrated the one-night only performance of Frank Zappa's legendary 200 Motels with the LA Philharmonic conducted by Esa Pekka Salonen… and now it's back on the road, coming to a dive bar or stadium near you!
---
Don't forget to follow our Spotify Playlist: