Katherine Jackson Presents: The 5th, Annual Michael Jackson "King of Pop" Tribute Festival of the Arts 2014
|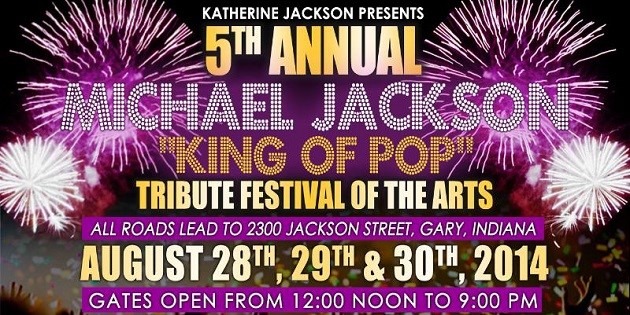 The Michael Jackson 5th, Annual "King of Pop" Tribute Festival of the Arts committee is inviting music and art lovers from all over the world to join this year's celebration at the birth home of Michael Jackson in Gary, Indiana.
There will be a special MJ dance competition with $5,000 in cash up for grabs for the talented winner. There will also be a musical competition where the winner will secure a KES indie music starter deal worth $15,000 in services.
When: Thursday, August 28th and Friday the 29th, 12:00 noon CST until 9:00 p.m. Saturday the 30th, from 9:00am CST until 9:00pm.
Where: The festival will commence at the birth home of Michael Jackson; 2300 Jackson Street and the Roosevelt High School football field.
What: The festival will be three fun filled days, full of activities for kids and their families with great music and dance performances for everyone to enjoy. Admission to the festival is FREE to the public. Headlining the festival will be Interscope Boy Band Mindless Behavior along with Disney Star Roshon Fegan, RCA Recording Artist Jacob Latimore and numerous acts and performers throughout each day. There will be an exotic petting zoo and kid's pavilion, guaranteed to be enjoyed by both children and adults. Adding to this exciting weekend on Saturday there will be a car show featuring incredible vintage and classic cars. The event features dual stage performances with the main stage located on the Roosevelt High School football field, surrounded by many local and Chicagoland vendors.
---
Don't forget to follow our Spotify Playlist: