Tears For Fears' Roland Orzabal Turns Author With The Release Of Sex, Drugs & Opera
|
As one half of eighties icons Tears For Fears, Roland Orzabal is best known for his songwriting, having penned such classic hits as Everybody Wants To Rule The World, Shout, Sowing The Seeds Of Love and the haunting Christmas number one, Mad World. For the last few years though, he has turned his hand to writing fiction, the culmination of which is his first commercial novel, a romantic comedy called Sex, Drugs & Opera. Sex, Drugs & Opera will be published by Acorn Digital Press.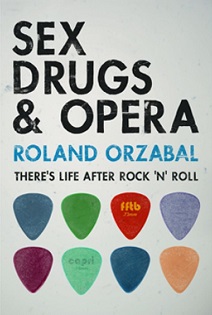 'I was halfway through writing a gothic, country house mystery when, out of the blue, I received an email inviting me to audition for the ITV show, Popstar To Operastar,' says Roland. 'It felt strange, I must admit, being targeted like that. I mean, I'd sung a little opera in my youth and had lessons for about six months, a fact I'm sure the producers were not aware of. Anyway, I went along for the audition, enjoyed the experience and got quite excited about the prospect. But the more I thought about it, the more nervous I became; I realised the fantasy was far more attractive than the reality. That's where the idea for Sex, Drugs & Opera came from. The show might not have been right for me but it provided the germ for an alter-ego, a fictitious character, a semi-retired pop star called Solomon Capri who thinks he can reignite his marriage and relaunch his career not just by appearing on Popstar To Operastar, but by winning it.'
In fact, so desperate is Solomon to do well on the show, that he secretly employs an opera coach: Dr. Eugene Sparks, an 83-year old ex-professional opera singer who lives on a freezing Dutch barge on the Kennett and Avon canal, east of Bath, with Tilda, his wheelchair-bound wife. But through his relationship with the wily old man, and through a string of misadventures involving women, drugs, the ghost of his former guitarist, and an operatic busker, Solomon's life is changed forever.
Sex, Drugs & Opera by Roland Orzabal is available on Kindle from March 26th and on other formats, May 4th.
---
Don't forget to follow our Spotify Playlist: