Joe Satriani plays Capita Selecta accompanied by a suberb band
|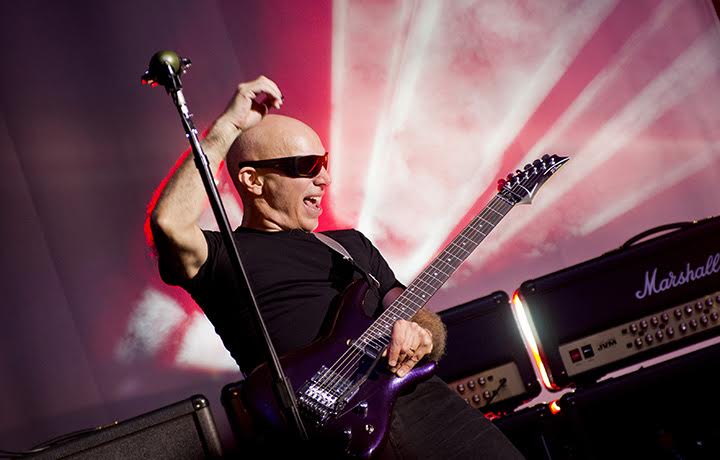 Parkstad Limburg Theaters (Heerlen, The Netherlands) is working very hard to become THE broad musical stage for South Limburg. Big names from the progressive and adult pop music are contracted and will show up the upcoming months: Stanley Clarke, Paul Carrack and Snarky Puppy to name a few. On September 26, it was the honor to Joe Satriani to mount the cosy stage in The Limburgzaal.
Joe Satriani recently started a new world tour, called Shockwave, to promote his brand new album named Shockwave Supernova. A new album of this widely recognized master guitarist is definitely an event to look forward to. What makes it this time even more exciting is that this album was recorded with the 'super trio' Mike Keneally, Bryan Beller and Marco Minneman.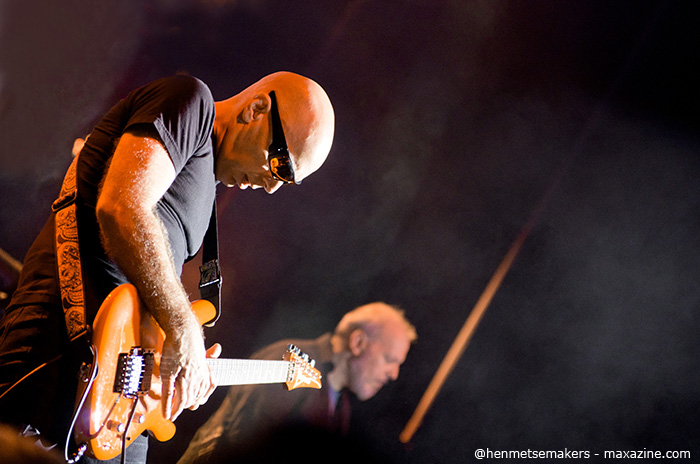 We were able to see this quartet in 2013 during the last Satriani tour and that was a very memorable musical evening. A brief introduction of the band: Joe Satriani is widely known as 'world guitarist'; but the gentle giant and very modest Mike Keneally is regarded as a guitar player born on another planet. Joe Satriani has regularly admitted to find Mike Keneally a more gifted and versatile guitarist than himself … And Keneally plays besides the guitar also keyboards.
And the rhythm tandem Bryan Beller and Marco Minnemann is nowadays almost legendary. Legendary for its rhythmic collaboration in the fusion trio The Aristocrats and in the support of Joe Satriani.
Whether you're a fan of Joe Satriani, love fusion or the eclectic music of Mike Keneally: this gig had to be very exciting and heavy musical happening. And looking back to the concert: this became absolutely true during a wonderful show.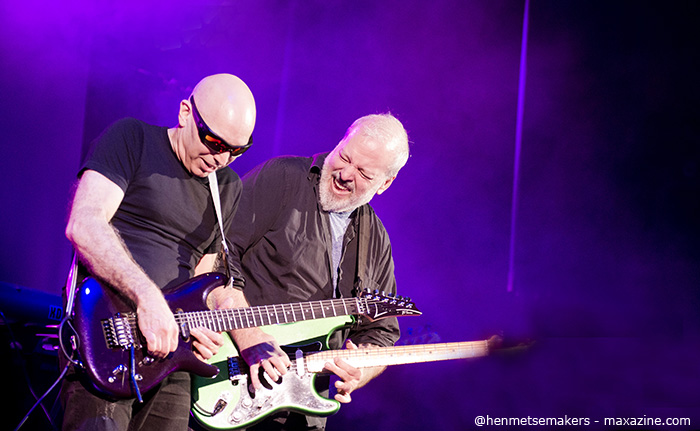 Support act was hill country blues singer/songwriter Markus James; only accompanied by a drummer. Multi-instrumentalist Markus plays a typical kind of trance blues where guitar, harmonica and typical repetitive rhythm patterns are combined into a burning melting pot. During 45 minutes the audience was transported back in time towards North Mississippi to relive the downside of the hard life over yonder. Curious stories about hellhounds, graves, seduction and corruption combined with the instrumentation and distorted voice created a hypnotic atmosphere.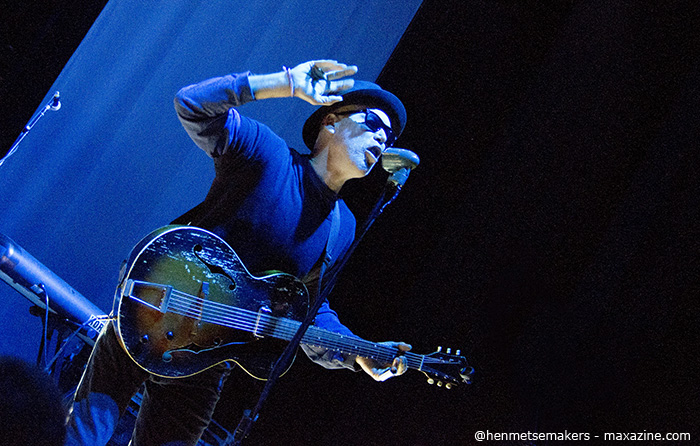 At 20:30 sharp Joe Satriani and his companions entered the stage and immediately set the tone for the upcoming two hours: strong guitar driven music, very loud and guided by, sometimes complex, rhythmic support. Most of the songs were enriched with great visuals in the background which gave the show an extra valuable dimension.
During more than two hours Satriani led us through examples from his whole catalogue. The band played old classics like Flying In A Blue Dream combined with a preferred brand new selection from Shockwave Supernova.
From the start it became apparent that a very mature band was supporting the rock songs in an experienced way. As far as you would expect an one man ego show you were totally wrong. Every band member had room for some individual exploration: Beller showed his excellent improvisation skills during amongst others Ice9. Minnemann had in general the freedom to play his recognizable chops within the boundaries of the song structures. The melodic guitar parts and recognizable shredding parts of Satch were broadly supported by multi keyboard and guitar layers by Mike Keneally.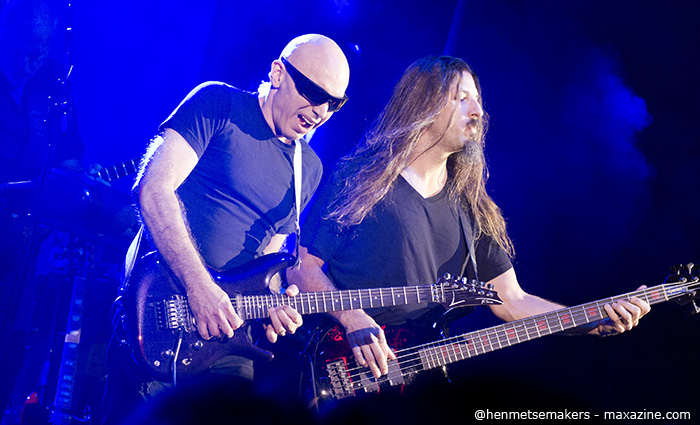 What became very apparent was that Keneally led the whole instrumentation and positioned Satch in the permanent spotlight to demonstrate via the guitar everything he had in his mind and body. Often playing keyboards and guitar simultaneously he was the anchorman of the band.
Every now and then Keneally joined Satriani on the front of the stage to play the guitar together and in some tunes he played some solo guitar parts. The absolute musical highlight, and there were many to count, for the guitar adepts was a duel during If I Could Fly. During the end of the show Minnemann went totally loose on an dynamic and complex drum solo he only can perform.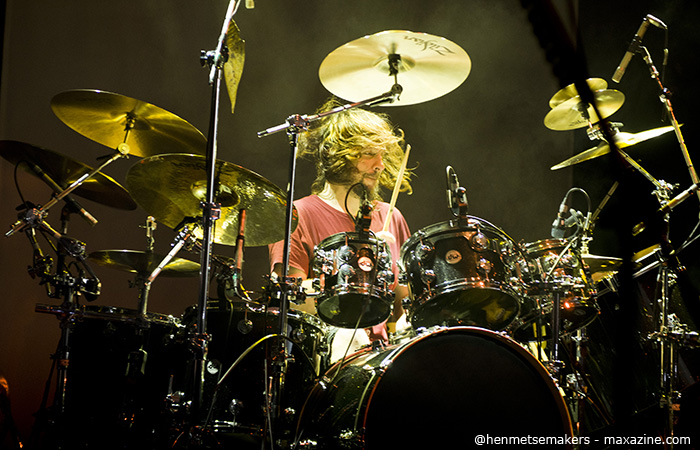 The only drawback when listening to this great rock music is that also a show like this has an end …
For both Satriani fans as admirers of the rest of this band: this was an unforgettable evening of high octane melodic rock music supported every by the complexity and ingenuity of the three musketeers behind maestro and puppet master Satch.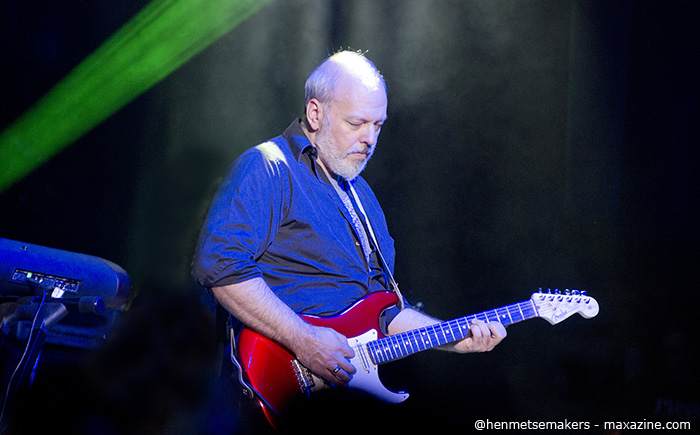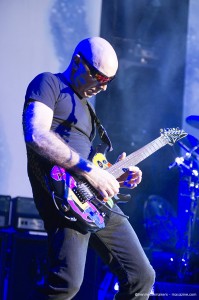 Joe Satriani Band:
– Joe Satriani: guitars
– Mike Keneally: keyboards and guitar
– Bryan Beller: bass guitars
– Marco Minnemann: drums
Setlist (as far we were able to memorize):
– Shockwave Supernova
– Flying in a Blue Dream
– Ice 9
– Crystal Planet
– Not of This Earth
– On Peregrine Wings
– Friends
– Time puts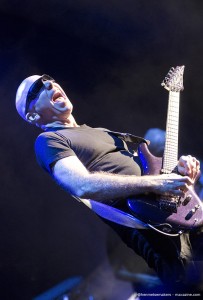 – If I Could Fly
– Butterfly and Zebra
– If There Is No Heaven
– Cataclysmic
– Crazy Joey
– All of My Life
– Luminous Flesh Giants
– Always With Me, Always With You
– God Is Crying
– Goodbye Supernova
– Satch Boogie
Encore:
– The Extremist
– Summer Song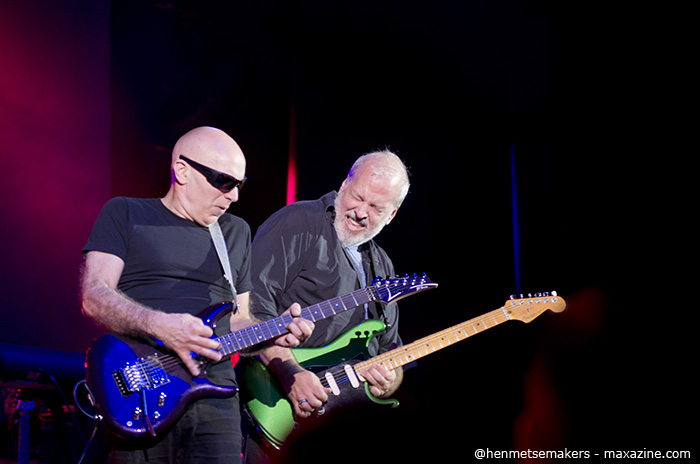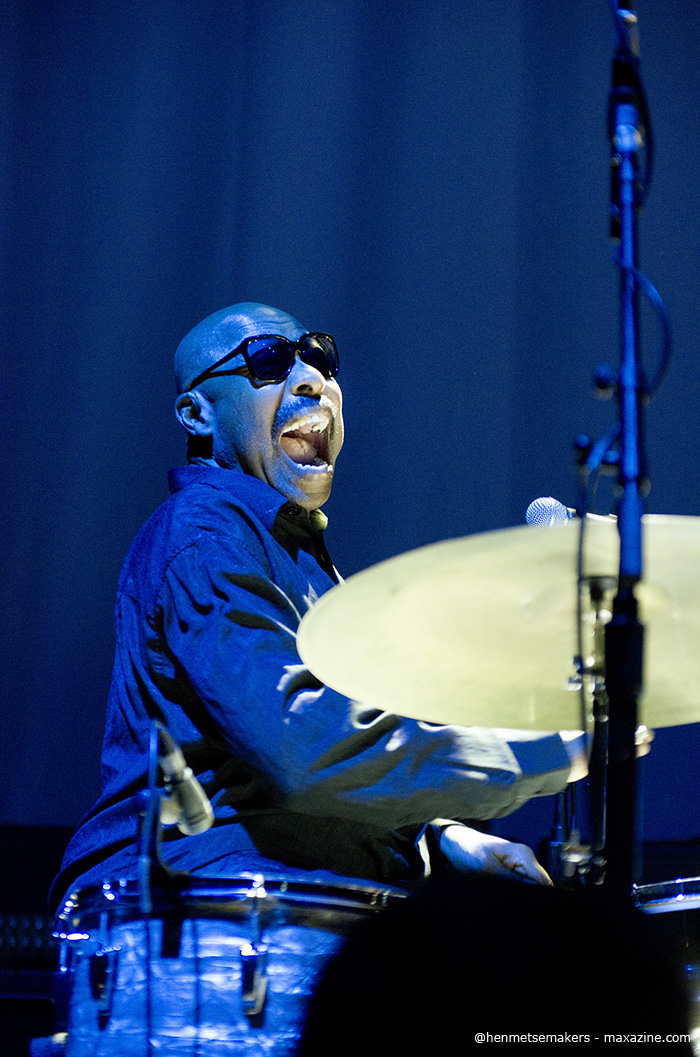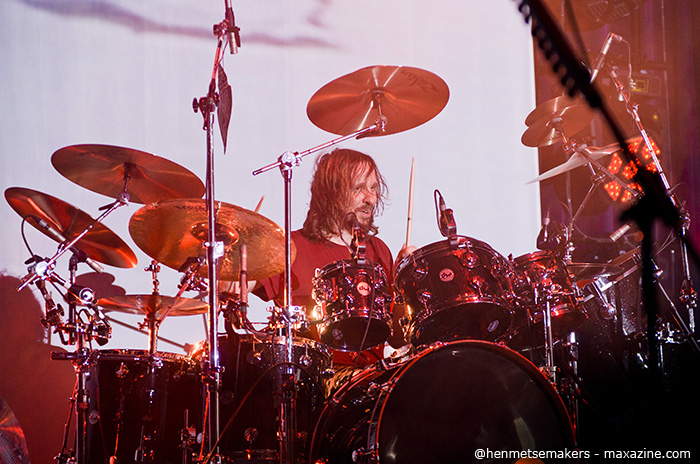 ---
Don't forget to follow our Spotify Playlist: