Brutal Assault 2013, August 7-10 2013
|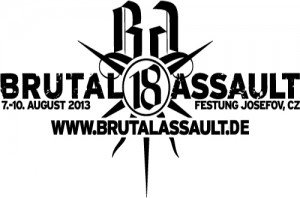 For me it was the first time: The Brutal Assault Festival in Jaroměř, Czech Republic. 4 day's of the best of extreme metal, together in an old fortress in Czech Republic. Brutal Assault luckily has had a special arrangement with Czech rail, so you could get a Brutal Assault specific ticket to/from Jaromer with a lower price. Landing in Prague, taking the train to Jaroměř, it made is quite easy now. The camp is located approx. 300 meters outside the festival entrance and it's free, so that's one thing that's great as well.
The line-up this year was mad. Headliners like Atari Teenage Riot, Testament, Biohazard, Anthrax, Madball, our favorite Clawfinger, Fear Factory, Entombed, Hatebreed, Trivium, Opeth, Whitechapel made Brutal Assault a bit like our favorite festival ever attended: Dynamo Open Air in Eindhoven, Netherlands. Together with bands like Aborym, Aeternus, Alcest, Amorphis, Antropofagus, Balance Interrupted, Behemoth, Belphegor, Benediction, Borknagar, Brotherhood of the Lake, Carcass, Carpathian Forest, Coffins, Contrastic, Crushing Caspars, Cult of Luna, Decrepit Birth, Devildriver, Divadlo Marza, Downset, Dr. Living Dead, Dying Fetus, E.n.d., Ensiferum, Fields Of The Nephilim, Hacride, Ihsahn, In Flames, In Vain, Jungle Rot, Katalepsy, Leprous, Loudblast, Magrudergrind, Malevolent Creation, Marduk, Meshuggah, Misanthrope, Nachtmystium, Novembers Doom, Obscura, October File, Overkill, Philm, Primordial, Pro-Pain, Rotten Sound, Saturnus, Skeletal Remains, Solefald, Sylosis, Voivod, Vomitory, Vreid, War From A Harlots Mouth, We Butter The Bread With Butter, Brutal Assault 2013 mase a big succes!
Beast Within the Sound, Dying Passion and Jungle Rot were very impressive as a performance at the first day of the festival. Then came Testament, who everybody was waiting for. The gig didn't start very luckily for the band, as the sound broke down at the first song they played. The complete audience was yelling, but the roadies fixed the problem quickly and everything was back on track. Testament had lot of fans at the Brutal Assault Festival and their performance was superb! The both stages were on the main square and the festival "accessories" were placed in the surrounding space, which made it very easy for the fans.
Thursday the party started with the local melodic death metal band AbstractEssence. After that we visited Dr. Living Dead, which came with skull masks on their faces and during the whole performance the crowd rushed in some giant moshpits, again there was a technical problem, as the amplifier broke down for a short time. This day was very hot, and a firetruck came and sprayed the whole crowd with cold water, over to the Metal Shop Stag. The day ended just after 2AM with the black metal band Marduk, but at that time, we allready were off to sleep.
The 9th we started with bands like Antropofagus, Attack of Rage, Katalepsy, Minority Sound, Obscura, Glorior Belli, Hypnos, Misanthrope, and old-school hardcore heroes of Pro-Pain. The show of Hate after that was a bit tame, and we left before they ended their show.
The last day of the festival we almost overslept ourselves, as a 4-day festival is killing your sleeping time, but we managed to get up after all beers of yesterday's evening. Brutal Assault is party all over and the atmosphere is superb! Czech's own Gutalax we had to miss, but opening for us was Vreid, the Norwegian death-black multi-genre squadron. It was an operer for the day that was smashing but the big hit for the day was Biohazard, and of course: Clawfinger. Clawfinger was freaking as usual and Hatebreed for once actually had crusty raw sound because the engineers actually decided to make them bearable. Behemoth and Opeth finished the Brutal Assault 2013 for us, as finishing the world's end. Freaky!
This was my first Brutal Asault, and despite of not even knowing i wanted to write a review of it, I had to, as next year y'all have to go! And I will take my camera for you!
---
Don't forget to follow our Spotify Playlist: