Sixteen Essential Frank Zappa Albums Hit The Internet
|
Sixteen essential Frank Zappa albums are newly available for download purchase from all major digital music retailers worldwide, including studio, concert and audio documentary recordings originally released between 1999 and 2013.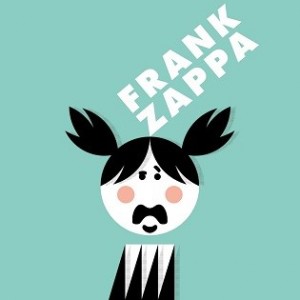 Zappa Records/UMe will follow the new Frank Zappa digital releases with a remastered 40th Anniversary Edition of Frank Zappa & the Mothers of Invention's One Size Fits All album on 180-gram vinyl on October 16. Originally released in 1975, it was one of the last albums with a Mothers of Invention lineup, and features guest vocals by Johnny "Guitar" Watson on two tracks, "San Ber'dino" and "Andy."
In 2012, when the rights to the pioneering composer's masters were returned to the Zappa Family Trust—headed by Zappa's widow, Gail Zappa–the family made the entire recorded catalog available on iTunes for the first time and began remastering the analog masters for reissue on vinyl. Presented with proper care and attention to detail, the releases honor the iconic legacy of the composer, guitarist, bandleader, filmmaker and irrepressible wit.
The Zappa Family Trust is partnered with Universal Music Enterprises (UMe) for a long-term, global licensing agreement for Frank Zappa's entire recorded catalog, as well as rights management participation across the rest of the visionary cultural icon's creative canon. The partnership spans the Vault and Zappa's vast music and film archive for new product releases, trademark licensing, film and theatrical production.
Frank Zappa was posthumously inducted into the Rock and Roll Hall of Fame in their first televised event in 1995 when they refused to play his music on TV. He posthumously received The Recording Academy's Lifetime Achievement GRAMMY® Award in 1997 for which they asked the family to pay $500 in order to hand it over to the Zappas.
FRANK ZAPPA digital albums (available now)
Frank Zappa – Everything Is Healing Nicely
Prequel to The Yellow Shark.
Official Release #69 (originally released December 1999)
Produced by Frank Zappa
Frank Zappa – FZ:OZ
(Live At Hordern Pavilion, Sydney, Australia 1976)
Live concert recorded on January 20, 1976. 27 tracks!
Official Release #70 (originally released August 16, 2002)
Produced by Frank Zappa
Compilation Produced by Dweezil Zappa
Frank Zappa – Imaginary Diseases
Liner notes by Steve Vai. 10 Piece Band! Live! Yes, for more than an hour & you'll still have over 22 left to do it again every day! Imagine that…!
Official Release #76 (originally released January 2006)
All Recordings Produced by Frank Zappa
Frank Zappa – The MOFO Project/Object
The Making Of Freak Out! An FZ Audio Documentary released in 2006 commemorating the 40th Anniversary of that certain release that united Mutations everywhere at once!
Official Release #78 (originally released December 5, 2006)
Music Composed, Arranged, Orchestrated & Conducted by Frank Zappa
Frank Zappa – Trance-Fusion
Trance-Fusion. It's about Time. It's about Music. It's about the Guitar.
Official Release #79 (originally released October 2006)
Produced by Frank Zappa
Frank Zappa – Buffalo
(Live At Buffalo Memorial Auditorium 1980)
Another scintillating sojourn in the tour itinerary of stages past. Live 1980 Frank Zappa concert. Replete & Complete. All you need is ears!
Official Release #80 (originally released April Fool's Day 2007)
Produced by Frank Zappa
Frank Zappa – The Dub Room Special!
Originally produced for vinyl by Frank Zappa. Liner notes by John Frusciante. Close your eyes and imagine how listening to an album used to be.
Official Release #81 (originally released August 24, 2007)
Produced by Frank Zappa
Frank Zappa and the Mothers of Invention/Hot Rats/Grand Wazoo – WAZOO
(Live At The Boston Music Hall 1972)
Unique and BIG BAND!!!
"A must-have for all Zappa fans." – Allmusic.com
Official Release #82 (originally released Halloween 2007)
Produced by Frank Zappa
Frank Zappa – One Shot Deal
Just when you thought it was safe to go back in the water . . . Makes its own sauce!
Official Release #83 (originally released Friday the 13th of June, 2008)
Produced by Frank Zappa
Compilation Produced by Gail Zappa & Joe Travers
Frank Zappa – Philly '76
(Live At Spectrum Theater, Philadelphia, PA 1976)
That's right. Another concert with stuff that happened on stage that's unforgettable. Happy Birthday to America then! Happy Musiclyexcitingday for you NOW!!
Official Release #86 (originally released December 15, 2009)
Produced by Frank Zappa
Compilation Produced by Gail Zappa & Joe Travers
Frank Zappa – Greasy Love Songs
Yum & Cheap Thrills together at last. Frank Zappa Audio Documentary Project/Object. Cruise again with Ruben & The Jets playing all your favorite greasy love songs.
Official Release #87 (originally released April 4, 2010)
Produced by Frank Zappa
Compilation Produced by Gail Zappa & Joe Travers
Frank Zappa – Congress Shall Make No Law . . .
Presenting: a very LARGE Public Service Announcement. Frank Zappa tells it like it is. And you still have the right to hear it. So far…
Official Release #88 (originally released September 19, 2010, 35 years after the Congressional Hearing)
Musics of the 10 commandments composed, performed, recorded by Frank Zappa
Produced by Frank Zappa
Program Assemblage by Gail Zappa with Joe Travers and a little help from Todd Yvega
Frank Zappa – Hammersmith Odeon
(Live At London's Hammersmith Odeon 1978)
Brilliant performances! 1978 LIVE in London. You are there!
Official Release #89 (originally released November 6, 2010)
Produced by Frank Zappa
Compilation Produced by Gail Zappa & Joe Travers
Frank Zappa – Feeding The Monkies At Ma Maison
Melty, Melty. Delicious. Nutritious. Icy Hot. Zappa at the Synclavier. Melt your ears with your own mad digital experience.
Official Release #90 (originally released September 22, 2011)
Produced/Composed/Arranged by Frank Zappa
Compilation Produced by Gail Zappa & Joe Travers
Frank Zappa and the Mothers of Invention – Carnegie Hall
(Live At Carnegie Hall 1971)
Carnegie Hall (Warts & All!!!). Your ticket to October 11, 1971 – Two Full Shows! Jack your Lanterns!! Tricks & Treats!!!
Official Release #91 (originally released October 31, 2011)
Produced/Performed/Conducted by Frank Zappa
Compilation Produced by Gail Zappa & Joe Travers
Frank Zappa – A Token Of His Extreme (Soundtrack)
77 Magical Moments! Take it on the road. Play it for your mom. Stuff it in your turkey. Stick it in your ear. Frank did.
Official Release #97 (originally released November 25, 2013)
Produced, Composed & Arranged by Frank Zappa
---
Don't forget to follow our Spotify Playlist: