Sixties Music Legends The Chocolate Watchband Releases New Greatest Hits Album
|
When discussing legendary psychedelic garage bands of the 1960's, the Chocolate Watchband is at the top of the list. Much to the elation of fans and music critics, this famed sixties group has recorded a new album of their greatest and most popular tunes entitled "I'm Not Like Everybody Else" to be released May 26 on Purple Pyramid Records. Recorded at KVP Studio in Santa Clara, CA, the focus on this album was to faithfully reproduce the sound of the Chocolate Watchband in the 60's with the rawness and energy of the originals. Also added were bonus verses and extended track mixes of 13 personal and fan favorites. "The Chocolate Watchband is back on the scene and ready to rock!" says Tim Abbott, guitarist and producer of the album.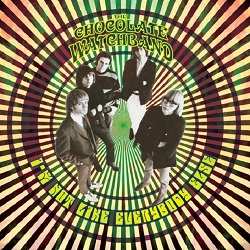 "This release is all new recordings from The Chocolate Watchband. I had the privilege of premiering some of these songs on the 2010 Bay Area Garage Band Marathon on KKUP Cupertino. This is an incredible set of vintage garage from one of the true legends of the sixties. With this album, there can no doubt the power of their music still speaks to a whole new generation," says Phil Dirt radio DJ
The goal was to re-create the sound and energy of the sessions with producer Ed Cobb, from the first three Watchband albums that were recorded for Tower Records in 1966, '67, and '68. Electronically reproducing the reverb of the old 'Echo Chamber' from American Recording studio in Studio City, CA, different percussion instruments were added including sleigh bells, tambourines, chimes, temple bells and more exotic instruments like sitars, harpsichords, theremin and bouzouki that gave the original recordings their distinctive sound.
Featuring:
David Aguilar – Vocals, Harmonica, Percussion
Bill Flores – Bass
Gary Andrijasevich – Drums and Background Vocals
Tim Abbott – Lead Guitar, Keyboards, Sitar, Flute, Bazooki, Harmonica and Background Vocals.
Alby Cozzette – Electric, Acoustic, and 12 string Guitars, and Background Vocals.
The Chocolate Watchband formed in San Jose in 1965. The band's music was described as "a blend of 1960s-style garage and psychedelic rock with a distinguishable 'Rolling Stones' San Francisco sound." Produced by Ed Cobb, the group's early music combined the influences of blues with a psychedelic edge that featured terse lyrics and instrumental experimentation. The Chocolate Watchband appeared in the 1967 film 'Riot On Sunset Strip' and the 1968 film 'The Love Ins'. The band released three highly acclaimed LPs from 1967 to 1969 before disbanding in 1970. In 1999, they reunited at the San Diego event 66/99 in San Diego, CA, organized by musician/journalist Mike Stax. They continue to play today at garage rock festivals in Europe as well as the States with Little Steven, The Yardbirds, Love, The Zombies, Bo Diddly, Iggy Pop, the Strawberry Alarm Clock and the Electric Prunes.
Tracks:
1. Expo 2000
2. Gone and Passes By
3. It's All Over Now Baby Blue
4. Are You Gonna' Be There (At The Love-in)
5. No Way Out
6. Misty Lane
7. I Ain't No Miracle Worker
8. Sitting There Standing
9. Sweet Young Thing
10. Don't Need Your Lovin'
11. I'm Not Like Everybody Else
12. Let's Talk About Girls
13. Inner Mystique
---
Don't forget to follow our Spotify Playlist: