Robben Ford to release 'Into The Sun'
|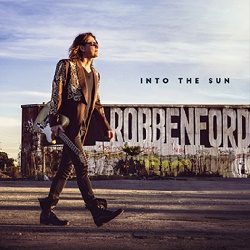 Guitar virtuoso Robben Ford's forthcoming new album Into The Sun (Mascot Label Group) shines a bright light on his artful, contemporary songwriting and the stunning playing that's made him a favorite foil of Miles Davis, Joni Mitchell, George Harrison and other legends. The five-time Grammy nominee describes the 11-song set as "one of the top recordings I've ever done" — a staggering observation considering his extensive discography, which embraces more than 35 albums under his own name and with his various bands. There's also Ford's session and sideman work, which includes hundreds of concert appearances and albums by Bonnie Raitt, Barbara Streisand, Charlie Musselwhite, KISS, Ruthie Foster, Jimmy Witherspoon and Rickie Lee Jones.
Into the Sun, which follows last year's critically acclaimed A Day In Nashville, explores the breadth of Ford's sophisticated, visionary writing and playing, creating a new chapter in his brilliant musical history. The album features a coterie of guests: gritty Southern rock newcomer Tyler Bryant on "Stone Cold Heaven," Allman Brothers guitarist and Gov't Mule frontman Warren Haynes on "High Heels And Throwing Things," slide guitar guru Sonny Landreth on "So Long 4 U," Americana and blues icon Keb' Mo' and pedal steel wizard Robert Randolph on "Justified," and vocal sensation ZZ Ward on "Breath Of Me." Niko Bolas, whose credits include Neil Young, John Mayer and Keith Richards, engineered.
"The album is really upbeat," Ford relates. "It has a positive vibe to it — a good time feel. There are a lot of different rhythms and colors and the way the instruments are used is really different on this and that track. It makes me very happy to have something so diverse."
Although Ford's recent releases have been hailed as returns to his musical roots — which go back to his discovery of blues as a teenager in the 1960s — Into The Sun is a clear departure, using tradition as a springboard to incorporate his timeless vocabulary of jazz, pop, blues and rock into a modern framework for his poetic lyrics and the most graceful, emotionally nuanced and melodic vocal performances of his career.
"This album is obviously of these times," Ford says. "And the rule during the recording process was to have no lid on things. I've worked very hard to master my craft as a musician and a songwriter, but other than relying on my strengths in those areas, I made sure there was room for new ideas and everything my collaborators brought to the music. When you're open to different concepts and approaches, the most beautiful things can happen."
ROBBEN FORD – INTO THE SUN
Released March 30
1. Rose Of Sharon
2. Day Of The Planets
3. Howlin' At The Moon
4. Rainbow Cover
5. Justified (with Keb' Mo' & Robert Randolph)
6. Breath Of Me (with ZZ Ward)
7. High Heels And Throwing Things (with Warren Haynes)
8. Cause Of War
9. So Long 4 U (with Sonny Landreth)
10. Same Train
11. Stone Cold Heaven (with Tyler Bryant)
---
Don't forget to follow our Spotify Playlist: