Joe Bonamassa releases "Muddy Wolf at Red Rocks"
|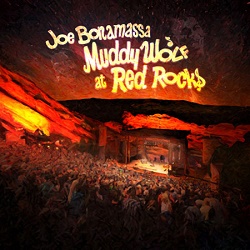 "Joe Bonamassa – Muddy Wolf At Red Rocks" on 2-DVD, Blu-ray, 2-CD and triple vinyl is out now! The exclusive concert experience tributing blues legends Muddy Waters and Howlin' Wolf was filmed at Red Rocks Amphitheater on August 31, 2014.
Carved into the bedrock of Colorado's majestic Rocky Mountains, the famed amphitheater sets the stage for Bonamassa's fiery delivery of over 2.5 hours of bluesy guitar-wailing and horn-filled tunes honoring the two Blues greats.
Playing to a sold-out crowd of 9,000 fans, this marks the biggest show of Bonamassa's career, a major milestone for the bluesman. The Blu-ray and DVD contains over 1.5 hours of bonus features including exclusive behind the scenes footage, a photo gallery, historic footage of Muddy Waters and Howlin' Wolf, and a featurette of Bonamassa and producer Kevin Shirley's trip to The Crossroads.
The 3LP vinyl includes a downloadcode for the entire performance.
---
Don't forget to follow our Spotify Playlist: