Rob Zombie To Release 'The Electric Warlock Acid Witch Satanic Orgy Celebration Dispenser'
|
The Electric Warlock Acid Witch Satanic Orgy Celebration Dispenser is Rob Zombie's sixth solo studio album. Produced by Zeuss, it was recorded and mixed at Goathouse Studios. A full return to form by the rock icon, The Electric Warlock… features John 5 (Guitar), Piggy D (Bass) and Ginger Fish (Drums) and will be released on April 29th, 2016 via UMe/T-Boy Records. This album will mark Rob Zombie's first solo studio album since 2013's Venomous Rat Regeneration Vendor, which debuted at number 7 on the Billboard 200.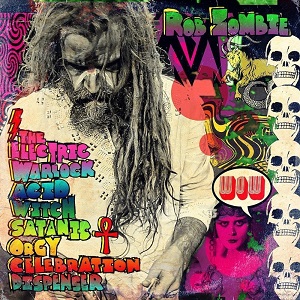 In true Zombie fashion, the design of the record is just as provocative as the music it holds. Featuring art by Alex Horley, the album's centerfold needs to be seen to be believed. Rob said of the new release, "I can easily say this is my favorite album yet… no joke. Yeah I know every f**king asshole says that. But it is seriously our heaviest most f**ked up musical monster to date. One song entitled 'Well, Everybody's F**king In a U.F.O.' is sure to be an instant Zombie classic! Not since Hellbilly Deluxe have I spent this long putting an album together. It was worth it."
To celebrate the release of the new album, Zombie has made a direct presale available via f**kinginaUFO.com where fans can pre-order the new record, as well as purchase exclusive merchandise. In a message to his fans, Zombie reveals: "This time I'm not just putting out a new record like everyone else- I'm offering it directly from me to YOU along with a ton of other limited edition, exclusive badass shit like new album merch, posters and the chance for you to be in THE ELECTRIC WARLOCK ACID WITCH SATANIC ORGY CELEBRATION DISPENSER MOVIE!"
As a rock legend and filmmaker with a unique vision, Zombie has continuously challenged audiences as he stretches the boundaries of both music and film. He has sold more than fifteen million albums worldwide and is the only artist to experience unprecedented success in both music and film as the writer/director of six feature films.
Rob Zombie's seventh feature film, the highly anticipated 31, will be making its world premiere this month at Sundance Film Festival. Last year he also released his first live album in over eight years, SPOOKSHOW INTERNATIONAL LIVE, which is filled with nineteen tracks from the highlights of Rob's critically acclaimed US tour of 2014.
Get a glimpse of what The Electric Warlock Acid Witch Satanic Orgy Celebration Dispenser has in store with the official track list below.
1. The Last Of The Demons Defeated
2. Satanic Cyanide! The Killer Rocks On!
3. The Life And Times Of A Teenage Rock God
4. Well, Everybody's F**king In A U.F.O.
5. A Hearse Overturns With The Coffin Bursting Open
6. The Hideous Exhibitions Of A Dedicated Gore Whore
7. Medication For The Melancholy
8. In The Age Of The Consecrated Vampire We All Get High
9. Super-Doom-Hex-Gloom Part One
10. In The Bone Pile
11. Get Your Boots On! That's The End Of Rock And Roll
12. Wurdalak
---
Don't forget to follow our Spotify Playlist: