Ana Moura will release new album "Moura" next June
|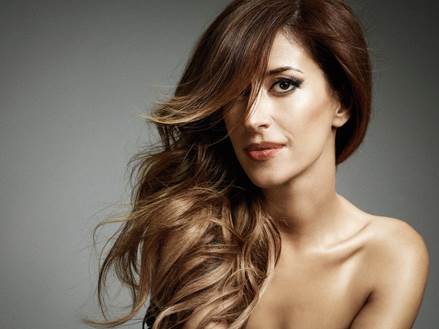 Ana Moura's 6th album, entitled "Moura", will be released on June 6th. Just like "Desfado", a number of major names in Portuguese music have found their way onto this record. Carlos Tê, who Ana Moura sings for the first time, has contributed the music and lyrics for an entire track. The same is also true of Samuel Úria. At the time of recording "Desfado", Ana Moura acknowledged she was a huge fan of the composer. Others to whom Ana Moura lends her voice for the first time include Jorge Cruz (Diabo na Cruz), Edu Mundo and Sara Tavares, who composed the music for lyrics written by Kalaf (Buraka Som Sistema). Some of the writings of José Eduardo Agualusa are set to music composed by Angola's Toty Sa'Med.
Musicians and writers Ana Moura has worked with on a regular basis since "Desfado" first came out have also contributed to the fado singer's new album, and they appear here as a natural consequence of this collaboration. We are talking about such contributors as Márcia Santos, Miguel Araújo, Pedro da Silva Martins, joined here by his brother Luís José Martins (Deolinda), and Pedro Abrunhosa, who has written two songs for the record.
There is also room for the traditional fado that Ana Moura makes a point of including in her repertoire. Manuela de Freitas has written on Cravo fado and Maria do Rosário Pedreira on Carlos da Maia (Sextilhas) fado. "Moura" was produced by Larry Klein, whom Ana Moura worked with on her previous album. Canadian-born and a 4-time Grammy winner, Larry Klein has produced seminal recordings by such musical legends as Joni Mitchell and Herbie Hancock.
The two Portuguese musicians on this latest album, both of whom regularly perform with the singer at live concerts, are Ângelo Freire, on the Portuguese guitar, and Pedro Soares, on the fado viola. The other internationally renowned musicians who play on the album add a wealth of talent and versatility: Dan Lutz, on bass, has recorded with Lizz Wright and Michael Bublé; Dean Parks, on guitars, has played on studio recordings by such performers as Madonna, Stevie Wonder, Elton John and Diana Ross; Pete Korpela, on percussion, has worked with Robbie Williams and Melody Gardot; Pete Kuzma, on keyboards, has teamed up with Jill Scott and Lizz Wright; and the legendary Vinnie Colaiuta, on drums, performed for many years with such artists as Frank Zappa and Sting.
But these are not the only impressive names on the list of credits: the mixing was done by Tim Palmer (who has not only mixed recordings for U2 and The Cure but was also responsible for Pearl Jam's near-mythical album "Ten") and the edgy Tchad Blake (who mixed such classics as "El Camino" for The Black Keys, "AM" for Arctic Monkeys and, more recently, "Songs of Innocence" for U2).
Ana Moura's 6 th studio album has the seal of quality of the Henson Recording Studios (Hollywood, CA, USA), where such artists as Paul McCartney, The Rolling Stones, Alicia Keys, Bruce Springsteen and Justin Timberlake have all cut records, and of The Village Studios (West Los Angeles, CA, USA), where, Aerosmith, Tori Amos, The Beach Boys, John Lennon and Madonna have all recorded their music. "Moura" follows on from "Desfado", which went platinum five times to become Portugal's best-selling album in recent years. "Desfado" has been at the top of the charts in Portugal, ever since it first came out, over 150 weeks ago. "Desfado" was the first Ana Moura album to be released worldwide by Universal Music, through Decca. It reached the no. 1 spot several times in Portugal and also topped the World Music charts in England, Spain and the United States.
Ana Moura's career is currently the most vibrant and thriving of any other Portuguese performer, as evidenced by the 300,000 records she has sold, her nearly one dozen awards, which include 2 Golden Globes, 2 Amália awards and 1 Best Artist nomination for the Songlines Music Awards, and joint performances with such music icons as Prince, The Rolling Stones, Caetano Veloso, Gilberto Gil and Herbie Hancock.
---
Don't forget to follow our Spotify Playlist: