Liam Gallagher too "anxious and depressed" for hearing in New York.
|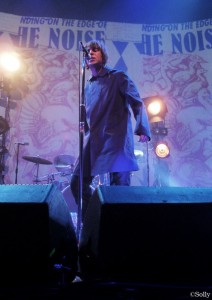 Liam Gallagher was fined for $5000,- for not showing up to a hearing due to "anxiety and depression".
Gallagher was called for a hearing, by the justice of Manhatten, with Liza Ghorbani the mother of his 22 month old daughter Gemma. According to the New York Post he didn't show up for the hearing for he had a note from the doctor saying he had last-minute anxiety and depression. The judge did not accept this and said that the note is insufficient.
Ghorbani's attorney, Ira Garr said to Drager that he sees this as an offensve since he saw a picture of Gallagher arm in arm in London with his new girlfriend the weekend the trial was.
The attorney of Gallagher, Mr. Felder, has recently stated to Post Online that "Liam has always wanted to be more than fair and has always accepted responsibility for the child".
Liam also missed a hearing two months ago, when he stated he was too sick to fly to the States, yet the former Oasis singer was seen with his girlfriend in a London pub the next day
Ghorbani, journalist to e.g. Elle and The Wall Street Journal, got an affaire with Gallagher after she pursued him for an interview with the New York Times. In 2013 Gorbani gave birth to their daughter Gemma.
At the time of Ghorbani's claim Liam was living with his wife Nicole Appleton, the mother of his 13 year old son Gene.
She has previously tried to go to the judge to make Gallaghar pay 2 million dollars for the support of their child.
Photo: Wikipedia by Solly
---
Don't forget to follow our Spotify Playlist: