Bohemian Rhapsody originally was Bohemian Lullaby!
|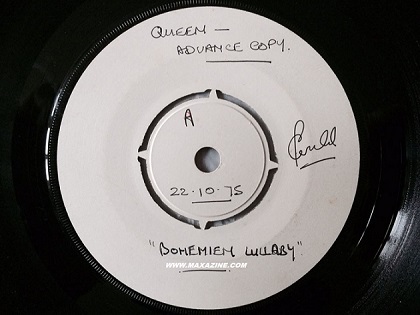 Queen's 'Bohemian Rhapsody' might be one of the best songs ever. Lists of 'Best albums ever' often have the Queen-track in the top of the list, year after year. Now, the news has been released it didn't look lie this song was meant to be called like this…
In an attic of a one brother of an employer of EMI, Queen's record label at that time, an 'advanced copy' has been found of the hit single this weekend. Date of pressing is October 22nd 1975, short time before official release of it as 'Bohemian Rhapsody'. The big news now is: The track, nine days before release, was called: 'Bohemian Lullaby'! Meaning the track changed name into the big well known song only shortly before release!
Also, this might mean that one of the most well know songs ever wasn't Queen's favourite track. It even seems the band thought of it as a dull lullaby… Does this change musical history or what?
Thanks to Michael Baker for his help.
---
Don't forget to follow our Spotify Playlist: