Wulf of Collision – Between Here and Somewhere Else
|
By a coincidence, I found the video below from Wulf of Collision on youtube. A nice fully-fledged video with delightful music. I had to know more. I checked out their FaceBook page and guess what… They've just released their debut cd. How lucky I am to be allowed to review their debut album.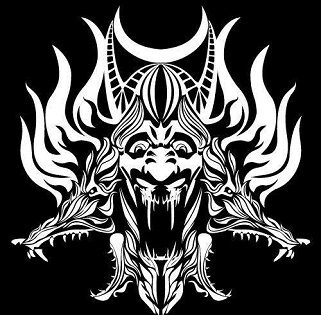 Wulf of Collision is a Belgian/British hardrock band, situated in Hoogstraten, Belgium. They play a melting pot of rock 'n' roll, blues and metal. 2013 was a good year for them: they were the support act in Biebob in Vosselaar, for nobody less than Halestorm, the winner of a Grammy Award. They took part in Kamp Noord 2013 and score a finale spot at Puntpop. They took part in Frappant POP and won during the finale for the online public's prize from the Gazet van Antwepen. Taking part in these kind of competitions wasn't new to them. In 2012 they earned a place in the Belgian finale of The Global Battle of the Bands.
In July 2014 they buried themselves in Foel Studios in Wales (UK) to record their debut album. Their release show took place on 22/11/2014 in Hoogstraten. The cd cover looks cool with artwork from Colin Michael Ashcroft ART. When I open the cd, I find it is a triptych, in the middle is their cd. The logo of the band is printed on the cd. It looks good. This shows a small band can do a great job.
The cd kicks off with 'Silent Asylum'. Contrary to what the title might suggest, the intro has a pleasing fiery intro: it sounds great right from the start. The voice of Yannick Woestenborghs is deliciously raw. Later on when the tempo and the volume go down, Yannick's voice takes on a warm timbre. I check the cd case just to be sure there is really one vocalist, and there really is. What a versatile voice, due to the fact when in the song the volume and tempo go up again, Yannick switches effortlessly from his warm timbre to the delicious rawness. I'm impressed right from the first song (that by the way nearly lasts 7 minutes).
I won't be surprise if a good many air guitar player gets his instrument out of the closet. I don't play air guitar, neither do I air drum, but all the same, I can't sit still. Instrumentally it's all really well worked out: nice switching in tempo and volume. Sometimes nice and tight, then really catchy. Drums (Roel Sommen), guitar (Colin Ashcroft and Bart Van Den Heuvel), bass guitar (Matthijs Braspenning), they've got a great balance. Nothing that overpowers, no deficiencies. What makes it all extra special: Colin (rhythm and lead) and Bart (rhythm) are self thought, Bart took a few lessons to perfect his playing.
The intros are different for each song. In stark contrast with 'Silent Asylum', 'Point Blank' has a very calm start where the blues influences are clearly recognisable. 'Siren of Desire' has a superb drums intro. The end is every time beautiful, not just an ending that peters out.
In 'Siren of Desire' you can't mistake the metal influences, as much where the lyrics are concerned as in the instrumental parts. Still this song still pleases and invites the rockers who give a miss to real metal. The guys from Wulf of Collision want to turn their hobby into their profession and in order to achieve that goal they've made a fine debut album. Even better: a debut album to be proud of. (8/10)
Thanks to Colin Ashroft for the translation
---
Don't forget to follow our Spotify Playlist: